2011-2012 Ligue Féminine de Basketball
Entente Sportive Basket Villeneuve d'Ascq Lille Métropole
Villeneuve d'Ascq - LFB roster
The 2010-2011 Ligue Féminine de Basketball season for Villeneuve has been forgotten as the club prepares for a season without trans-national competition (EuroCup or EuroLeague).
However the Villeneuve supporters official fan club 'LES Z'HURLANTS' (above in picture) is ready for another season traveling the length of France creating an atmosphere in all the arenas.
Abou N'Diaye, the head coach of Villeneuve d'Ascq, was at EuroBasket Women 2011 watching Anne Breitreiner after having finished his recruitment early with five new players joining his LFB roster .
His roster plans changed before the season even started because Elodie Bertal became pregnant and is out for the season.
The club officially named her replacement as Sabrina Palie who played at Challes-les-Eaux last season.
The following players confirmed their departure: Ingrid Tanqueray (USO Mondeville), Marjorie Carpréaux, Carine Paul (Saint-Amand Hainaut Basket - LFB), Fanny Ploegaerts (La Tronche Meylan Basket - NF1), Onayssa Sbahi (Club Baloncesto Axri, Spain), Adrijana Knezevic (Gdynia, Poland) and Carla Thomas.
Onayssa Sbahi was interested in going to University in America to continue her basketball career. But as she would have had to go via junior college she decided to try her luck in Spain.
The LFB roster for 2011-2012 is:
Rokiatou Coumaré, Anne Breitreiner, Victoria Ricart, Sabrine Bouzzenna, Alice Nayo, Laurie Datchy, Lisa Faurez, Emilie Gomis (in picture), Kathy Wambe, Olayinka Sanni and Jillian Robbins.
Cathrine Kraayveld in, Jullian Robbins out from 1st October.
Le nouvel effectif de L'ESBVA
Avec six nouvelles recrues pour la saison 2011-2012 en Ligue Féminine de Basketball: la revenante Kathy Wambe et Anne Breitreiner, Jillian Robbins, Alice Nayo, Sabrine Bouzzenna et la remplaçante pour Elodie Bertal (qui attend un heureux évènement) Sabrina Palie (Challes-les-Eaux, LFB), Villeneuve d'Ascq espère de se retrouver dans le top 4.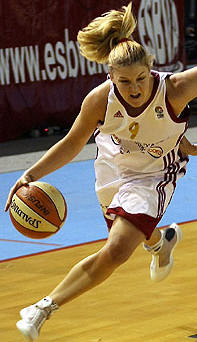 Privé de Coupe d'Europe, les joueuses de Abou N'Diaye ont pourtant l'hargne de faire du mieux.
Les joueuses qui sont parties:
Tanqueray (Mondeville), Carpréaux, Paul (Le Hainaut), Ploegaerts (Grenoble), Sbahi (Pontevedra, Espagne), Knezevic (Gdynia, Pologne) et Thomas.
Les arrivées sont: Robbins (Elitzur le Zion, Israël), Breitreiner (Faenza, Italie), Wambe (Tarente, Italie), Bouzzenna (INSEP-CFBB) et Nayo (INSEP-CFBB).
L'effectif complet:
Rokiatou Coumaré (1,78 m, 19 ans, ailière), Anne Breitreiner (1,83 m, 27 ans, ailière), Victoria Ricart (1,80 m, 18 ans, arrière), Sabrine Bouzzenna (1,72 m, 18 ans, meneuse), Alice Nayo (1,86 m, 18 ans, intérieure), Laurie Datchy (dans image) (1,72 m, 21 ans, arrière), Lisa Faurez (1,84 m, 16 ans, intérieure), Emilie Gomis (1,80 m, 27 ans, arrière), Kathy Wambe (1,72 m, 29 ans, meneuse), Olayinka Sanni (1,88 m, 25 ans, intérieure), Jillian Robbins (1,88 m, 27 ans, intérieure) et Sabrina Palie (1,72 m, 30 ans, arrière).
Cathrine Kraayveld renforce l'équipe en l'absence de Elodie Bertal pendant que Jullian Robbins part: 1 Octobre.
---
Go to Ligue Féminine de Basket index page
Leave Ligue Féminine de Basket - Season 2011-2012 page and return to home page
Return to the top of Ligue Féminine de Basketball page
Picture credits:


womensbasketball-in-france
FIBA Europe

Date created: 19 September 2011
Last Updated: 01 October 2011
---