Villeneuve d'Ascq 's
2011-2012 LFB team roster
Abdou N'Diaye has taken his time this year in revealing his LFB team roster for 2010-2011. His team finished 10th during the regular season and failed to win the LFB Challenge Round and so have not directly qualified for the EuroCup Women next season.
Villeneuve may still be granted a wild card for the EuroCup Women by the Federation if other clubs fail to meet the conditions set by the French Federation.
For Carine Paul the Villeneuve adventure has come to an end after two frustrating seasons. The former French youth international has not communicated her options for next season.
Ingrid Tanqueray and Belgium international Marjorie Carpréaux have also left the club, while Carla Thomas has not been resigned.
Elodie Bertal and Emilie Gomis who were injured for most of last season are both still under contract and have agreed to return next season. Laurie Datchy who joined from the club from the CFBB three years ago has signed a new two-year contract.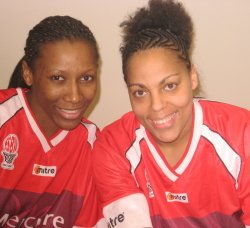 The fans of Villeneuve d'Ascq were dreaming of a reunion of Géraldine Robert and Kathy Wambe (right in the picture) and have so far been granted half of their wish with the return of Wambe.
Wambe played for Villeneuve d'Ascq between 2002 and 2008 and has been in Italy since 2009 with Cras Basket.
German international Anne Breitreiner is the second big signing. She played in the Ligue Féminine de Basketball during the 2009-2010 season and became the champions of France with Tarbes.
Alice Nayo who went on official visits to some colleges in the USA has in the end decided to join Villeneuve d'Ascq and will join her CFBB team-mate Sabrine Bouzenna who was the first new signing for the club.
Jillian Robbins will be the last signing for the current season and comes across to France from Israeli club side Elitzur Rishon Le-Zion.
---
Return from LFB basketball news to Ligue Féminine de BasketBall index
Go to Women Playing Basketball In France Home Page
Return to the top of page
---
Picture credits:
womensbasketball-in-france.com

Date created: 01 June 2011
---