Injury spoils Nantes-Rezé's victory
at Open LFB
---
---
Nantes-Rezé's first victory at an Open LFB was spoilt 67 seconds before the end of the game when game MVP
Bernadette N'Goyisa
went down in pain holding her knee.
She was put on a stretcher and her season is already over. N'Goyisa was the medical replacement for Doriane Tahane who is also out for the season.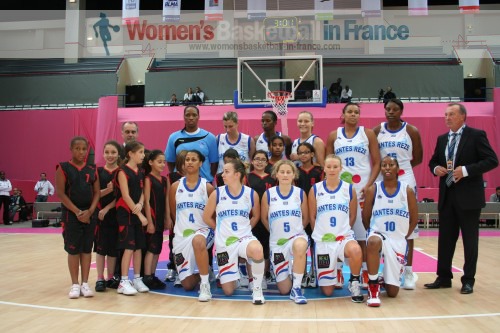 Move your mouse on the small pictures to view
---
---
The match itself started very defensively with Nantes-Rezé edging the first quarter (12-7).
Montpellier started to play more aggressively in the second quarter. But under the impulsion of Caroline Aubert, who hit the first three-pointer of the game, Nantes remained in control.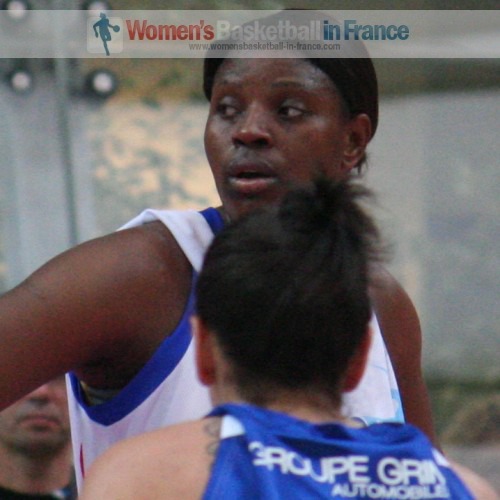 N'Goyisa (left) controlled the paint while with the youthful exuberance of Florine Basque and Sabine Niedola, Nantes went into the locker room leading (32-21).
Montpellier finally started to play some basketball after the break. Ana Lelas and Gaëlle Skrela started to hit shots while Sandra Dijon-Gérardin kept everybody out of the paint.
However Nantes with Allison Hightowner and N'Goyisa weathered the storm for their side to go into the final quarter ahead (45-36).
The last quarter was a demonstration by Nantes-Rezé and N'Goyisa as they knocked out the resistance of their opponents to win comfortably (66-49).
Nantes have until Wednesday to find another center when they play again.
Nantes-Rezé: Florine Basque 2, Caroline Aubert 3, Joyce Cousseins-Smith 6, Mélanie Plust 2, Allison Hightowner 17, Mame-Marie Sy-Diop 8, Jenna Smith 6, Sabine Niedola 4, Bernadette Ngoyisa 18
Lattes-Montpellier: Johanne Drozd DNP, Virginie Bremont 2, Alicia Poto 6, Iva Perovanovic 11, Cyrielle Hugues DNP, Brittainey Raven 2, Ana Lelas 10, Gaëlle Skrela 9, Sandra Dijon-Gérardin 2, Fatimatou Sacko 7
Go back to the top of page
---
Open LFB picture credits:
womensbasketball-in-france.com

Date created: 17 October 2010

---