2011-2012 Ligue Féminine de Basketball
Nantes Rezé Basket
Les Déferlantes - roster 2011-2012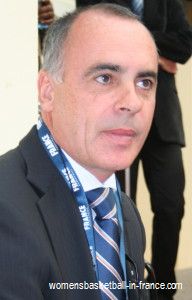 Laurent Buffard
's (in picture) hope for better luck in the Ligue Féminine de Basketball with his centers this season has already been shattered.
Bernadette N'Goyisa who tore her ACL on the opening day last season is again not available as she is expecting a baby.
In addition new signing Aurélie Bonnan was involved in a car accident and is out of action for at least four months while Floriane Basque is likely to miss most of the season with an ACL injury sustained while preparing for the U19 World Championship Women.
So once again Buffard had to find a medical replacement for a pivot.
Des informations en français sur Nantes Rezé Basket se trouvent en bas du page.
Last season Doriane Tahane could not play after injuring her knee with the French team. Her replacement N'Goyisa's season ended on the opening day. Emilija Podrug who was the second replacement for Tahane mainly played in a face mask during the season.
Jenna Smith was released in December and replaced by Sonja Kireta as Nantes needed a specialised center. Kireta did not last long as she also tore her ACL. Lindsay Taylor joined the team in March after completing her season in China.
In addition to all the issues with injuries the club was deducted a point for exceeding a salary cap agreement.
Nantes-Rezé finished sixth but ending up winning the LFB challenge round to qualify for EuroCup Women.
The 2011-12 LFB roster had been announced in May and was only altered at the announcement of N'Goyisa's pregnancy.
Regina Palusna has been signed for the season as the replacement for N'Goyisa.
So the LFB and EuroCup roster for 2011-2012 is:
Floriane Basque, Caroline Aubert, Claire Stievenard, Doriane Tahane, Sarah Michel, Johanne Gomis, Lenae Williams, Yuliya Andreyeva, Aurélie Bonnan, Regina Palusna and Aminata Nar Diop.
L'effectif de Nantes Rezé Basket
La saison dernière Laurent Buffard avait quelques problèmes avec ses pivots à cause des blessures. La remplaçante de Doriane Tahane Bernadette N'Goyisa a été remplacée après l'Open LFB avec Emilija Podrug qui non plus n'avait pas été épargnée avec une blessure au visage.
Sonja Kireta qui avait remplacé Jenna Smith (renvoyée en Décembre 2010) était une victime d'une rupture des ligaments croisés. Enfin Lindsay Taylor qui avait terminé sa saison en Chine a rejoint le club en Mars.
Pourtant Nantes Rezé Basket s'est qualifié pour l'EuroCup Women en remportant la victoire dans le LFB challenge round.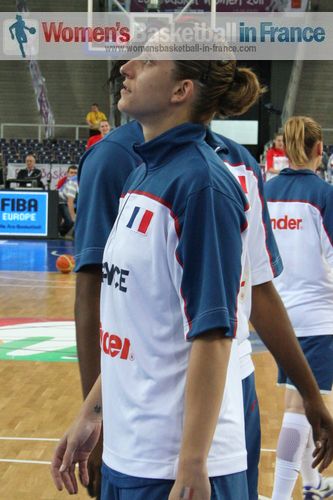 Laurent Buffard's (in picture) hope for beNouvelle saison, nouvelle malédiction: Bernadette N'Goyisa est enceinte, donc elle est remplacée par Regina Palusna.
Deux autres joueuses se sont blessées grièvement: Floriane Basque en se préparant pour les U19 World Championship et Aurélie Bonnan (dans l'image> dans un accident de voiture.
Les nouvelles joueuses sont:
Johanne Gomis et Sarah Michel de Arras, Aurélie Bonnan et Lenae Williams de Mondeville et Claire Stievenard et la remplaçante pour N'Goyisa l'internationale de la République Slovaque Regina Palusna (Pecs 2010 - Hongrie).
Les joueuses qui sont parties:
Emilija Podrug et Mélanie Plust pour Challes-les-Eaux (LFB); Mame-Marie Sy-Diop pour SASP Lyon BF (LFB), Morgane Eustache pour Saint Etienne et Sabine Niedola.
L'effectif complet pour cette saison est:
Floriane Basque (ailière), Caroline Aubert (meneuse), Claire Stievenard, Doriane Tahane (intérieure), Sarah Michel, Johanne Gomis, Lenae Williams, Yuliya Andreyeva (ailière - intérieure), Aurélie Bonnan (intérieure), Regina Palusna (intérieure) et Aminata Nar Diop (intérieure).
---
Go to Ligue Féminine de Basket index page
Leave Ligue Féminine de Basket - Season 2011-2012 page and return to home page
Return to the top of Ligue Féminine de Basketball page
Picture credits:


womensbasketball-in-france

Date created: 21 September 2011
Last update: 06 October 2011
---