Nantes Rezé have completed their Ligue Féminine and EuroCup roster with the addition of
Aminata Nar Diop
, a Senegalese international.
Veuillez trouver en bas des informations sur Aminata Nar Diop et une mise à jour sur les blessées.
Bernadette N'Goyisa who is on a three-year contract with Nantes-Rezé is out for the season because she is expecting a baby.
However with Aurélie Bonnan out for at least four months after a car accident the club needed to sign another pivot to strengthen the LFB roster as well as that of the FIBA EuroCup Women.
The club had signed Regina Palusna who was initially the replacement for N'Goyisa. However her status changed and the club decided to look for a specialised pivot.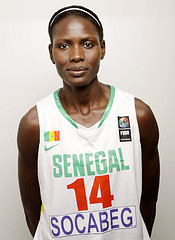 Palusna whose profile is that of a power forward is not a medical replacement and has been given a one-year contract.
On the other hand Aminata Nar Diop is a specialised pivot who is 1:96m. She played for Senegal at the 2010 FIBA World Championship and during the 2011 AfroBasket.
She was signed by Nantes-Rezé just before the start of AfroBasket Women and is expected to make her début at round three of the LFB.
In the meanwhile the injury curse at Nantes-Rezé continues with Claire Stievenard dislocating her elbow during a match with the U20 team.
L'effectif est à nouveau complet à Nantes-Rezé
Après que Bernadette N'Goyisa a annoncé d'attendre un heureux évènement, le club a trouvé une autre intérieure juste avant l'Open LFB avec Aminata Nar Diop. Diop est une Sénégalaise internationale qui devrait joindre la formation de Laurent Buffard pour la troisième journée du championnat.
Elle vient de terminer sa participation avec l'équipe sénégalaise en AfroBasket.
Avec 1m96 l'entraîneur espère qu' « elle pourra mettre des points et nous permettre d'être un peu plus serein en attendant le retour d'Aurélie (Bonnan) ».
Avec Doriane Tahane et Regina Palusna et la nouvelle recrue dans la raquette, les Déferlantes sont prêtes à bien disputer les matchs à venir. A noter que Palusna et Diop ne sont pas engagées comme jokers médicaux mais ont un contrat de un an.
Pourtant l'équipe ne sera pas au complet avec Bonnan, Florine Basque encore blessées et Claire Stievenard (dans l'images) qui a aussi joint l'infirmerie à cause d'une blessure au coude.
Le mauvais sort continue.
---
Go to Ligue Féminine de Basket 2011-2012 page
Leave Ligue Féminine de Basket - Season 2011-2012 page and return to home page
Return to the top of Ligue Féminine de Basketball page
Picture credits:


FIBA - Hervé BELLENGER

Date created: 6 October 2011
---