2011-2012 Ligue Féminine de Basketball
Basket Landes
Roster 2011-2012
Basket Landes have risen to the top of Ligue Féminine de Basketball with the same coach
Olivier Lafargue
, who took over the team in NF3 (old division 4) in 2004.
When it comes to recruiting they tend to offer players a minimum deal of two years. So it is a simple question at the end of the season do you still want to stay.
Once the players agree, the club speaks to the sponsors to make sure that they can afford the requests of the players.
Six from the eight professionals of last season are coming back for the LFB/EuroCup Women challenge.
Des informations en français sur Basket Landes se trouvent en bas du page.
The 2011-2012 LFB and EuroCup roster was confirmed in June.
The only core player to leave was Aminata Konate. Her two-year contract had expired and she decided not to extend. Konate signed since for LFB newcomers Nice Cavigal Basket 06.
The other players who played for the first team that are not returning are: Tamera Young who was the medical replacement for Amélie Pochet; Laurie Lapeyre who moved to Pau Lacq Orthez in NF1.
The only recruit for the season is Camille Aubert who played at Toulouse last season.
The other newcomer to the first team is Sarah Ousfar who comes from the club's basketball academy.
The roster for the season is:
Camille Aubert, Katarina Manic, Bineta Diouf, Anaïs Le Gluher-Cano, Julie Barennes, Julia Borde, Marion Laborde (above in picture), Sarah Ousfar, Jennifer Humphrey and Amélie Pochet.
L'effectif de Basket Landes
L'équipe qui s'est qualifiée pour L'EuroCup 2011-12 en terminant cinquième reste presque identique.
Le club se trouve dans sa 4ème année en LFB et leur philosophie de donner des contrats de deux ans s'est payée avec une équipe qui s'est placée dans la première moitié de la ligue et en gagnant une place pour la première fois en Eurocoupe.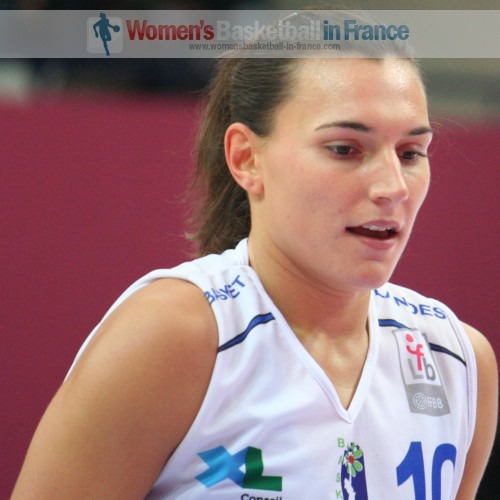 Amélie Pochet reste à Basket Landes quoiqu'elle n'avait pas eu la chance de jouer beaucoup pendant les deux dernières années à cause d'une rupture des ligaments croisés du genou survenues deux fois.
Aminate Konate a décidé de quitter le club et est remplacée par Camille Aubert (1,70 m, 22 ans), meneuse titulaire (8,1 pts, 2,4 rbds, 3,5 passes décisives) venant de Toulouse, LFB.
L'effectif complet est:
Camille Aubert, Katarina Manic, Bineta Diouf, Anaïs Le Gluher-Cano, Julie Barennes, Julia Borde, Marion Laborde, Sarah Ousfar (du centre d'entraînement), Jennifer Humphrey et Amélie Pochet (à droite dans l'image).
---
Go to Ligue Féminine de Basket index page
Leave Ligue Féminine de Basket - Season 2011-2012 page and return to home page
Return to the top of Ligue Féminine de Basketball page
Picture credits:


womensbasketball-in-france

Date created: 22 September 2011
---