Ligue Féminine 2
Perpignan Basket 2011-2012 roster
Perpignan Basket's recruitment for the Ligue Féminine 2 2011-2012 season is on paper the most impressive in this league. Perpignan are in their second season in the second division and with the help of their sponsors have been able to double their budget.
Informations sur Perpignan Basket en français en bas du page
François Gomez who coached Tarbes to the LFB title in 2010 is the new coach of the club.
Gomez used to work for the French Basketball Federation. He was a coach at the CFBB for many years before moving to Tarbes in 2008. So he is no stranger to division 2 basketball.
Perpignan Basket do not have an established youth academy in place to promote players to the first team. The appointment of Gomez enabled the club to attract former players from the CFBB as well as former youth players from his France U18 national programmes.
The biggest signing of the season for the club is French international Pauline Jannault-Lo who has signed for three years from LFB giants Tarbes.
Agathe Nnindjem-Yolemp did not play basketball last season. She is back in France again after playing for Toulouse in 2009-2010.
The four other players who signed are all under 23: After two years with Aix-en-Provence in the LFB, Isabelle Strunc decided she needed a change. She is joined by France U20 team-mate Clémentine Samson who played for Rennes.
Pauline Thizy, another former French youth international, has left LFB side USO Mondeville with the hope of getting more court time. She should be in competition with the last signing Héléna Ciak who played at Roche Vendée.
They are expected by Marine Abribat, Laina Badiane, Fatou Dieng, Princesse Goubo, Nzumba Kamalandua and Camille Ruiz.
It was previously announced that club captain Fatima Dahine who is 38 years old was hanging up her basketball shoes at the end of last season. Due to the fact that Fatou Dieng is away at AfroBasket Dahine has agreed to return to cover in her absence.
The following players have left the club: Maya Ruzickova, Lala Wane (Franconvile - NF1), Alexandra Ilvovskaya (CA Saint Etienne - NF1) and Oumou Touré.
L'effectif de Perpignan Basket pour la saison 2011-2012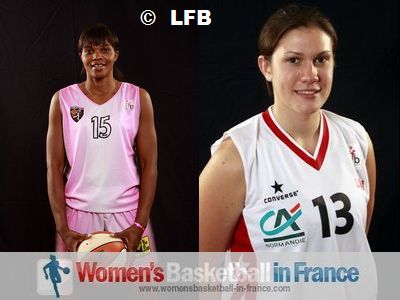 Le projet du club et l'objectif de François Gomez, le nouveau coach de Perpignan Basket (ancien coach de Gespe Bigorre Tarbes en 2009-2010) sont simples: amener l'équipe en ligue féminine basketball (LFB).
Donc le recrutement avec beaucoup de soutien financier est impressionant avec des joueuses de la LFB:
Pauline Jannault-Lo (internationale française: Tarbes), Agathe Nnindjem-Yolemp (Toulouse Métropole 2009-2010, internationale camerounaise), Pauline Thizy (US Mondeville, internationale française) et Isabelle Strunc (Aix-en-Provence, jeune internationale française)
et aussi une autre jeune internationale:
Clémentine Samson (Rennes - LF2).
En plus, il y a le plus grand gabarit dans cette équipe avec 1m 96:
Héléna Ciak (Roche Vendée - LF2)
Les joueuses qui restent, sont:
Fatou Dieng, Laina Badiane, Camille Ruiz, Princesse Goubo, Marine Abribat, Nzumba Kamalandua, Fatima Dahine (qui avait prévu d'arrêter reste en tant que pigiste exceptionnel pour Fatou Dieng qui participe à l'AfroBasket Women 2011).
Les joueuses qui sont parties, sont: Maya Ruzickova, Lala Wane (Franconvile - NF1), Oumou Touré, Alexandra Ilvovskaya (CA Saint Etienne - NF1).
---
Return to Ligue Féminine 2011-2012 index page
Leave Ligue Féminine 2 news and return to home page
Return to the top of page
Picture credits:


womensbasketball-in-france
LFB

Date created: 12 September 2011
---