LFB Team Roster Preview (part 2)
---
---
The second part concludes the LFB team roster preview for the women playing basketball this season in the top division ligue féminine de basketball.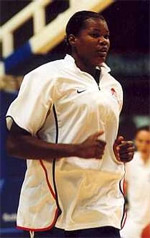 Lattes Montpellier Agglomération Basket
Last season Montpellier delivered their best performance in the LFB with a 4th-place finish at the end of the regular season. They were the only club with a LFB roster of 11 full-time professionals which was to cause problems towards the end of last season, when the professional section and the amateur section of the club merged to form a new club, hence a slight change in name to Lattes Maurin Montpellier.
Honour list: none


Roster: Elodie BERTAL, Gunta BASKO, Aurélie BONNAN, Grace DALEY, Sandra DIJON (picture above), Marylène GUERRA, Christelle JOUANDON, Katarina MANIC, Olga PODKOVALNIKOVA, Adriana PINTO (Adrianna - Dec 2007), Charline SERVAGE and Gaëlle SKRELA
Head Coach: Valéry Demory
The Miller sisters are gone but the composition of the roster looks stronger this year. Grace Daley makes her return to France after a year in Prague. With Skrela already confirmed absent until January 2008 and now also Basko who picked up an injury the EuroBasket Women 2007, Montpellier has signed for the latter Pinto as medical cover.
This is the LFB team roster with the best collection of inside players in the Ligue Féminine which counts well for rebounding but paradoxically is short of real guards.

Mourenx Basket Club
Mourenx's two seasons in the top division have not been without incident. In 2005 Tamika Whitemore single-handed kept this club in the top division and once the survival was secured she was allowed to leave and the club played the last games with only seven players on the team sheet. Last season it was the turn of the veteran Polina Tzekova to save the club from the drop in terms of basketball. Mourenx was actually relegated after the club did not meet the financial regulations, but due to their appeal the decision was eventually reversed.
Honour list: none
Roster: Amandine SPINA, Virginie KEVORKIAN, Isis ARRONDO, Géraldine DEVAUX, Justine AGBATAN, Penda SY, Ana LELAS, Béatrice CASTETS, Marion PUJOS, Kaalya CHONES, Polina TZEKOVA
Head Coach: Pascal Delaliaux
Mourenx has a new coach but a LFB team roster that has not changed much since last season. The addition of SY and Chones should take off some burden of Tzekova. This trio will cause problems for their opponents but as they do not have a deep bench they will be required to carry the team.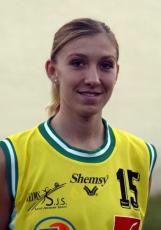 Saint Jacques Sport de Reims
Home form was the key to promotion from NF1 last season after four years of battling to get back into LFB.
Honour list: NF1 Champions: 2007
Roster: Marie Rodriquez AYISSI, Milica BELJANSKI, Stéphanie BLANQUART, Amélie FRESNAIS, Marie-Laure FLEURY-KINDOKI, Anne-Sophie PAGNIER, Anne-Marie PARAU, Mame Marie SY, Manon SINICO, Zuzana KLIMESOVA
Head Coach: Philippe Sauret
They have managed to keep the core of last year's promotion side with the edition of Klimešová and Fleury-Kindoki (pictured above left) to the LFB team roster. The squad should be competitive even if on paper they lack the experience.

Union St Amand Porte Du Hainaut haut Niveau
On the 5th of November Fabrice Courcier made his mark in the LFB when his side beat USVO (59-56). They also beat Villeneuve D'Ascq during the first round of matches and were well placed in the mini-league between the five teams in the north. Despite this success they were not regular at all during the season and if not for the arrival of Kaayla Chones, as medical cover during the second part of the season, things could have been worse. Courcier did not hide his disappointment and basically released all the players at the end of the season.
Honour list: none
Roster: Ines AJANOVIC, Clarisse COSTAZ, Maria FOUTERET, Laëtitia KAMBA, Magali LOPEZ, Tamara MOORE, Olena OGORODNIKOVA, Fanny PLOEGAERTS, Mélanie PLUST, Lise SINACOUTY, Tiffany STANSBURY
Head Coach: Fabrice Courcier
This is the season of reckoning for this club and the appointment of Brahim Bollane as assistant coach is a significant acquisition. With Costaz fully recovered from her injury - that kept her out for most of last season - the LFB team roster is complete in all the departments. The younger players in the squad have been playing with the second team in preparation for their integration into the main roster.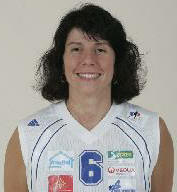 Tarbes Gespe Bigorre
Tarbes started last season with the ambition of a place in the EuroLeague for 2008. They had a poor season by their standards and after a terrible start climbed to 8th place.
One of the club's problem was the non-availability of Penda Sy and their juggling with replacement players Kristina Cesnaviciute and Mfon Udoka. Other difficulties with their foreign players Gergana Slavecheva and Ayana Walker resulted in releasing them from their contracts before the play-offs.
Honour list: French Cup: 1996, 1997, 1998, Ronchetti: 1996, Federation Cup: 1995, NF2 Champions: 1991
Roster: Clémence BEIKES, Kristen MANN, Laure SAVASTA (picture above), Jaklin ZLATANOVA, Iciss TILLIS (December), Carole LECLAIR, Alexia KUSION, Liz MOGGENBERG, Marion ARFELIS, Isabelle YACOUBOU, Gisela VEGA
Head Coach: Pascal Pan
Tarbes have a history of going for youth and with Arfelis, Kusion and Leclair this tradition continues. The experience of Savasta will be critical for this year's team but she will the helped by Beikes who is maturing into an excellent all-round player. The rest of the LFB team roster is made up of very competitive players where youthful exuberance replaces experience but with players like Moggenberg, Yacoubou (on her return) and Zlatanova and should be exciting to watch.
(Please note that Elizabeth SHIMEK-MOGGENBERG wishes only to be known as Liz Moggenberg)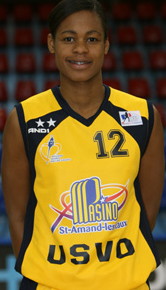 Union Sportive Valenciennes Olympic (USVO)
After a barren season 2006 USVO was back to winning ways by regaining their titles as French champions and French cup winners. On the other hand their Euroleague campaign was by their high standards a disaster.
Honour list: EuroLeague: 2002, 2004, Federation Cup: 1992, 1994, 1997, 1998, 2002 - 2005, French Champions: 1994, 2001 - 2005, 2007, French Cup: 2001 - 2004, 2007
Roster: Camille AUBERT, Krissy BADE, Reka CSERNY, Emilie GOMIS, Laurie KOEHN, Sarah MICHEL, Nicole OHLDE, Amélie POCHET, Sabrina REGHAISSA, Doriane TAHANE, Francesca ZARA
Head Coach: Hervé Coudray
This is a start of a new era of the club with the departure of Laurent Buffard as their head coach and with the recruitment of seven new players. The eighth player is Sarah Michel who is coming up from their junior academy.
With Emilie Gomis and Krissy Bade (pictured above) the LFB team roster looks the strongest of all.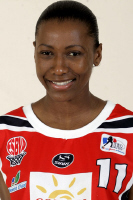 Entente Sportive Basket Villeneuve d'Ascq Lille Métropole (ESBVA)
They were the surprise package last season as they disabled the French hierarchy and nearly upset the odds by winning the regular season title. Kathy Wambe had a season that she will not forget in a hurry but the players responsible for the club's race to the title was Géraldine Robert (pictured right), who missed out playing in the play-offs due to injury and the club was not the same.
Honour list: none
Roster: Mathilde CABY, Shala CRAWFORD, Bintou DIEME, Bénédicte FOMBONNE, Ljubica DRLJACA, Jasmina ILIC, Iveta MARCAUSKAITE, Géraldine ROBERT, Fatimatou SACKO, Kathy WAMBE
Head Coach: Abdou N'Diaye
They have the most stable LFB team roster this season with only Tatum Brown missing from last year's squad. The participation in EuroLeague will be the first time for many player and should be something the players have to learn to cope with this year in addition to their new status as one of the teams to beat domestically.

(All pictures are courtesy of their clubs.)

Return from LFB Team Roster Preview to basketball news

Return from LFB Team Roster Preview to WBBiF Blog
---