Emma Meesseman and
Marina Maljkovic
light up the LFB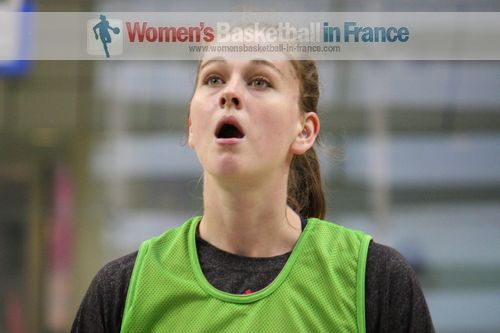 Emma Meesseman was a delight during the Open LFB in Paris with a match winning performance in round 1. This weekend she was unstoppable with a perfect shooting day to lead Villeneuve to victory over Tarbes (88-66).

Veuillez trouver des informations en français en bas de la page sur la troisième journée de la ligue féminine de basket 2013-14.
Meesseman went 10-of-10 from the floor but missed 1 free throw in clocking up 21 points. She also picked up 3 steals and dished out 3 assists during her MVP performance of the match.

Elin Eldebrink, her team-mate was highly efficient with 7 assists and 10 points while Olayinka Sanni and Lenae Williams chipped in 15 points apiece. Laëtitia Kamba also finished in double digits with 10 points.

Tarbes never were in front once and were led by Katelan Redmon and Sabrina Reghaïssia with 18 points apiece.
Villeneuve d'Ascq share first place in the LFB regular season standings with Tango Bourges Basket and Charleville-Mézières.

Tango Bourges Basket in their first home game of the season blew away Cavigal Nice (83-41). Australian international Marianna Tolo was the leading scorer with 20 points in her home début.
Charleville-Mézières made it 3 wins from 3 games with a victory against USO Mondeville (80-64). Ambrosia Anderson led the Flammes Carolo with 18 points while Sandra Dijon-Gérardin top scored for Mondeville with 16 points.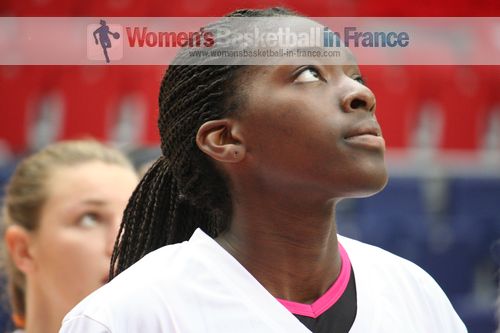 Toulouse recovered from a disastrous first quarter (10-28) to beat Nantes-Rezé (76-62). Antonija Misura fired in 22 points while the hard working Maud Medenou (in picture above) finished with a double-double of 13 points and 11 rebounds.
However the big surprise of the weekend was the defeat at home for Lattes Montpellier (55-70) against a depleted team from Lyon.
Marina Maljkovic, the coach from Lyon, was not allowed to play Alexia Plagnard and Mélanie Plust for administrative reasons, a sanction by the French Basketball Federation (FFBB) prior to this game.
However Maljkovic did not panic all through the match and rotated her youth players from her academy with her six professional players to stay on the tail of their hosts.
In the final quarter her tactics paid off with her team outscoring  Montpellier 24-6 to win the match.
Mame-Marie Sy-Diop had 18 points for Lyon while Virginie Bremont  fired in 15 points for Montpellier. Montpellier also lost the influencial Geraldine Robert during the third quarter.
Elsewhere Basket Landes had to fight hard to hold off Angers (71-65) in a nail biting finish while Arras notched up their first victory of the season by beating Hainaut Basket (75-77).

Second Half: Lattes-Montpellier
La trosième journée de la LFB
est marquée par :
les tactiques d'un entraineur féminin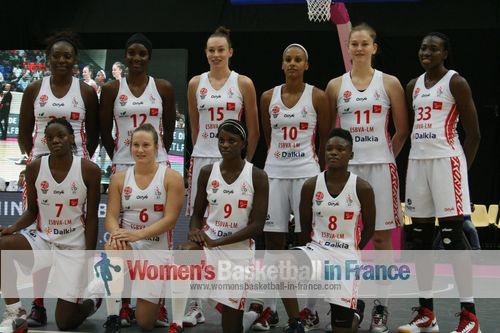 Dérobée de deux joueuses, Alexia Plagnard and Mélanie Plust, l'entraineur de Lyon, Marina Maljkovic, laisse encore plus joué ses joueuses de son centre de formation ce qui prouve que d'être psychologue en même temps que coach, peut renforcer les liens de l'équipe.
Pourtant le match commence avec Virginie Bremont dictant le rythme du jeu pour Lattes-Montpellier et elle donne un bel avantage à son équipe. Mais le sang-froid et la confiance de leurs adversaires nous laissent voir diminuer l'écart jusqu'au renversement au 4ème quart.

Le moment que Géraldine Robert doit quitter le terrain à cause une blessure, Lyon s'accélère ses attaques en continuat à dominer les rebonds. Les Lyonnaises gagnent (70-55), menées par Mame-Marie Sy-Diop (18 points), Mistie Bass et Bintou Diémé avec 13 points chacune.
Dans cette compétition il reste encore trois équipes sans défaite:
les Tango Bourges Basket avec une victoire à domicile (83-41) contre les Niçoises;
les joueuses de Charleville-Mézières arrachent leur troisième victoire d'affilé (80-64), cette fois-ci contre des accrocheuses Sandra Dijon-Gérardin et Julie Vanloo de Mondeville;
et la troisième équipe invaincue est Villeneuve d'Ascq dont la performance de Emma Meesseman avec une sans faute laisse nous frissonner.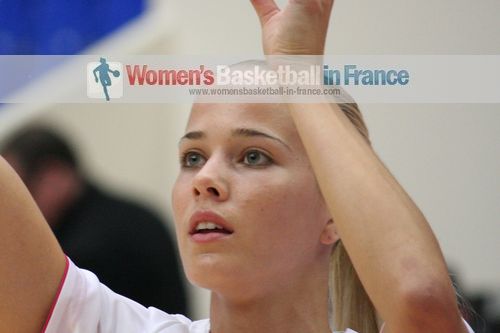 Les Nordistes sont les acteurs d'un basket de l'art et de l'athlétisme. Leurs adversaires, Tarbes, dans l'image de Katelan Redmon et Sabrina Reghaissia (18 points chacune) ont pu que constater le dégât (66-88).

Les Toulousaines arrachent leur première victoire à domicile après avoir trainé pendant la première mi-temps. Toulouse gagne contre Nantes Rezé (76-62) sur le dos de Antonija Misura (dans l'image) et Maud Medenou.

Puis Arras aussi - avec Dawn Evans et Naignouma Coulibaly à l'avance - arrivent à défaire leur écart dans le deuxième mi-temps pour dépasser un Hainaut Basket qui n'arrive plus à suivre le rythme imposé pour finalement s'imposer (75-56).
A nouveau, les promues d'Angers ont presque fait l'exploit de gagner leur premier match en LFB. Mais l'expérience de Anaïs Gluher aide Basket Landes à se sortir au money time pour arracher une victoire (71-65).
---
Picture credits:
womensbasketball-in-france.com
Date created: 20 October 2013
Like this page / Aimez cette page