Bourges: 1 win away from claiming
LFB regular season title for 2013-14

It is down to LFB business as usual for Tango Bourges Basket. With a third-quarter demolition of Charleville-Mézières they had won by 20 points (70-50) in mid-week.

Then Bourges went on to complete seven days of perfect basketball with a road victory against Arras (64-52) with all nine players getting on the score sheet.
Veuillez trouver des informations en français en bas de la page sur la vingt-deuxième journée de la ligue féminine de basket 2013-14.
Bourges will take the LFB regular season title if they win their next game or if both Lattes-Montpellier and Villeneuve d'Ascq lose.
The return of Gaelle Skrela for Lattes-Montpellier did not help as they lost on the road to Charleville-Mézières (77-73). 
The hosts never trailed and were happy that Jacinta Monroe found her scoring touch to contribute 21 points to the victory. Amel Bouderra followed up with 17 points as Charleville-Mézières secured their elite status for another season.

The next objective for Charleville-Mézières is to qualify for post-season play for the first time in their history.

Villeneuve d'Ascq missed the chance of claiming second place for themselves after falling to a last second heave by Marie Mane (13 points) from Toulouse.
Toulouse trailed for most of the game but took advantage of a couple of missed free throws by Emma Meesseman (14 points, 11 rebounds) with two minutes to play to put themselves back into the game. Miranda Ayim led all scoring with 18 points and 14 rebounds.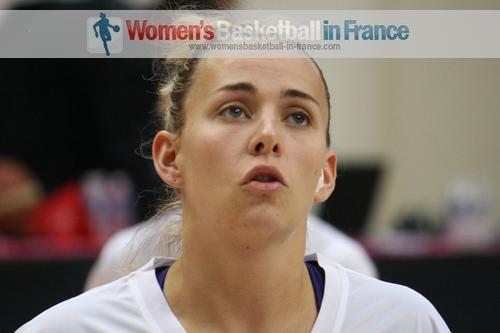 Joyce Cousseins-Smith (in picture) has played her first game of 2014, scoring 16 points and dishing out 4 assists. Whereas Lauren Neaves has played in her first LFB game since 2011 scoring 9 points and picking up 8 rebounds.
However neither player had much to celebrate with Tarbes losing at home to arch rivals Basket Landes (70-74). The derby game which was shown life on Sport+ TV had 11 lead changes and 13 ties. Tarbes led for most of the game with Serbian international Jovana Rad knocking down 24 points.
Basket Landes are fighters and although they did not have a good shooting game, they dominated the offensive rebounds (26) that led to plenty second-chance opportunities. Danielle Page had yet another monster game with 23 points and 13 rebounds.

Nantes Rezé put aside their financial problems and rolled over Cavigal Nice (79-64). Cayla Francis was the spark off the bench with a game high 24 points for the victors while their coach could smile with a place in the Challenge round more or less assured.

Angers have more or less secured elite status for next season after blowing off US Mondeville from their own court (95-65). Hainaut Basket, on the other hand, failed at home once again, this time to Lyon BF (65-84).
While Angers are smiling and rising, Hainaut Basket are not so happy and are dropping.
Lyon's chances of picking up 4th place is looking more and more unlikely as Basket Landes - who are ahead of them - just need one more victory from the remaining four games to clinch fourth place.
---
La vingt-deuxième journée de la LFB :
Tango Bourges Basket assure, bien sûr !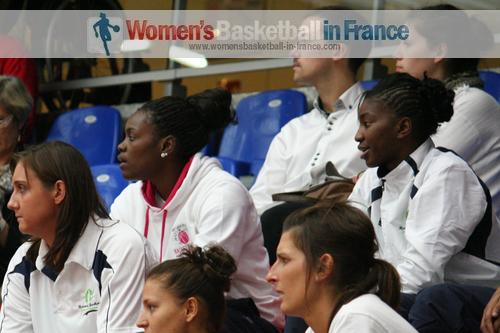 Pourtant Lattes-Montpellier succombe à Charleville-Mézières, le club reste quand même deuxième car le troisième dans le classement, Villeneuve d'Ascq, perd contre Toulouse.
A une victoire près, les Tangos vont devenir les champions da la saison régulière pour 2013-14 pendant que Lyon BF espère encore d'arracher la quatrième place à Basket Landes après une victoire contre Hainaut Basket.
Dans le bas du classement rien change car Mondeville, Arras et la lanterne rouge Nice perdent leurs rencontres respectives.

Le retour de Gaëlle Skrela pour Lattes-Montpellier ne laisse pas échapper la victoire aux hôtes de Charleville-Mézières (77-73) qui mènent tout au long du match.
Jacinta Monroe (21 points) et Amel Bouderra (17 points) assurent que Charleville sera de retour en LFB la saison prochaine.
Cette victoire contre Villeneuve d'Asc (67-65) est précieuse pour Toulouse pour éviter d'être dépassé dans le classement par Tarbes.
Grace à un dernier effort par Marie Mane (13 points) après des lancers francs ratés par Emma Meesseman (14 points, 11 rebonds) en money-time, les Toulousaines s'imposent, épaulées par Miranda Ayim (18 points, 14 rebonds).
Tarbes perd de justesse contre Basket Landes (70-74) avec des belles performances par Jovana Rad (24 points) et Danielle Page (23 points, 13 rebonds). La rencontre est rythmée par 11 changements de leader et 13 égalités et la domince des rebonds offensifs par les Landaises (26).
Le retour de Joyce Cousseins-Smith (16 points, 4 passes décisives) est donc qu'une lueur d'espoir pour les matchs à venir.
Nantes Rezé s'impose contre Cavigal Nice (79-64) avec une Cayla Francis en forme (24 points) pendant que Angers achève US Mondeville (95-65).
Hainaut Basket fait une mauvaise opération à domicile en perdant contre Lyon BF (65-84).
Tango Bourges Basket gagne facilement après un blitz dans le troisième quart-temps contre Charleville-Mézières (70-50) en mi-semaine. Puis les Tangos battent leur hôte Arras (64-52) avec toute l'équipe contribuant des points.
---
Picture credits:
womensbasketball-in-france.com
Date created: 28 March 2014
Like this page / Aimez cette page