Another LFB regular season ends
with Tango Bourges Basket on top

Basket Landes won their last 12 LFB regular season games to clinch second place and home court advantage for their Final 4 semi-final series against Lattes-Montpellier who finished third. Tango Bourges Basket, as regular season champions, take on 4th placed Villeneuve d'Ascq in the other championship semi-final best-of-three series commencing on the 24 April.

Veuillez trouver des informations en français en bas de la page sur la fin de la saison régulière de la ligue féminine de basket 2013-14.
Arras and Cavigal Nice failed in their attempts to leave the relegation zone and finished in 13th and 14th place respectively. Although they have lost their LFB status on the basketball court, they may still avoid relegation to LF2.
All the clubs must pass financial control and a FFBB check (including those clubs fighting for promotion) before an official statement is released in which division clubs are allowed to play the following season.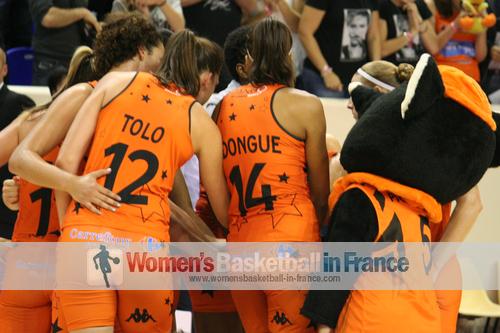 Despite losing to Basket Landes in round 25 just before the EuroLeague Women Final 8, Tango Bourges Basket finished the season with just one domestic defeat from their last 16 matches to finish three games clear at the top. The Tango players wrapped up the regular season by beating Nantes Rezé (49-44).

Basket Landes have been on fire domestically. With Danielle Page and Valériane Ayayi (both players were best foreign player of the year and best young player of the year respectively while Céline Dumerc was the French player of the year for the Tango) sharing 25 points per game for the season they have finally cracked the top 4 for the first time in their history.
The two players hit crucial free throws in the closing seconds for Basket Landes to record an important road victory against Lattes-Montpellier (78-75) and clinch second place. The two teams will play off against each other for a place in the championship final.
Since the elimination from the EuroCup Women Villeneuve d'Ascq's performance in the LFB has been shaky. They dropped from second to fourth place. But at least they end the regular season with a victory at home against Cavigal Nice (67-42).

The four places for the challenge round had already been confirmed before the last round of games. Lyon BF who finished fifth rolled over 7th place Charleville-Mézières (88-63) while 8th place Toulouse lost at home to Tarbes (75-81).
Nantes Rezé, despite losing to Bourges, finished the season in 6th place to complete the LFB challenge round format.
Astou Traoré (in picture) finished her season with 32 points and 15 rebounds to help Hainaut Basket edge out USO Mondeville (81-78). Whereas Angers' roller coaster season ended in defeat against Arras (69-76).
Although Hainaut Basket, Angers, Tarbes and USO Mondeville escaped finishing in the relegation zone, they missed out on an end-of-season play-off spot.

On the right margin you can find the results for the rounds 23, 24 and 25 while the final round results from week 26 for the 2013-2014 season are:

Hainaut Basket 81-78 USO Mondeville
Lattes Montpellier 75-78 Basket Landes
Villeneuve d'Ascq 67-42 Cavigal Nice
Arras 76-69 Angers
Charleville-Mézières 63-88 Lyon BF
Toulouse 75-81 Tarbes Gesperre
Bourges Basket 49-44 Nantes Rezé

2013-2014 Final Regular Season Standing
---
La roue a tourné :
Les places pour les playoffs et pour le challenge round sont attribuées !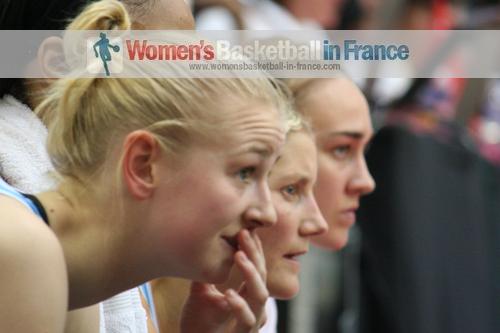 La saison régulière de la Ligue Féminine de Basketball après 26 journées s'achève pour trois clubs dans le top 4 - Tango Bourges Basket, Basket Landes et Villeneuve d'Ascq - avec des victoires pendant que Lattes-Montpellier succombe à domicile.
Ces quatre clubs se rencontreront pour les demi-finales des playoffs pour disputer le titre en tant que Champion de France LFB 2014 autant que le Champion se qualifie aussi pour l'EuroLigue Féminine pour la saison prochaine.
Le Challenge Round se compose des équipes qui sont classées entre la 5ième et la 8ième place dont les deux meilleurs clubs pourront participer en EuroCoupe l'année prochaine.
Les deux clubs en bas du tableau, Arras et Cavigal Nice, attendront la confirmation de leur relégation en L2F après des contrôles financières générales de tous les clubs en LFB et des clubs promus de L2F.

Tous les résultats de la journée 23 à 25 se trouvent sur la marge droite pendant que les résultats de la dernière journée en saison régulière se trouvent au-dessus du texte français avant le classement de la saison.

---
Picture credits:
womensbasketball-in-france.com
Date created: 20 April 2014
Like this page / Aimez cette page