Tango Bourges Basket are going to
the EuroLeague Women Final 8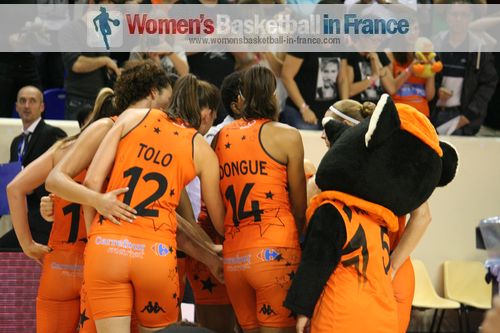 The 2014 EuroLeague Women season has been a roller coaster for the ladies of Tango Bourges Basket. But they should be happy after beating their semi-final opponents. They get read to dance in Ekaterinburg during the Final 8 starting on the 7th April with the group stage to finish on the 13th April 2014 with the final.
Veuillez trouver des informations en français en bas de la page la dernière journée des play-offs de l'Euroligue féminine.
Bourges Basket needed three games in EuroLeague play-off action to get past Good Angels Kosice and qualify in Group B together with hosts UMMC Ekaterinburg, ZVVZ USK Prague and Nadezhda Orenburg.
Styliani Kaltsidou had her best game since her return to Bourges with a game high 18 points. Nwal-Endéné Miyem chipped in 16 points and Céline Dumerc helped herself to 10 points and 10 assists in the (67-57) to clinch the series 2-1.

Bourges Basket won the first game (69-67) but then lost the second one on the road (54-61) before assuring their place in their second EuroLeague Women Final 8.
In the other series that went to three games, it was not to be for Elodie Godin and Beretta Famila Schio as they lost (61-63) to Turkish newcomers Kayseri Kaski Spor.
ZVVZ USK Prague ended Rivas Ecópolis' dream of qualifying as they beat them (54-38). This means for the first time since 2008 that no Spanish team is involved during the final stages of the competition.

In the other play-off series the top seeds won in two games:
Sparta&K M. R. Vidnoje walloped Uniqa Euroleasing Sopron (81-43) in game one and then sealed their place in the Final 8 with a routine victory in the second game (69-54).
Fenerbahçe SK kept their winning streak intact by beating CCC Polkowice at home (75-57) and away (64-54). Nadezhda Orenburg booked their place in the Final 8 by seeing off Wisla Can-Pack in games of contrasting styles. At home the Russians were defensive (54-48) while on the road they were more offensive (83-76).
Alba Torrens helped Galatasaray Odeabank eliminate her former club  Perfumerías Avenida (70-61) and (74-54).
The four teams to face off during the EuroLeague Women Final 8 in Group A are Fenerbahçe SK, Sparta&K M. R. Vidnoje, Galatasaray Odeabank and Kayseri Kaski Spor.
---
Les Tangos retournent à Ekaterinbourg !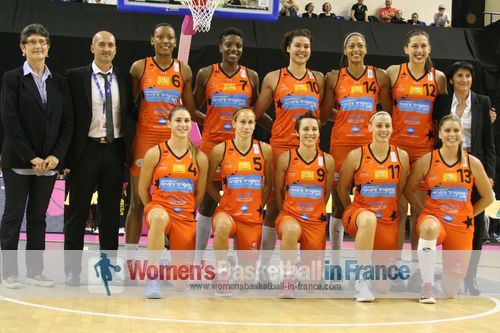 Comme l'année dernière, les Tangos se qualifient pour le Final 8 après avoir joué leur match d'appui. La saison précédente, Tango Bourges Basket a terminé troisième et cette fois-ci, elles devraient espérer mieux, même le titre comme en 2001.

Ainsi au Prado, pour leur troisième match de play-offs contre Good Angels Kosice, les Berruyères ont jusqu'à 18 points d'avance pendant le troisième quart-temps. Pourtant l'équipe Slovaque revient à 6 points à trois minutes de la fin. Mais les co-équipières de Nwal-Endéné Miyem (16 points, 8 rebonds), Céline Dumerc (10 points, 10 passes décisives, 5 rebonds) et Stella Kaltsidou (18 points) se resaississent pour emporter cette rencontre (67-57).
Le premier match des play-offs entre Bourges Basket et Good Angels Kosice (59-51) a été marqué par une bonne défense des Tangos et une agilité par les co-équipières de Céline Dumerc (18 points), à l'image de Endéné Miyem (14 points), Marianna Tolo (10 points), Emméline Ndongue et Diandra Tchatchouang.
Le match retour à Kosice, d'ailleurs, est plus difficile pour les Tangos qui sont écartées par leurs adversaires de 14 points à la mi-temps pour finalement perdre (61-54) malgré les efforts pour revenir au score par leur capitaine Céline Dumerc (15 points) pour revenir au score.

Ainsi se construisent les deux groupes pour le Final 8:
Groupe A:
Kayseri Kaski Spor (qui s'imposent au match d'appui contre Elodie Godin et Famila Schio (63-61)),
Sparta&K M. R. Vidnoje (bat UE Sopron (81-43) aller et (69-54) retour) pendant que
Isabelle Yacoubou avec Fenerbahçe SK restent invaincues (en s'imposant contre CCC Polkowice (75-57) à domicile et (64-54) à l'extérieur) et

Galatasaray Odeabank (qui bat Perfumerías Avenida (70-61) et (74-54)).
Groupe B:
Bourges Basket,
Ekaterinbourg (qualifié en tant qu'organisateur),
ZVVZ USK Prague (qui s'impose contre Rivas Ecópolis 54-38) dans le match d'appui) et
Nadezhda Orenburg (vainqueur contre Wisla Can-Pack dans deux rencontres (54-48) à domicile et (83-76) pour le match retour).
Le Final 8 commence le 7 avril et est clôturé par la finale, le 13 avril 2014.
---
Visit EuroLeague Women 2014 page

Picture credits:
womensbasketball-in-france.com
Olivier Blatrie

Date created: 21 March 2014
Like this page / Aimez cette page