Hosts find it tough on opening day of
EuroLeague Women 2014

On the first evening of the 2014 EuroLeague Women season only three teams playing at home came away with a victory. It was a mixed day for the French teams with Tango Bourges Basket losing at home and Lattes-Montpellier winning on the road.

Veuillez trouver des informations en français en bas de la page sur la première journée des clubs français participants à l'Euroligue féminine.
With the exception of the match between Galatasaray Odeabank and Perfumerías Avenida, all the matches were broadcast by TV stations or clubs' live streams.
Lattes-Montpellier were the first team to record a victory in the competition after seeing off Russian club side Nadezhda Orenburg (59-57). Shameka Christon who had played for Nadezhda in 2011 was the match winner with 20 points while the unsung hero for Montpellier was
Virginie Brémont who knocked down 13 points while running the point.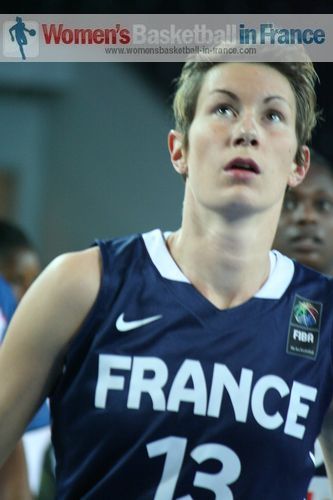 At the moment in France, the only club that get TV coverage is Tango Bourges Basket. Unfortunately for their new media partner for EuroLeague games they lost at home to Beretta Famila (55-61).
They were destroyed by former Bourges Basket player Elodie Godin (in picture) who knocked down 20 points and picked up 9 rebounds. Laura Macchi was also active with some clutch shooting in her 18-point performance.
Bourges had one of those days when the ball just refused to drop. But with eight minutes to play they trailed by just 2 points.
Bourges Basket's coach Valérie Garnier made a couple of tactical decisions that did not work with her team then being punished (2-11).
Jo Leedham and Céline Dumerc (11 rebounds) did have 11 points to their  names while Marianna Tolo knocked down 13 points. Yet the Bourges machine was not working.

It was not a great night for Polish clubs in front of their home fans. First CCC Polkowise fell to Kibirkstis-Vici Vilnius (66-68) and then Frida Eldebrink's (18 points) game winning buzzer beater sealed the victory for Rivas Ecópolis against Wisla Can-Pack (62-60).
Plenette Pierson contributed 33 points in helping Good Angels Kosice to down ELW new comers Kayseri Kaski Spor (77-69).
Galatasaray were not hit by the home jinx and knocked off Perfumerías Avenida (81-56) while ZVVZ USK Prague also avoided a home defeat in holding off WBC Novi Zagred (57-52).
Zsófia Fegyverneky saved UE Sopron from a home defeat with the game's last 7 points to lift them over BK IMOS Brno (73-67).
In the final EuroLeague Women game of the week Uni Györ lost at home to UMMC Ekaterinburg (43-101).
Les Tango crucifiées par
une ancienne joueuse de leur club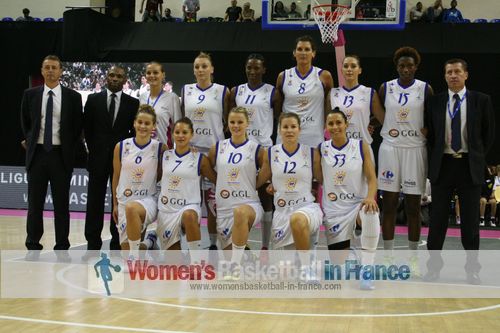 C'était une soirée mitigée pour les deux clubs français engagés dans cette compétition avec une réussite pour Lattes-Montpellier et une défaite pour Bourges Basket.

Elodie Godin (dans l'image) de Beretta Famila Schio, ancienne joueuse de Bourges Basket, crée la surprise de la soirée devant une grande foule dans une Prado remplie. Pourtant Valérie Garnier demande de la gener dans son jeu dans la deuxième mi-temps, Godin arrive quand même à déconcerter les Tangos.
Auteur de 20 points et 9 rebonds et MVP de cette rencontre, elle est épaulée par Laura Macchi (18 points). Les co-équipières de Céline Dumerc (11 points et 11 rebonds), Jo Leedham et Marianna Tolo avec 11 et 13 points arrivent à presque revenir dans le jeu mais leur maladresse dans le shoot et dans le lancer franc leur coûtent cher.
Bourges perd alors par 6 points (55-61) contre l'équipe italienne.

Par contre Lattes-Montpellier fait une bonne opération en Russie en battant Nadezhda Orenburg (59-57) dans un match serré.
Virginie Bremont (13 points) donne un avantage de 8 points à son équipe avec deux paniers (51-43) quatre minutes dans le dernier quart. Géraldine Robert assure les rebonds (total de 9) pendant que Shameka Christon et Fatimatou Sacko contribuent 20 et 10 points dans leur victoire.
Une dernière tentative avec un tir prime par Donna Bonner (18 points) pour sauver Nadzhda est en vain.

---
Visit EuroLeague Women 2014 page

Picture credits:
womensbasketball-in-france.com

Date created: 7 November 2013
Like this page / Aimez cette page