EuroLeague Women 2014
now in full swing

Tango Bourges Basket fell to 0-and-2 in EuroLeague Women (ELW) play after falling to defending champions UMMC Ekaterinburg (52-57). Lattes Montpellier were not in action this week.

Veuillez trouver des informations en français en bas de la page sur la deuxième journée à l'Euroligue féminine.
Jantel Lavender from Wisla Can-Pack was on fire offensively knocking down 34 points while last week's ELW player of the week Plenette Pierson from Good Angels Kosice helped herself to 22 points.
Shavonte Zellous (Galatasaray Odeabank) was another lady on a mission in this round with 32 points from 12-of-14 shots from the floor and a perfect 2-of-2 from the free-throw line.
However the performance of the evening belongs to Candace Parker whose 16 points, 20 rebounds, 2 assists, 2 steals and 2 blocks led UMMC Ekaterinburg to victory against Bourges Basket (57-52).

EuroLeague Women groups recap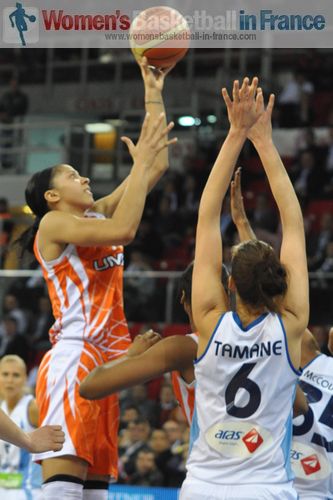 In  Group A, Good Angels were made to work hard in overcoming Uni Györ (75-64). Plenette Pierson not only scored 22 points, she also picked up 10 rebounds. Uni Györ who have had to build a new team after their accident in September are beginning to gel as a team and look ready for the rest of the competition.
Candace Parker (in picture) turned into a one-women wrecking machine as UMMC managed to get past Bourges Basket in a tight game. Diana Taurasi joined Parker in double digits with 15 points.
Nwal Endene Miyem was the leading scorer for Bourges with 15 points.
Laura Macchi knocked down 31 points in leading Beretta Famila to victory against Kayseri Kaski Spor (73-62) in the final game of the second EuroLeague round.

In Group B it was back to winning business for Wisla Can-Pack with a road victory against the youngsters from BK-Imos Brno (67-61). Jantel Lavender made the headlines with 34 points for the winners. But the performance of Alena Hanusová with 19 points from the hosts was also drawing attention.
Laura Nichols hit 23 points to lead Rivas Ecópolis to victory against bad travellers Nadezhda Orenburg (90-71).
Fenerbahçe played well for 35 minutes against Sopron, leading (68-48). They then went to sleep and were hit 16-1 but survived with a couple of points from French international Isabelle Yacoubou-Dehoui to win (71-64).

In Group C, while Lattes Montpellier had a week off, Galatasaray rolled over WBC Novi Zagred (92-67) with 32 points from Zellous and 22 more from Alba Torrens.
Perfumerías Avenida opened their 2014 EuroLeague Women winning account with a home victory against CCC Polkowice (59-44) while Sparta&K MR Vidnoje suffered a home defeat against ZVVZ USK Prague (47-57).

Tout droit dans le but pour UMMC Ekaterinburg

Pendant que Lattes-Montpellier était au repos, Bourges Basket a voyagé pour relever un défi contre UMMC Ekaterinburg, mais finalement retourne à la maison avec sa deuxième défaite en Euroligue Women.
Pendant que Good Angels emmené par Plenette Pierson (22 points, 10 rebonds) arrache une victoire contre Uni Györ (75-64), Tango Bourges Basket vacille contre le géant Russe UMMC Ekaterinburg dans les dernières minutes pour perdre (52-57).
Candace Parker (16 points, 20 rebonds, 2 passes décisives, 2 interceptions et 2 contres) et Diana Taurasi (15 points dans l'image) excellent pour l'hôte et Nwal Endene Miyem mene le score avec 15 points pour Bourges.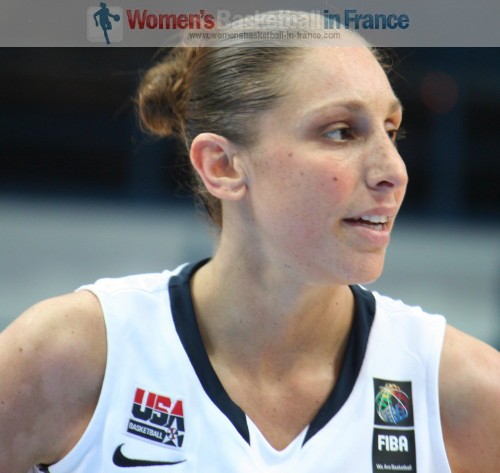 Une bonne prestation par Jantel Lavender pour Wisla-Can Pack avec 34 points aide son équipe à surmonter les jeunes de BK-Imos Brno pour une victoire (67-61). Alena Hanusová de BK-Imos Brno montre ses talents avec 19 points.
Avec 23 points Laura mène Rivas Ecópolis à la victoire contre Nadezhda Orenburg (90-71). Fenerbahçe gagne à domicile (71-64) contre Sopron après avoir se laissé aller pendant le dernier quart. Ce sont les deux point à la ligne de lancer franc par Isabelle Yacoubou-Dehoui qui sauve son équipe d'une éventuelle défaite.
Pendant que Lattes-Montpellier est spectateur dans cette compétition cette semaine, Galatasaray dépasse WBC Novi Zagred (92-67) avec 32 points de Shavonte Zellous et 22 points de Alba Torrens.
Perfumerías Avenida, à domicile, enregistre leur première victoire cette saison en Euroligue contre CCC Polkowice (59-44) pendant que Sparta&K MR Vidnoje se laisse dépasser à domicile par ZVVZ USK Prague (47-57).
Beretta Famila emmené par Laura Macchi (31 points) remporte une nouvelle victoire en Euroligue en s'imposant contre Kayseri Kaski Spor (73-62) le deuxième jour de la deuxième manche.
---
Visit EuroLeague Women 2014 page

Picture credits:
womensbasketball-in-france.com

Date created: 14 November 2013
Like this page / Aimez cette page