UE Sopron back in EuroLeague
Women qualification battle

For the sixth round of the 2014 EuroLeague Women only six games were played due to Group A having a week off. It was also a good evening to be playing at home with five victories going to the hosts.

Veuillez trouver des informations en français en bas de la page sur la sixième journée à l'Euroligue féminine.
Lattes-Montpellier find themselves at the bottom of Group B after falling on the road to UE Sopron (54-61).
Igor Polenek, the head coach of Sopron was forced into making tactical changes with Kelly Faris not able to play.
Iva Ciglar ended up playing more on her début (she arrived at the club on Monday) than planned, while Zsófia Fegyverneky was double-teamed for most of the game.
However Tianna Hawkins stepped up to finish with 27 points and 9 rebounds for the hosts.
Lattes-Montpellier managed only 7 points during the last seven minutes of the match to suffer a consecutive defeat in the EuroLeague Women.
Géraldine Robert and Héléna Ciak scored 16 and 12 points each for Montpellier who are now bottom of the group.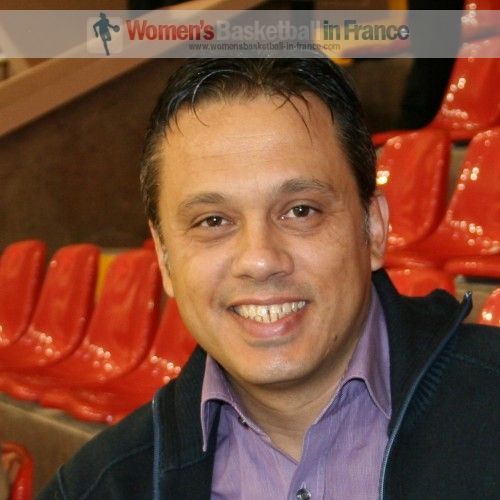 Elsewhere in Group B, George Dikeoulakos (in picture) is waving his magic for Nadezhda Orenburg who won their second straight match. They came out on top against Wisla Can-Pack (60-52).

In the other game from the group Fenerbahçe walloped Rivas Ecópolis (84-60) to remain alone at the top of the table with a perfect record of five wins from five games.
Agnieszka Bibrzycka (Biba) and Angel McCoughtry led the way to victory with 18 and 15 points each, while Isabelle Yacoubou-Dehoui chipped in 10 points. Laura Nicholls poured in 19 points in defeat.

In EuroLeague Women Group C, ZVVZ USK Prague continued their unbeaten march with a comfortable victory against Kibirkstis-VICI (93-62). Meanwhile it was the turn of Nika Baric to shine for Sparta&K MR Vidnoje with 16 points in their victory (67-56) against Spanish champions Perfumerías Avenida.
Galatasaray recorded their 4th ECW victory of the season (62-49) against CCC Polkowice and remain in second place. Shavonte Zellous was the player of the match with 22 points and 4 assists. CCC buried themselves by scoring just 1 three-pointer during the final ten minutes.
---
Lattes-Montpellier : nouvelle défaite, grosse déception

Le groupe avec Bourges Basket est au repos cette journée ayant que cinq équipes pendant que Lattes-Montpellier échoue dans sa requête d'une victoire en EuroLigue féminine. En même temps, sa défaite propulse son adversaire UE Sopron à la deuxième place dans ce groupe.

Quoique Géraldine Robert (16 points) et Héléna Ciak (12 points) temptent de s'emparer de Tianna Hawkins sous le panier, c'est Hawkins qui domine (27 points, 9 rebonds) pour donner une victoire à UE Sopron (61-54).
Manque d'adresse au shoot et que 29 prises contre 42 au rebond fait la différence.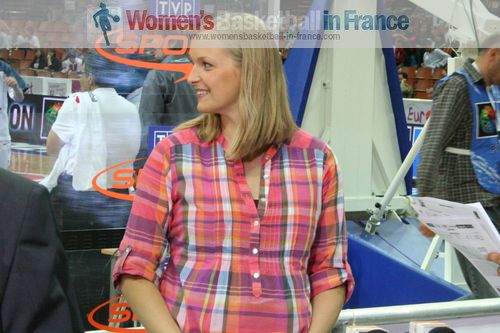 Nadezhda Orenburg  empoche sa deuxième victoire consécutive en battant Wisla Can-Pack (60-52) pendant que Fenerbahçe s'impose contre Rivas Ecópolis (84-60) avec cinq victoires sur cinq matchs.
Il y a des bonnes performances de Agnieszka Bibrzycka (18 points), Angel McCoughtry (15 points) et Isabelle Yacoubou-Dehoui (10 points) d'une côté et de Laura Nicholls (19 points) pour Rivas Ecópolis.
Dans l'autre groupe, ZVVZ USK Prague reste invaincu après avoir gagné contre Kibirkstis-VICI (93-62) pendant que Sparta&K MR Vidnoje, emmené par Nica Baric (16 points), bat l'équipe espagnole Perfumerías Avenida (67-56).
Galatasaray bat CCC Polkowice (62-49) avec une Shavonte Zellous (22 points, 4 passes décisives) en forme pour rester deuxième dans son groupe.
---
Visit EuroLeague Women 2014 page

Picture credits:
womensbasketball-in-france.com

Date created: 12 December 2013
Like this page / Aimez cette page