It's Parker time in
EuroLeague Women

The EuroLeague Women game of the week between Good Angels Kosice and UMMC Ekaterinburg belonged to one person: WNBA super star Candace Parker. She helped herself to 35 points, 16 rebounds and 4 blocks.

Veuillez trouver des informations en français en bas de la page sur la quatrième journée à l'Euroligue féminine.
Since the start of this ELW competition Parker has connected with 76 percent of her shots (29-from-38) for an average of 22.7 points per game. She is also averaging 15 rebounds, 2.3 assists and 2.7 blocks per game.
Despite all the statistics, her performance in front of 7855 spectators in Kosice will not be forgotten for a long time. UMMC were in trouble and, going into the final quarter, were trailing (51-58).
Parker helped her side to 10 points in a 14-6 run to put the European club champions in front for good with 4:30 to play (65-64).
UMMC held on to win (72-68) to keep their perfect record intact in Group A. Parker's WNBA team-mate Farhiya Abdi - playing for Good Angels - top scored for her team with 13 points.

If anybody had said at the start of this EuroLeague season that Tango Bourges Basket would be 0-3 after three games, they would have been chased out of the room. Yet it is true Bourges Basket lost again, this time on the road to ELW newcomers Kayseri Kaski Spor (56-61).
Elodie Godin completed a double-double with 18 points and 15 rebounds. She also came away with 3 assists, 3 steals and 4 blocks in  firing Beretta Famila past Uni Györ (70-56) in the closing game of week 4.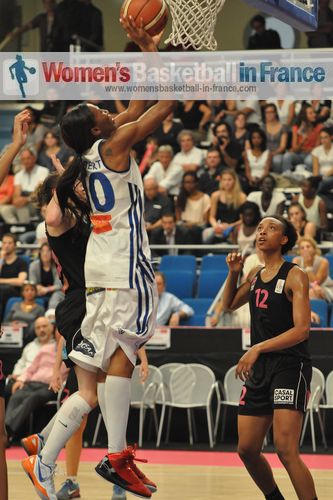 In Group B, Lattes-Montpellier suffered their first defeat of their EuroLeague campaign despite a 19-point and 9-rebound performance by Géraldine Robert (in picture). BK Imos Brno playing at home took full advantage of a poor last quarter by Montpellier to snatch the victory (67-63).
Ivana Jalcová was the home hero with 17 points and 8 assists.
With five seconds to play Cappie Pondexter's 2 free throws turned out to be the winning shots as Fenerbahçe beat Nadezhda Orenburg (71-69). Whereas Wisla Can-Pack got their first win of the season, on the road against UE Sopron (67-61).
In Group C, ZVVZ USK Prague - driven by 20 points and 14 rebounds by Jelena Dubljevic - edged out Galatasaray (67-63) in the battle of the unbeaten.
Sparta&K MR Vidnoje finally had something to smile about with their first victory in this EuroLeague Women season against CCC Polkowice (67-55).
Milica Dabovic (27 points) stepped on the gas during the closing minutes with 7 of WBC Novi Zagreb's last 11 points as her club edged out Kibirkstis-Vici Vilnius (70-67). This is also Novi Zagreb's first win.
---
Tango Bourges Basket
Que se passe-t-il?

Pendant que les deux clubs français, Lattes Montpellier et Bourges Basket, perdent cette semaine en EuroLigue, UMMC Ekaterinburg arrache sa troisième victoire consécutive avec une excellente performance par Candace Parker (dans l'image).

UMMC Ekaterinburg traine (51-58) contre Kosice Good Angels à la fin du troisième quart. Mais c'est Candace Parker (35 points, 16 rebonds, 4 contres) qui aide son équipe avec 10 points pendant les quatre premières minutes du dernier quart pour enfin dépasser son adversaire. Ekaterinburg maintien son avantage pour vaincre Kosice Good Angels (72-68).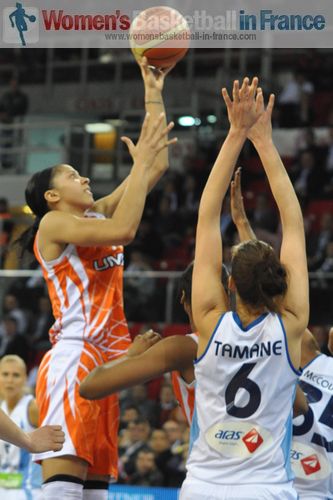 Par contre Bourges Basket a du mal à se mettre dans le bain en EuroLigue et succombe contre son hôte Kayseri Kaski Spor (56-61). Les 15 points par Jo Leedham étaient en vain car son équipe perd le ballon à 16 reprises et ne défend pas suffisament. Tanisha Wright, qui a joué pour Tarbes en 2008-2009, contribue 15 points à la victoire pour Kayseri Kaski.
Beretta Famila, emmené par Elodie Godin (18 points, 15 rebonds, 3 passes décisives, 3 interceptions, 4 contres) signe à nouveau une victoire en battant Uni Györ (70-56).
Lattes-Montpellier a l'avantage (56-50) au début du quatrième quart, mais marque que 7 points après pour succomber contre BK Imos Brno (63-67). C'est Géraldine Rober (19 points, 9 rebonds) qui est la meilleure joueuse de son équipe, mais c'est Ivana Jalcová (17 points, 8 passes décisives) qui célèbre la victoire à domicile avec son club et les supporteurs.
Pendant les cinq dernières secondes du match, les 2 lancers francs de Cappie Pondexter apportent la victoire à Fenerbahçe contre Nadezhda Orenburg (71-69).
Wisla Can-Pack enfin gagne un match en arrachant une victoire à leur hôte UE Sopron (67-61).
ZVVZ USK Prague - avec une bonne prestation par Jelena Dubljevic (20 points, 14 rebonds) - reste invaincu en battant Galatasaray (67-63). Pour Galatasaray c'est leur première défaite en EuroLigue cette saison.
Sparta&K MR Vidnoje remporte une première victoire en gagnant contre CCC Polkowice (67-55).
Dans les dernières minutes, les 7 points de Milica Dabovic (27 points) pour WBC Novi Zagreb sont bienvenus pour vaincre Kibirkstis-Vici Vilnius (70-67). C'est la première victoire pour Novi Zagreb cette saison en EuroLigue.

---
Visit EuroLeague Women 2014 page

Picture credits:
womensbasketball-in-france.com

Date created: 28 November 2013
Like this page / Aimez cette page