4th time 1st luck
in EuroLeague Women
for Tango Bourges Basket

Tango Bourges Basket opened their 2014 EuroLeague Women winner's account with a comfortable victory against Uni Györ (85-49). Lattes-Montpellier suffered their second defeat in a row, this time at home while Sandrine Gruda's UMMC continue to win.

Veuillez trouver des informations en français en bas de la page sur la cinquième journée à l'Euroligue féminine.
Tango Bourges Basket came into their game against Uni Györ on a losing streak of three games in all competitions. After a close first quarter (19-16) Bourges stepped on the gas during the second quarter with a 24-9 run. They then concluded the contest during the third quarter 22-7.
Nwal-Endéné Miyem finished with a double-double of 16 points and 11 rebounds in leading Bourges to victory (85-49). Australian international Marianna Tolo also knocked down 16 points while Céline Dumerc dished out 10 assists.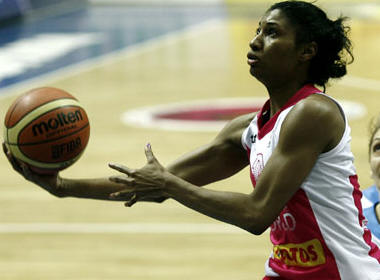 In the meanwhile Lattes-Montpellier were out-classed at home (55-73) by Fenerbahçe, the team of Isabelle Yacoubou-Dehoui (11 points and 8 rebounds). Angel McCoughtry (in picture) fired in 25 points for the winners.
Fenerbahçe, UMMC Ekaterinburg and ZVVZ USK Prague are the only teams left yet to suffer a defeat in this competition.
Beretta Famila miss-fired at home to drop their first game of the 2014 ELW with a loss to Good Angels Kosice (57-67). This result leaves UMMC alone on top of EuroLeague Group A who blew away Kayseri Kaski Sport during the second half to win (85-45). Polish international
Ewelina Kobryn had a perfect shooting day from open play and the free-throw line with 21 points for UMMC.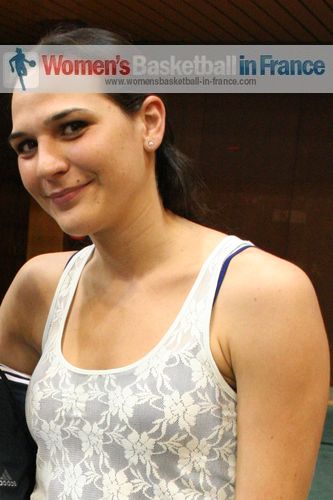 Nadezhda Orenburg won for the first time in EuroLeague Group B by outscoring UE Sopron (71-59), while Rivas Ecópolis knocked down IMOS Brno (78-60). Montpellier's defeat against Ferberhahçe leaves them in 5th place in the group.
In EuroLeague Group C, Sonja Petrovic (in picture) had 19 points, 7 rebounds and 5 assists in helping Sparta&K MR Vidnoje to win on the road against Kibirkstis-VICI (68-58). Evgenia Belyakova also knocked in 19 points for the winners.
CCC Polkowice once again dug a big hole for themselves after trailing 5-19 with nine minutes played against group leaders ZVVZ USK Prague. Despite the support of the home fans, CCC never led and fell (64-67).
Perfumerías Avenida needed 30 points from Eshaya Murphy to get past WBC Novi Zagreb (74-57).

---
Des résultats mitigés pour les équipes françaises
en EuroLigue féminine

Enfin Tango Bourges Basket enregistre son premier succès en EuroLigue féminine pendant que Lattes Montpellier s'incline à nouveau. Les co-équipières de Sandrine Gruda pour UMMC Ekaterinburg comme Fenerbahçe et ZVVZ USK Prague continuent leurs sans faute.

Tango Bourges Basket prend un petit avantage dans le deuxième quart (19-16) pour ensuite accélerer et creuser un écart important pour s'imposer (85-49) contre Uni Györ.
Nwal-Endéné Miyem est la meilleure marqueuse avec 16 points et 11 rebonds pendant que l'internationale Australienne Marianna Tolo contribue aussi 16 points et Céline Dumerc fait 10 passes décisives.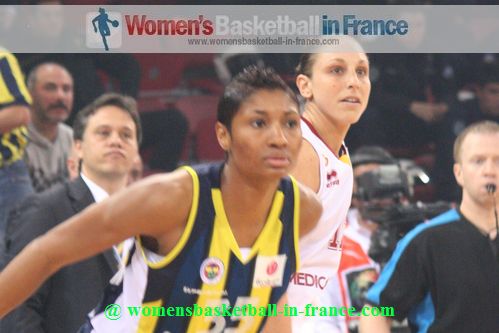 Mais Lattes-Montpellier succombe à domicile contre Fenerbahçe (55-73). Fenerbahce est emmené par Angel McCoughtry. Aussi Isabelle Yacoubou-Dehoui contribue à la victoire de son équipe (11 points, 8 points).
Maladroit au shoot, Beretta Famila perd contre Good Angels Kosice (57-67) pendant que UMMC Ekaterinburg démolit Kayseri Kaski Sport pendant la deuxième mi-temps pour gagner (85-45). Ewelina Kobryn, avec 100% de réussite, marque 21 points pour UMMC.
Nadezhda Orenburg gagne pour la première en ELW cette saison en battant UE Sopron (71-59). Dans le même groupe, Rivas Ecópolis s'impose (78-60) contre IMOS Brno.
Emmené par une ancienne joueuse de Bourges Basket, Sonja Petrovic, (19 points, 7 rebonds, 5 passes décisives) Sparta&K MR Vidnoje bat Kibirkstis-VICI (68-58).
CCC Polkowice arrive presque à revenir au score après se faire écarté dès le début du match mais succombe finalement (64-67) contre ZVVZ USK Prague.
Avec une belle prestation de Eshaya Murphy (30 points), Perfumerías Avenida peut célébrer leur victoire contre WBC Novi Zagreb (74-57).
---
Visit EuroLeague Women 2014 page

Picture credits:
womensbasketball-in-france.com

Date created: 6 December 2013
Like this page / Aimez cette page