Lattes-Montpellier continue to
struggle in EuroLeague Women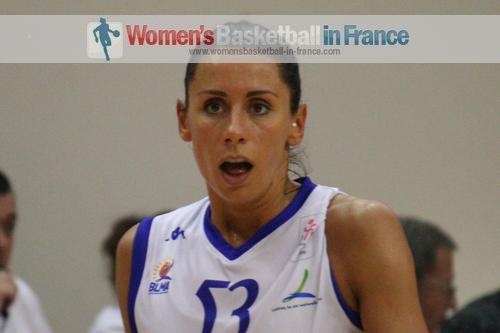 Lattes-Montpellier's hopes of qualifying for the EuroLeague Women play-offs took a big dent after another defeat which leaves them officially stranded at the bottom of Group B.

Veuillez trouver des informations en français en bas de la page sur la dixième journée à l'Euroligue féminine.
Lattes-Montpellier failed to score during the last 3:30 minutes while their opponents Rivas Ecópolis went on a 11-0 run to snatch the victory (63-56). Swedish international Frida Eldebrink hit two big three-pointers for the guests during the dying minutes.
However the big scorer and match winner for the Spanish side was  Queralt Casas who went 10-of-13 from the floor in scoring 24 points and ending her team's three-game losing streak.

The Spanish club not only reversed their defeat earlier in the season but have the head-to-head advantage in case the two teams finish level at the end of the regular season.

Géraldine Robert (in picture) was yet again the main warrior for Lattes-Montpellier with 16 points and 8 rebounds while Gunta Basko-Melnbarde supported her team-mate with 14 points and 7 rebounds. Both players also recorded a couple of assists.
Montpellier have lost their last six games in the EuroLeague Women competition. So they must not only start winning games, they also need to make sure to win by margins that would give them an aggregate score advantage in case of a tie-break at the end of the regular season.
Meanwhile in the same group French international Isabelle Yacoubou-Dehoui and Fenerbahçe cannot stop winning. They beat Wisla Can-Pack (68-59) with the French international leading the way with 14 points and 8 rebounds.
Nadezhda-Orenburg had their fifth consecutive win. They defeated BK IMOS Brno (86-58). DeWanner Bonner fired in 29 points while picking up 13 rebounds for the victors.
EuroLeague Women groups A and C

In EuroLeague Group A, Bourges Basket and UMMC Ekaterinburg had the week off while Kayseri Kaski and Good Angels picked up wins. Tango Bourges Basket find themselves once again alone in 5th place while Uni Györ are one defeat away from elimination of this season's competition.
In EuroLeague Women Group C the qualification picture is more intresting with all the teams beating each other and nobody dominating the group.

Perfumerías Avenida had a comfortable home victory against Kibirkstis-VICI (97-70) on the back of 32 points by Shay Murphy. This defeat sees Kibirkstis drop to the bottom of the group. But with two victories they are still in the battle to finish in fifth place.

Sparta&K Vidnoje led for the last 37 minutes to beat Galatasaray (73-59). The Russians had lost the first meeting against Galatasary by 13 points. With this win they have taken the advantage in the series.
The encounter between Novi Zagreb and CCC Polkowice came alive during the last seven minutes. Novi Zagreb outscored CCC Polkowice 26-14 to win the match (71-66). This victory, only their second one in this competition, takes them off the bottom of the group.

---
Au repos les Tangos et
une nouvelle défaite pour Lattes-Montpellier

Lattes-Montpellier a de grosses difficultés de garder son élan. Dans le dernier quart, les joueuses de Montpellier sont maladroites au shoot et perdent ainsi leurs sixième matchs consécutifs en Euroligue féminine et se trouvent en bas de leur groupe.

Dans le groupe B, Tango Bourges Basket se trouve actuellement en cinquième position après que Kayseri Kaski et Good Angels gagnent leurs rencontres. Seule Uni Györ n'a pas encore gagné un match et est à une défaite près de l'élimination.  

Aucune équipe en groupe C arrive à dominer et c'est ainsi que même après une nouvelle défaite pour Kibirkstis-VICI (70-97) contre Perfumerías Avenida, le club de Lituanie a encore une chance de se qualifier pendant que Novi Zagreb gagne pour la deuxième fois dans cette compétition en s'imposant à CCC Polkowice (71-66) et ensuite se mettant devant Kibirkstis-VICI dans la classification.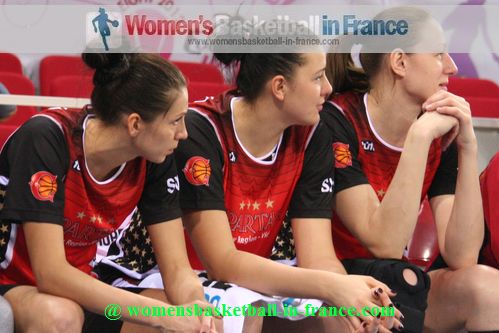 Sparta&K Vidnoje bat Galatasaray (73-59) et a l'avantage sur son adversaire après avoir perdu par 13 points dans sa première rencontre.
Pendant que Géraldine Robert (16 points, 8 rebonds) ne croise jamais les bras, les co-équipières de Gunta Basko-Melnbarde (14 points, 7 rebonds) sont incapables de surmonter leurs maladresses pendant le dernier quart et succombent ainsi (56-63) contre Rivas Ecópolis dont les performances de Queralt Casas (24 points) et Frida Eldebrink (13 points) sont impressionantes.
Pour Isabelle Yacoubou-Dehoui (14 points, 8 rebonds) et Fenerbahçe, il n'y a pas d'erreur. L'équipe turque bat Wisla Can-Pack (68-59) et reste toujours invaincue.

Nadezhda-Orenburg avec une DeWanner Bonner en excellente forme (29 points, 13 rebonds) sont les gagnants dans la rencontre contre BK IMOS Brno (86-58).

---
Visit EuroLeague Women 2014 page

Picture credits:
womensbasketball-in-france.com

Date created: 02 February 2014
Like this page / Aimez cette page