Avenge in the air to start the
return phase of the
EuroLeague Women competition

With six teams reversing their opening day defeats in the 2014 EuroLeague Women (ELW), the battle for the play-offs has become more interesting in ELW groups B and C.

Veuillez trouver des informations en français en bas de la page sur la huitième journée à l'Euroligue féminine.
As Final 8 hosts UMMC Ekaterinburg are assured a place in the finals which means that only one team from Group A can be eliminated during the group phase. UMMC bulldozed Uni Györ (115-51) to maintain their unbeaten record. Latvian guard Anete Jekabsone-Zogota led the way with 21 points while the American duo of Candace Parker and Diana Taurasi (11 assists) knocked down 16 points each.
Uni Györ who are without a victory so far were led by Joslyn Tinkle with 19 points. The Hungarian team needs to start winning soon and hope that Bourges Basket keep on losing.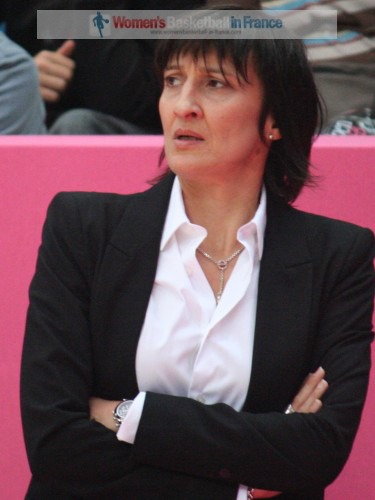 Tango Bourges Basket were beaten in overtime to Elodie Godin's  Famila Schio (81-72).  Laura Macchi and  Courtney Vandersloot (on her début after her loan out from Uni Györ) had 19 and 18 points each. Elodie Godin helped herself to 10 points and 16 rebounds.
Tango Bourges Basket coach, Valérie Garnier (in picture), said after the game "As my players said, we started to play too late. To win this game we needed to play 45 minutes really hard but we didn't."
Provided that Uni Györ remain winless before they meet Bourges in the last game of the regular season, Bourges will have already qualified for the next phase even if they do not win another match.
Good Angels Kosice are not really having any fun playing in the Steel Arena which is their new home for EuroLeague Women games. They were beaten by Turkish side Kayseri Kaski Spor (42-53).

Excitement in EuroLeague Group B and C
Lattes-Montpellier in trouble
Lattes-Montpellier lost at home to Nadezhda Orenburg (64-77) and drop to last place in EuroLeague Women Group B.
Montpellier self-imploded during the last six minutes with just 2 points while their visitors knocked down 15. Dewanna Bonner had 26 points for the victors while the evergreen Géraldine Robert knocked down 22 for the hosts.
Elsewhere in the group Wisla Can-Pack also overturned their opening day defeat against Rivas Ecópolis with a (76-62) road victory.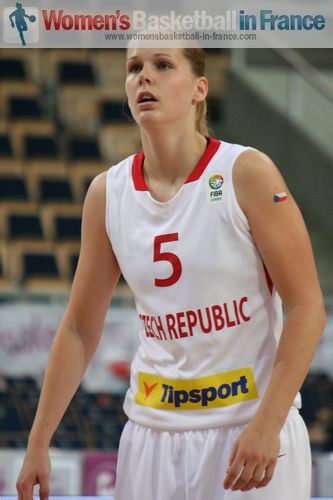 BK Imos Brno completed the triple of reversals in this group by holding off UE Sopron (71-69). A combined total of 47 points from Tianna Hawkins and Zsofia Fegerveneky (29 points) for Sopron kept them in the match.
The hosts were served by steady free-throw shooting of Alena Hanusová (8-of-8, in picture) and a double-double performance by Anna Jurcenkova with 15 points and 16 rebounds to hold on to the victory.

In EuroLeague Women Group C, Galatasaray without the influential Alba Torrens fell on the road to Perfumerías Avenida (48-68) while Laia Palau helped herself to 13 assists for ZVVZ USK Prague to destroy Novi Zagreb (87-49).
Kibirkstis-VICI find themselves out a play-off position for the first time of this Euroleague Women season after losing at home to CCC Polkowice (39-54).
The good news for this EuroLeague Women competition is that all the teams in Group B and Group C still have a chance of qualifying for the play-offs.
---
Bourges Basket et Lattes-Montpellier :
Pas de succès

Une cinquième défaite consécutive pour Lattes-Montpellier et une quatrième défaite pour Tango Bourges Basket, c'est le triste exploit des clubs français en EuroLigue féminine.
C'est à nouveau Famila Schio qui jubile. Les co-équipières de Elodie Godin (10 points, 16 rebonds) et Laura Macchi (19 points, 6 passes décisives) gagnent contre Tango Bourges Basket en prolongation (81-72).
Pourtant ce sont les Tangos avec une bonne prestation par Endy Miyem (16 points, 9 rebonds) qui rattrappent le club italien pour forcer un cinquième quart (64-64). Mais les Italiennes se reprennent et gagnent cette rencontre.
Quoique Lattes-Montpellier a l'avantage à la mi-temps, le dernier quart leur est fatal. Pourtant Géraldine Robert (22 points) essaie de sauver son équipe, ce sont Dewanna Bonner (26 points) et Zoi Dimitrakou (19 points) de Nadezhda Orenburg qui ont le dernier mot dans ce match pour s'imposer (64-77).
Il y a seulement deux clubs dans cette compétition dont les résultats sont pires que pour les clubs français: Uni Györ qui a perdu tous ses rencontres et Navi Zagreb qui a gagné une seule.
Pour toutes les autres résultats, consultez la marge droite.

---
Visit EuroLeague Women 2014 page

Picture credits:
womensbasketball-in-france.com

Date created: 18 January 2014
Like this page / Aimez cette page