EuroLeague women news
from end of phase one

Bourges Basket ended their 2013 EuroLeague Women season on a high with a victory in Kosice while Lattes-Montpellier suffered their fourth consecutive defeat.
French international Sandrine Gruda came out on top with UMMC Ekaterinburg against Elodie Godin's Beretta Famila (66-73).

Veuillez trouver des informations en français en bas de la page sur la septième journée à l'Euroligue féminine.
Lattes-Montpellier missed two possible game winning chances during the last minute to end up losing at home (72-74) to Wisla Can-Pack. Shameka Christon in her last ELW game for Montpellier led the way with 16 points.
Montpellier's four-game losing streak leaves them tied with Nadezhda and BK Imos Brno in 4th place in Group B.
French international Isabelle Yacoubou-Dehoui's Fenerbahçe dominated Group B with a perfect record of six wins from six games. Three more victories should see them book their place in the play-off (second round).
After a slow start to their EuroLeague Women season with three consecutive defeats, Tango Bourges Basket ended the first phase on a high with a road victory against Group rivals Good Angels Kosice (77-61). Jo Leedham (in picture) led Bourges' offensive with 23 points and 8 rebounds. However the whole team was shooting well with just over 55% of their shots hitting the target.
Bourges Basket are momentarily in fourth place in the group, just one game behind the two teams ahead of them.

In the other big match from this group, Elodie Godin (Beretta Famila) with her 18 points and 8 rebounds could not stop UMMC from winning  on her home court (66-73). Sandrine Gruda led the balanced attack by UMMC with 13 points.
It is very unlikely that Uni Györ get past the first phase after losing to Kayseri Kaski (65-88) for their sixth straight defeat.
In Group C ZVVZ USK Prague suffered their first defeat of the season in all official competitions with a surprise loss to Perfumerías Avenida (79-77).
All the EuroLeague Women results from this week can be found on in the right menu. Traditionally after the Christmas break a lot of teams modify their rosters which tends to extend the suspense as teams battle for a chance to play in the final 8.

---
Bourges Basket et Lattes-Montpellier :
victoire et défaite

Les joueuses de Tango Bourges Basket ont pu clôturer 2013 en EuroLigue féminine avec une victoire pendant que Lattes-Montpellier laisse échapper cette rencontre et échoue pour la quatrième fois consécutive.
Une réussite au shoot à plus de 50% est tout que Tango Bourges Basket a besoin pour gagner contre son hôte Good Angels Kosice (77-61) avec une parfaite prestation par Jo Leedham (23 points, 8 rebonds) et une solide performance de toute l'équipe.
Elodie Godin (18 points, 8 rebonds, dans l'image) et Beretta Famila se heurtent à UMMC Ekaterinburg et perdent dans le dernier quart tout l'espoir de remporter ce match (66-73). Sandrine Gruda contribue 13 points à l'équipe gagnante.
Après avoir perdu leur sixième rencontre dans ce championnat, la qualification pour la deuxième phase pour Uni Györ est peu probable. Kayseri Kaski les bat (88-65).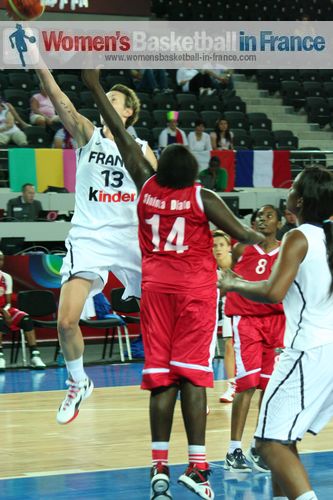 Lattes-Montpellier perd à justesse contre Wisla Can-Pack (72-74) après avoir eu la possibilité de prendre l'avantage à deux reprises dans les dernières minutes du jeu. C'est Shameka Christon qui quitte Montpellier fin 2013 qui est la meilleure marquese avec 16 points.
Pour Isabelle Yacoubou-Dehoui (8 points, 7 rebonds), c'est une nouvelle victoire avec Fenerbahçe qui s'impose à BK Imos Brno (68-60) pour dominer son groupe en tant invaincu pendant que Rivas Ecopolis perd (60-65) contre UE Sopron.

Dans l'autre groupe, ZVVZ USK Prague perd pour la première fois. C'est Perfumerías Avenida qui remporte ce match (79-77) pendant que Galatasaray Odeabank vaint Kibirkstis-VICI (90-39). Sparta&K MR Vidnoje gagne à nouveau. Les co-équipières de Sonja Petrovic (15 points, 10 rebonds) remportent cette rencontre (68-64) contre Novi Zagreb.
Le 15 janvier 2014, EuroLigue féminine reprends ses activités.

---
Visit EuroLeague Women 2014 page

Picture credits:
womensbasketball-in-france.com

Date created: 15 January 2014
Like this page / Aimez cette page