Tango Bourges Basket: back in
EuroLeague Women play-off battle

Tango Bourges Basket's EuroLeague Women victory against UMMC Ekaterinburg (77-69) should end any fear of missing out on a play-off qualification from Group A. Lattes-Montpellier - not playing this week - should be relieved that their rivals at the bottom of Group C all lost.

Veuillez trouver des informations en français en bas de la page sur la neufième journée à l'Euroligue féminine.
Bourges Basket led for most of the match against the defending EuroLeague Women Champions UMMC Ekaterinburg. But they had to wait until overtime to secure only their third victory in this competition.
Céline Dumerc (16 points, 7 assists) hit 8 points - including back to back three-pointers - that gave Bourges a 12-point cushion with 48 seconds left to play in the first half (39-27).
Candace Parker who had more or less beaten Bourges Basket by herself earlier in the season ended the Dumerc show. Then Diana Taurasi brought the first half to an end with a half-court heave that hit the backboard and went in.
Bourges dominated most of the second half of the match with Marianna Tolo (22 points) being strong at both ends of the court while Jo Leedham (15 points) bulldozed her way time and time to the basket.
Yet with 13 seconds to go Taurasi levelled the score (64-64). Bourges had the last play in regulation time. But the UMMC defense was strong and Dumerc's last second effort was off target.
With Deana Nolan (16 points) and Taurasi (23 points) struggling to hit the target during the last five minutes, Bourges were able to pull away and secure an important EuroLeague Women victory (77-69).
With no other games in Group A this week, the pressure is on Uni Györ to win their first match next week.
UMMC were beaten for the first time in this competition after their 13 January 2013 defeat against Perfumerías Avenida.
EuroLeague Women Group B and C
Lattes-Montpellier on a break

The good news for Lattes-Montpellier is that none of the teams directly above them won this week in Group B. The injury list of BK Imos Brno is so long these days that their defeat against Wisla Can Pack (58-79) comes as no surprise.
Rivas Ecópolis cannot win anymore while Nadezhda Orenburg cannot lose. The Russians made it four wins on the trot with a comfortable victory against their Spanish rivals (78-50).
Fenerbahçe hold on to their unbeaten record with a difficult road victory againt UE Sopron (57-53). French international Isabelle Yacoubou-Dehoui helped herself to 10 points and 14 rebounds.
In the EuroLeague Women Group C everything is wide open as no team is able to dominate.
Lack of guard rotation of long time group leaders ZVVZ USK Prague cost them as they fell at home to Sparta&K MR Vidnoje (66-67) while Perfumerías Avenida continue with their Jekyll and Hyde performance.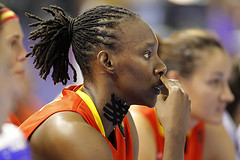 Excellent at home and terrible on the road, this week Avenida lost on the road to CCC Polkowice (53-57).
This victory put the Polish side in the driving seat for the teams currently battling for fifth place. Last but not least Galatasaray Odeabank needed 20 points and 15 rebouns by Sancho Lyttle (in picture) to beat WBC Novi Zagreb (63-55).

---
Tango Bourges Basket :
Une victoire contre UMMC Ekaterinburg à domicile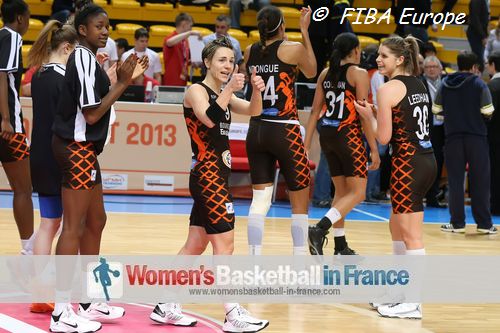 Pendant que Lattes-Montpellier se contente d'observer ses adversaires - se trouvant aussi en bas dans son groupe - tomber cette semaine, c'est Tango Bourges Basket qui bat les champions UMMC à domicile dans une rencontre qui manque un peu dévouement de côté de l'équipe de la Russie.
La rencontre entre Tango Bourges Basket et UMMC Ekaterinburg est le seul match de Groupe A dont le succès de l'équipe de France est le résultat d'une bonne mentalité et persévérance en prolongation. 

Quand Céline Dumerc creuse l'écart peu avant mi-temps avec deux tirs consécutifs de longue distance, UMMC est forcé de réagir. Il suit dans les dernières secondes une réplique de Candace Parker (9 points, 13 rebonds) et un impressionnant tir à trois points du centre de terrain par Diana Taurasi (23 points) pour se rapprocher au score (32-39).
Pendant la deuxième mi-temps, Marianna Tolo (22 points), Johanna Leedham (15 points) se montrent très efficaces en offensive bien qu'en défensive.
Mais c'est Taurasi qui envoie ce match d'Euroligue en prolongation (64-64). Mais Deana Nolan (16 points) et Taurasi ne sont pas aussi adroites au shoot pendant le cinquième quart et ce sont Diandra Tchatchouang (7 points), Dumerc et Tolo qui mettent les derniers baskets pour une victoire bien méritée (77-69).

Dans le groupe B, ce sont Wisla Can Pack et Nadezhda Orenburg qui s'imposent contre BK Imos Brno et Rivas Ecópolis respectivement. Ces résultats donnent un nouvel espoir à Lattes-Montpellier de se qualifier, pourtant momentanément encore en dernière place.
Fenerbahçe est la seule équipe invaincue après sa victoire contre UE Sopron (57-53). Isabelle Yacoubou-Dehoui contribue 10 points et 14 rebonds à l'équipe gagnante.
Dans le groupe C, rien est encore décidé avec ZVVZ USK Prague qui perd pour la première fois dans cette compétition. C'est Sparta&K MR Vidnoje qui a le dernier mot dans cette rencontre (66-67) pendant que Perfumerías Avenida échoue contre CCC Polkowice (53-57).
Avec 20 points et 15 rebonds, Sancho Lyttle permet Galatasaray Odeabank à vaincre WBC Novi Zagreb (63-55).

---
Visit EuroLeague Women 2014 page

Picture credits:
womensbasketball-in-france.com

Date created: 24 January 2014
Like this page / Aimez cette page