EuroLeague Women Group C
heading for a grand slam finish

At the start of the season we stated that in EuroLeague Women Group C "there is nothing much separating the different teams and hence making this group very interesting". This has proved to be the case with three teams locked in a battle for the last two qualification places.

CCC Polkowice ended their Group C campaign with a road victory against ZVVZ USK Prague (71-60). This means that they can finish no lower than 4th place in the group. 
Perfumerías Avenida pulled off the biggest win of the round (65-57) by handing UMMC Ekaterinburg their first defeat in the competition this season. As a result Avenida are back in the play-off qualification race.

USO Mondeville made hard work of their victory against the already eliminated Novi Zagreb (79-74). Mondeville were down (66-69) with just over three minutes to play when their luck changed. Two three-pointers by Ingrid Tanqueray (17 points - in picture) enabled them to regain the lead (72-71).
The last two minutes were played out at the free-throw line with USO holding their nerve for the victory. Laëtitia Kamba was active for Mondeville with 14 points and 8 rebounds while K. B. Sharp (6 assists), Giedre Paugaite and Naignouma Coulibaly all scored 10 points.
In the final week of the EuroLeague Women regular season USO Mondeville then face ZVVZ USK Prague.
If Mondeville win they will finish in third place and qualify for the play-off. However if they lose and Perfumerías Avenida win their final game, then Mondeville is out.

Elsewhere in ECW round 13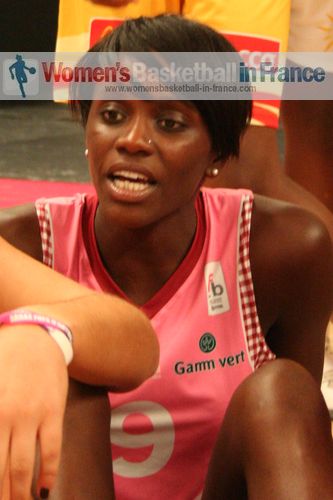 In Group B, Municipal Targoviste missed the chance of punching their ticket for the play-off after losing on the road (66-67) to Arras.
Municipal Targoviste led (65-59) with two minutes to play and were still in front (66-64) with nine seconds to play. However a three-point dagger by Johanne Gomis-Halilovic (16 points in picture) changed everything and Arras won their second game of the competition.
For Arras Dawn Evans (6 assists) and Pauline Akonga N'Simbo scored 17 and 12 points each, while for Municipal Targoviste, former Arras player Gabriela Marginean (2011-12) was the top scorer with 17 points.
If Targoviste beat Good Angels Kosice next week, they will qualify for the play-offs. However if they lose then UE Sopron will go through.
UE Sopron finished their regular season with a home defeat (68-74) against Orenburg Nadezhda despite another big performance by Jelena Milovanovic with 25 points.
Good Angels have secured first place in Group B after beating Fenerbahçe SK (66-63).
In Group A, Tina Charles was back to her best with 22 points and 14 rebounds for Wisla Can-Pack in their victory (74-66) against Rivas Ecópolis. In the game between the two teams already eliminated Tarsus BK came out on top (81-72) against IMOS Brno. Danielle Robinson and Farhiya Abdi both scored 25 points for their respective teams.
Bourges Basket completed a good week for France with a road victory against Uni Györ (65-59). Endéné Miyem marked her return from injury with 17 points for Bourges while Céline Dumerc  finished with a double-double of 13 points and 10 assists.
For Uni Györ, Krisztina Raksányi was the leading scorer with 18 points.

EuroLeague Women round 13 results:
UE Sopron 68-74 Orenburg Nadezhda
Perfumerías Avenida 65-57 UMMC Ekaterinburg
Tarsus BK 81-72 IMOS Brno
Arras 67-66 Municipal Targoviste
USO Mondeville 79-74 Novi Zagreb 
Good Angels Kosice 66-63 Fenerbahçe SK
ZVVZ USK Prague 60-71 CCC Polkowice
Wisla Can-Pack 74-66 Rivas Ecópolis
Uni Györ 59-65 Bourges Basket

---
Visit our 2012-2013 EuroLeague Women page

Visit our home page
Visit our "What's New" page
picture credits:
womensbasketball-in-france.com

Date created: 31 January 2013
Like this page / Aimez cette page