EuroLeague Women round 6
Bad luck for Arras
Joy for Tarsus Belediye & Novi Zagred
Arras are the only club without a victory so far in the 2013 EuroLeague Women after Tarsus Belediye and Novi Zagreb opened their accounts in week 6.
USO Mondeville suffered their third reversal while Bourges Basket picked up their fourth game.
Arras were close to pulling off their first victory in the EuroLeague Women competition. Unfortunately a couple of tough turnovers and foul problems to key players during the last three minutes allowed their opponents off the hook.
UMMC Ekaterinburg are all set for their showdown next week with Galatasaray SK - the only other team not to have dropped a game so far in this season's competition - after a comfortable victory against 2010 ELW champions Perfumerías Avenida.
The FIBA TV game of the week between Fenerbahçe SK and Good Angels Kosice lived up to its billing with a total of 184 points scored and a cliff hanging finish.
EuroLeague Women Group A - Bourges Basket in the groove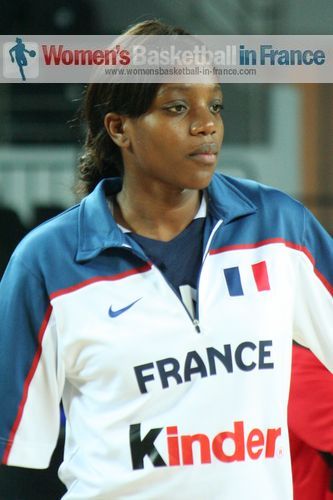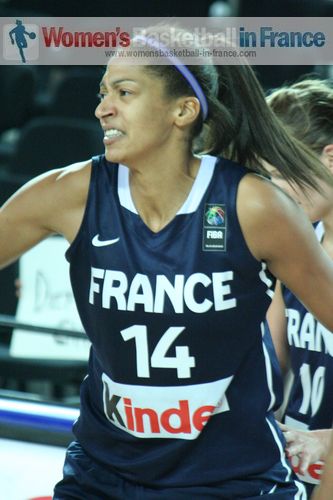 Nwal-Endéné Miyem and Emméline Ndongue (in pictures) scored 16 points each as Bourges Basket beat Uni Györ (57-47).
It was not a smooth performance for the French champions. But with Styliani Kaltsidou playing in her first game in seven months and the integration of Cathy Joens into the rotation after her long absence, the final result was excellent.
Bourges have won 4 out of 5 games in Group A and are well on track for qualiying for the play-offs.
Tina Charles was at it again for Wisla Can-Pack with 31 points and 11 rebounds as her side beat Rivas Ecópolis (66-62). Yet the hero was Alana Beard (17 points) whose three-pointer with about a minute to play put Wisla in front for good.
It was a tough defeat for Rivas Ecópolis who had led most of the game and wasted the 26-point performance of Oleksandra Kurasova.

Tarsus Belediye got their first win of the competition with a road victory against BK IMOS Brno (90-70). Tarsus led (12-0) after four minutes and never looked back as they dominated the first half (49-18).
DeLisha Milton-Jones who is 38 years old had a lot of fun scoring 22 points and pulling down 9 rebounds to lead her team offensively.
Standings: Sparta&K 4-1, Bourges 4-1, Rivas 3-2, Györ 3-2, Krakow 2-3, Brno 1-4, Tarsus 1-4
EuroLeague Women Group B - No luck for Arras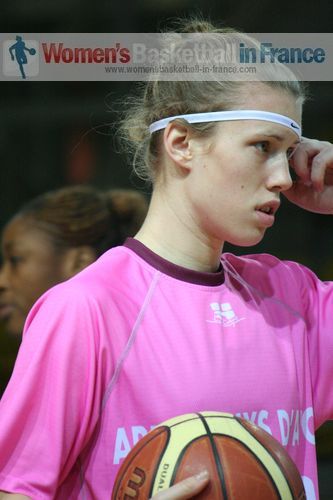 Arras fell short in an interesting game against Municipal Targoviste (64-72). Ines Ajanovic in her last game for Arras battled away bravely for her 10 points and 8 rebounds while Radoslava Bachvarova regained her scoring touch with a game high 22 points. However all their efforts were in vain as former Arras player Gabriela Marginean (in picture) came up with crucial defensive plays in the final quarter.
Marginean also led the offensive effort with 19 points while Milka Bjelica and Monique Currie added 17 points apiece in the victory.
Yet again Nadezhda Orenburg prevailed at home despite another last-minute wobble. This time their victims were Uniqa EuroLeasing Sopron (73-69).
Leading (67-61) with 30 seconds to play after a pair of free throws by Renee Montgomery (18 points) they looked home and dry until a three-ball five seconds later from Shenise Johnson (26 points) from EuroLeasing Sopron almost changed the outcome.
As a result the game finished with a series of free throws as EuroLeasing Sopron had to stop the game clock to gain time. For the second week in a row Jelena Milovanovic fired in 30 points but ended up on the losing side.
In the FIBA TV game of the week Fenerbahçe SK edged out Good Angels Kosice (93-91). Six players from each team finished with double digits scores. For Fenerbahçe Angel McCoughtry was the leading player with 23 points and 10 rebounds while also surviving an accidental kick to her face. For Good Angels Plenette Pierson scored 20 points.
Standings: Schio 4-1, Fenerbahçe 4-1, Kosice 3-2, Nadezhda 3-2, Targoviste 3-2, Sopron 1-5, Arras 0-5
EuroLeague Women Group C - UMMC, too strong at home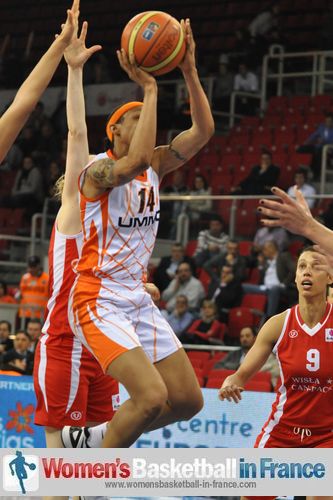 In EuroLeague Women Group C, UMMC Ekaterinburg had a comfortable victory against Perfumerías Avenida (94-62). Candace Parker was the leading scorer with 21 points while Deanna Nolan (in picture) followed up with 19 points from an impressive 9-from-10 shots from open play.
Perfumerías Avenida started well and led (14-12) after five minutes. Yet once the hosts UMMC had warmed up, it was one-way traffic all the way to the end of the first quarter (28-18).
Avenida had no chance with UMMC connecting with 63 % of their shots from two-point territory.
Spanish international Silvia Dominguez dished out 11 assists while Sandrine Gruda and Ewelina Kobryn (12 rebounds) added 12 points each for the Russian champions. For Avenida Egle Sulciute led the way with 12 points.
Novi Zagreb celebrated their victory of the competition against USO Mondeville (82-60).
The match started badly for Mondeville with Naignouma Coulibaly picking up 2 offensive fouls within the first five minutes. Things went from bad to worse with her replacement Laëtitia Kamba also collecting 3 fouls before the end of the first quarter.
Novi Zagreb were able to take full advantage to edge the first quarter (24-18). With Coulibaly back on the court Mondeville made up their deficit (30-30). However once she picked up her 3rd foul and had to return to the bench the hosts went on a 9-2 run for a (39-32) lead at the break.
Novi Zagreb then ran away in the third quarter (62-42) to put the game out of the reach for Mondeville. Coulibaly fouled out while Amanda Lassiter had 21 points in defeat. Matea Vrdoljak was the leading scorer with 20 points for the hosts.
In the final game from EuroLeague Women Group C, Rebbekah Brunson (19 points) sealed the road victory for USK Prague against CCC Polkowice (67-65) with the game winning shot in the last 20 seconds.
Standings: Galatasaray 5-0, Ekaterinburg 5-0, Polkowice 2-4, Mondeville 2-3, Prague 2-3, Avenida 1-4, Novi Zagreb 1-4
ELW round 6 results:

Orenburg Nadezhda 73-69 UE Sopron
UMMC Ekaterinburg 94-62 Perfumerías Avenida
BK IMOS Brno 70-90 Tarsus
Municipal Targoviste 72-64 Arras
Novi Zagreb 82-60 USO Mondeville
Fenerbahçe SK 93-91 Good Angels Kosice
CCC Polkowice 65-67 ZVVZ USK Prague
Bourges Basket 57-47 Uni Györ
Rivas Ecópolis 66-62 Wisla Can-Pack
---
Visit our 2012-2013 EuroLeague Women page

Visit our home page
Visit our "What's New" page
picture credits:
womensbasketball-in-france.com

Date created: 28 November 2012
Like this page / Aimez cette page