Arras open EuroLeague Women 2013 victory account in round 11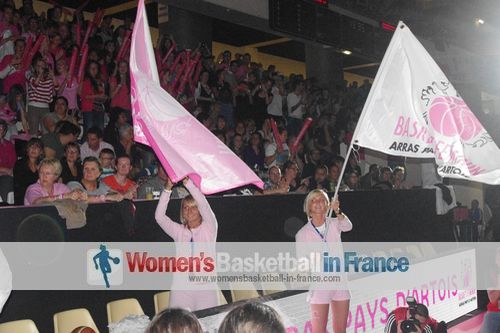 Marc Silvert, the new coach of Arras, celebrated a EuroLeague Women (ELW) victory in his first official game. This win keeps Arras in the chase for the fifth place in Group B.

Bourges Basket booked their place in the EuroBasket Women play-off round after seeing off Tarsus in a close fought encounter. With 50 seconds left in the final quarter and the game tied (61-61), Céline Dumerc's (21 points) three-pointer put the hosts into the lead for good.
Dumerc added a couple of free throws in the last 10 seconds to seal the game. DeLisha Milton-Jones' buzzer beater for Tarsus, her 21st point of the match was too late to change the outcome.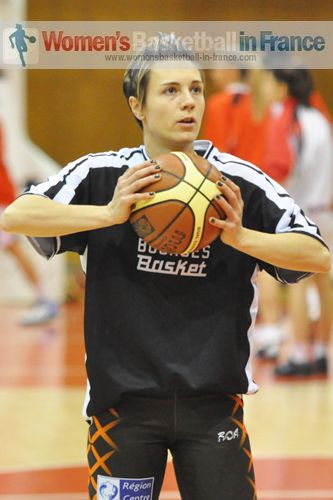 Dumerc (in picture) finished the game with 4 three-pointers and 17 points while Emméline Ndongue added 15 points. Again on good form Greek international Styliani Kaltsidou good forms continues with 12 points. For Tarsus Danielle Robinson and Shay Doron backed up Milton-Jones with 13 and 12 points each.
The bad news for Bourges is that Cathy Joens' season is more or less over as she will need four months to recover from a stress fracture.
In the other games from Group A, Sparta&K M. R. Vidnoje once again reduced the playing of their starting five as they comfortably won on the road against BK IMOS Brno (83-51). French international Isabelle Yacoubou-Dehoui still had enough time to score 11 points and pull down 10 rebounds.
Uni Györ pulled off a shock victory (78-72) against Rivas Ecópolis. With Györ having to release a number of their non Hungarian players for financial reasons the team was not considered to be as strong. But with 20 points from former Bourges Basket player Nora Nagy-Bujdosó and 10 assists from the work horse Natalie Hurst, the Hungarians had just enough fire power to win the game.

Standings: Sparta&K 8-2, Bourges 7-3, Wisla 5-4, Rivas 5-4, Györ 5-5, Brno 2-7, Tarsus 1-8
Arras have something to celebrate in Group B

Arras are back in the EuoLeague Women qualification race after seeing off Famila Schio (69-57).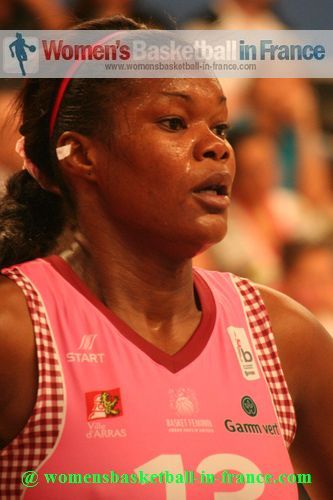 Sandra Dijon-Gérardin (in picture) was electrifying with 14 points (7-of-10 shooting) and 15 rebounds as an unrecognisable Arras team held off the already qualified Famila Schio. Olesia Malashenko had another good match contributing 16 points.
Yet it was not a perfect performance for Arras with 22 turnovers. 
For the Italians Jantel Lavender hit 26 points. French international Elodie Godin had a poor shooting day but still collected 15 points. Kathy Wambe who is very popular in the North of France had a game to quickly forget despite 2 points and 3 assists.
In the other group game Fenerbahçe with 16 points each from Anastasiya Verameyenka and Cappie Pondexter held off UE Sopron (74-69). Shenise Johnson's 24 points, 12 rebounds and 4 assists for Sopron were in vain.
As usual Nadezhda-Orenburg kept their home supporters in suspense as their game went to the wire. Their victory against a new look
Targoviste (71-68) means Arras still have a slim chance of qualifying for the EuroLeague Women play-offs.
Good Angels, Fenerbahçe, Famila Schio and Nadezhda-Orenburg have all qualified for the play-offs.

Standings: Kosice 7-2, Fenerbahçe 7-2, Schio 7-3, Nadezhda 6-4, Targoviste 3-6, Sopron 2-8, Arras 0-9
EuroLeague Women Group C - suspense is the key word

USO Mondeville matched Galatasaray for the first 30 minutes in a highly explosive match. The Turkish side pulled away in the final quarter as the big hitters started to find the target to win (70-59). Lindsey Whalen was the star of the match with 21 points and 4 assists for the winners. Noelle Quinn fired in 15 points for USO Mondeville.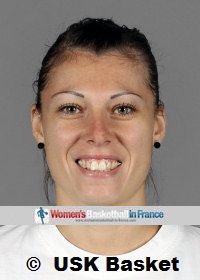 Anaël Lardy (in picture) had something to smile about with USK Prague beating Novi Zagred (91-88). She dished out 7 assists and contributed 4 points in her side's qualification chase.
Candance Parker and Sandrine Gruda fired in 21 and 20 points each as UMMC Ekaterinburg beat CCC Polkowice (85-67).
With three rounds of EuroLeague Women games remaining CCC Polkowice, USO Mondeville, USK Prague and Perfumerías Avenida are in the battle for the remaining three places.

Novi Zagreb are not eliminated but need to win all their remaining games to have a chance of qualifying. However a defeat will knock them out out of the 2013 EuroLeague Women competition.

Standings: UMMC 9-0, Galatasaray 8-2, Polkowice 4-6, Mondeville 4-5, USK Prague 4-6, Avenida 3-6, Novi Zagreb 1-8
---
ELW results from round 11

Bourges Basket 66-63 Tarsus
BK IMOS Brno 51-83 Sparta&K M. R. Vidnoje
Nadezhda-Orenburg 71-68 Municipal Targoviste
ZVVZ USK Prague 91-88 Novi Zagreb
USO Mondeville 59-70 Galatasaray MP
CCC Polkowice 67-85 UMMC Ekaterinburg
UE Sopron 74-79 Fenerbahçe
Uni Györ 78-72 Rivas Ecópolis
Arras 69-57 Famila Schio

Visit our 2012-2013 EuroLeague Women page

Visit our home page
Visit our "What's New" page
picture credits:
womensbasketball-in-france.com

Date created: 17 January 2013
Like this page / Aimez cette page