2013 EuroLeague Women
Final Eight in Ekaterinburg
UMMC Ekaterinburg have been awarded the 2013 EuroLeague Women (ELW) Final Eight hosting rights, and will stage the final in the DIVS Sports Hall in Ekaterinburg from 18 March 2013 until 24 March 2013.
The first EuroLeague Women Final Eight was in Istanbul, which more or less ruled out Fenerbahçe SK from hosting the final this time.
As far as womensbasketball-in-france know no other club showed interest in hosting the competition which left the road open for UMMC Ekaterinburg and the Sverdlovsk Region to host the ECW final for the second time in two years.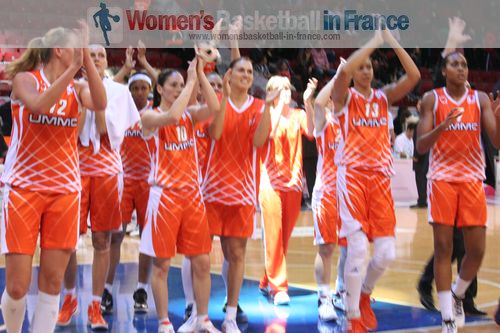 UMMC hosted the 2011 Final 4 and finished in third place.
The eight teams qualified are divided into two groups of four with the top two in each group qualifying for the semi-final.
FIBA Europe President Olafur Rafnsson said: "We are glad to return to Ekaterinburg after the big success of the Final Four they organised two years ago. There are few places in Europe and the World with a similarly enthusiastic crowd."
FIBA Europe Secretary General Kamil Novak agreed: "The reputation of UMMC Ekaterinburg as a fantastic organisation goes far beyond the EuroLeague Women and I am looking forward to witness the season peak at the Final Eight."
UMMC Ekaterinburg's president Andrey Kozitsyn expressed his satisfaction with the decision by making the following statement: "It is a great honour for us to be presented the hosting rights of the ELW Final Eight. As the receiving party, the basketball club UMMC will do its best to justify this trust and conduct the Final Eight at a level, worthy of the strongest clubs of Europe."
"We will make good use of the experience we acquired during the organisation of meaningful events such as the ELW Four, the Russian Cup Finals and the International UMMC Cup."
The Governor of Sverdlovsk Region Evgeny Kuyvashev added: "I am sure that the efforts of the organisers of the tournament will turn the Final Eight into a bright and unforgettable show, which will present lots of positive emotions to every participant or basketball fan at the event."
---
Like this page / Aimez cette page