EuroLeague Women 2013
Are USO Mondeville
the surprise package?

USO Mondeville have played 42 games in the EuroLeague Women (ELW) competition since their first participation in the 2005-2006 season.
With just 14 victories in ELW USO Mondeville are not considered one of the giants in this competition. However you should not forget that in their first two games in ELW, they beat USK Prague and Ros Casares.

By the end of their first participation, Grace Daley entered into the club's folklore while Caroline Aubert and Aurélie Bonnan started to become household names.

USO Mondeville qualified for EuroLeague Women 2007 and 2008 but then had to wait until the 2011 EuroLeague Women season to play in this competition again.
USO Mondeville are drawn in Group C alongside CCC Polkowice, Galatasaray MP, Novi Zagreb, UMMC Ekaterinburg and ZVVZ USK Praha and Perfumerías Avenida. Novi Zagred are participating for the first time while the other five teams took part last season.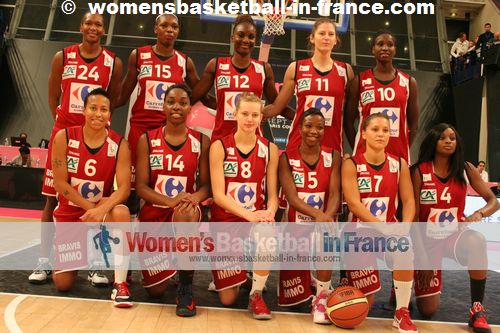 K. B. Sharp and the injured Touty Gandega are the only players left from the main team roster from 2011.
For Sharp this participation should be a big opportunity for her to shine in the biggest club competition in Europe while for Amanda Lassiter this is a new discovery. Lassiter who has played in the WNBA played once in EuroCup Women (2007-2008).

However for Mondeville to prove all the experts wrong and cause some upsets during the regular season Laëtitia Kamba has to consistently play at her best.
Kamba took part in the EuroLeague Women competiton before with Union Hainaut Basket during the 2008-2009 season but is still less experienced in club competitions than her younger team-mates Ingrid Tanqueray and Giedre Paugaite.
Gandega's absence on the court is a big blow for Mondeville but with Naignouma Coulibaly, Aminata Konate and Kadidia Minte the team has speed, agility and height. In Binta Drammeh and Marie-Bernadettte Mbuyamba (both in picture) they have two ambitious players who are not afraid to attack when given the chance.

The main reason that USO Mondeville could surprise in the first phase of ELW despite a shaky start in their domestic league is that the team was constructed for this competition.
The players have nothing to lose and their coach Hervey Coudray knows how to play the underdog card. If his side can be strong at home and steal a win or two on the road, then they might end the first phase on a positive note.

UMMC and Galatasaray MP are expected to qualify with ease from this group. ZVVZ USK Praha have a good roster and provided they avoid any injuries we should see them in the play-off.
This also applies for CCC Polkowice, Perfumerías Avenida, but they are weaker and should like Novi Zagred and USO Mondeville be in the hunt for the remaining places.
Based on the form of the teams at the time of writing this article we from womensbasketball-in-france.com think that there is nothing much separating the different teams and hence making this group very interesting.

---
Visit our 2012-2013 EuroLeague Women section

Visit our home page
Visit our "What's New" page
picture credits:
womensbasketball-in-france.com

Date created: 24 October 2012
Like this page / Aimez cette page