EuroLeague Women final evening of
qualifying round
Fenerbahçe remain unbeaten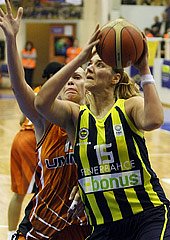 Fenerbahçe remain the only team with a perfect EuroLeague Women record after beating UMMC Ekaterinburg (82-75) in the match for first place in the EuroLeague ranking.
Ivana Matovic (right in picture) was in fine form with 24 points which included 10-from-10 from the charity stripes. However Angel McCoughtry led all scoring with 26 points.
The match lived up to its billing. The home side had to wait until the latter part of the third quarter to take command of the match opening up a lead of 12 points (65-53) going into the final quarter.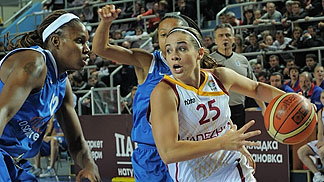 Nadezhda Orenburg
improved their EuroLeague Women ranking by crushing KSSSE ASE PWSZ Gorzow (89-39) to end the qualifying round in style.
Becky Hammon (in picture with ball) helped herself to 23 points and 5 assists while Miss double double Tina Charles finished with 14 points and 15 assists. Elena Berseneva was the only other player in double digits.
The Polish team, already eliminated, fielded an all Polish team for this match and were led with 10 points by Justyna Zurowska.
In Group D, Ros Casares went on the rampage in beating Frisco Sika Brno (98-48) on the road. Katie Douglas exploded with 35 points while Marta Fernandez added 20 points.
The match as a contest was over by the interval with the Spanish side leading (50-20).
For Frisco Sika Brno Frida Eldebrink finished with 20 points while Cheryl Ford had a quiet game with just 9 rebounds and 3 points.
The two other Spanish clubs finished on a high with Elisa Aguilar back three-pointers down the stretch enabled Rivas Ecópolis to get past Lotos Gdynia (73-69) while Halcon Avenida won against Sparta&K Moscow Region (75-64).
EuroLeague Women exits for two clubs from France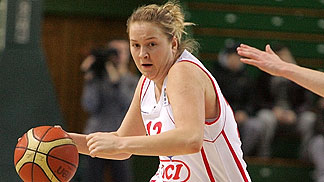 VICI Aistes edged out Tarbes (72-71) in a closely fought match with Marina Solopova (in picture) scoring 28 points.
It was a tight game throughout and with four minutes left to play the teams were level (64-64).
Erin Thorn and Jelena Jana Dubljevic gave Tarbes the advantage with the game entering money-time (70-67).
VICA waited until the last minute to snatch the game with 2 points from Solopova and a three-pointer by Courtnay Pilypaitis.
This result automatically eliminated Tarbes while VICA had to wait for the news from Galatasaray.
26 points from Sylvia Fowles helped Galatasaray beat ZVVK USK Prague (81-69) and take the last qualification spot from Group C and hence were the eliminating factor for VICA Aistes.
---
Mondeville found themselves eliminated from the EuroLeague Women before going on to the court for their final game against TTT Riga.
Yet Mondeville ended their campaign in style with a victory (84-63) against TTT Riga with five players in double digits. K. B. Sharp was the top scorer with 15 points. Great Britain international Kimberly Butler led the Riga attack with 15 points.
Pécs 2010 and EuroLeague Women drama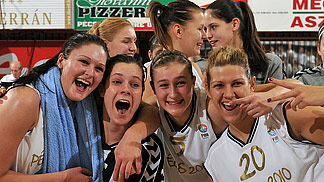 Pécs 2010 booked their place in the play-offs by beating Group A leaders Cras Basket (72-58). Pécs went 7-of-17 from beyond the arc while their opponents were only able to connect once.
Zsófia Fegyverneky led the way for the hosts with 16 points while Sophia Young poured in 17 points for Cras Basket.
Wisla Can-Pack secured second place in the group with a road victory against Good Angels Kosice (73-68).
In Group B, Gospic Croatia notched up their second victory of the season by beating MKB EuroLeasing (81-78). Marija Vrsaljk, Jelena Ivezic and Maurita Reid combined for 51 points. Despite the defeat MKB's EuroLeague adventure continues.
Bourges Basket led (23-8) after 10 minutes against Beretta Famila and then paced themselves to victory (70-50).
Cathy Joens and Nwal-Endéné Miyem, scored 18 and 16 points each. With this victory Bourges has moved in second place in the group and should have a top 8 ranking for the play-offs.
---
Game 10 EuroLeague Women results:

Good Angels Kosice 68-73 Wisla Can-Pack
USO Mondeville 84-63 TTT Riga
Pécs 2010 72-58 Cras Basket Taranto

Gospic Croatia 81-78 MKB EuroLeasing
Fenerbahçe 83-75 UMMC Ekaterinburg
Lotos Gdynia 69-73 Rivas Ecópolis

Halcon Avenida 75-64 Sparta&K Moscow Region Vidnoje
Galatasaray MP 81-69 ZVVZ USK Prague
VICI Aistes 72-71 Tarbes GB

Nadezhda Orenburg 89-39 KSSSE ASE PWSZ Gorzow
Frisco Sika Brno 49-98 Ros Casares
Bourges Basket 70-50 Beretta Famila

---
Return to the EuroLeague Women index
Return to the index at the top of page
---
EuroLeague Women picture credits:


FIBA Europe

Date created: 18 January 2011

---