More teams qualify for
EuroLeague Women play-offs

Arras are out of the EuroLeague Women, while USO Mondeville are still missing the victory they require to move on. While all four play-off spots in Group A have been taken, Group B and C still have some places remaining to complete the play-off grid.

Bourges Basket already qualified for the next phase of the EuroLeague Women were not in action this week from Group A.
Rivas Ecópolis booked their place in the play-offs with their victory against BK IMOS Brno (67-50). Anna Cruz from Rivas was the leading player of the match with 21 points and 5 steals.
BK IMOS' defeat ended their qualification hopes for the play-offs. Tarsus already eliminated beat the depleted Uni Györ (81-70).
Nora Nagy-Bujdosó who led Uni Györ to victory last week has since left as the club continues to reduce its financial obligations.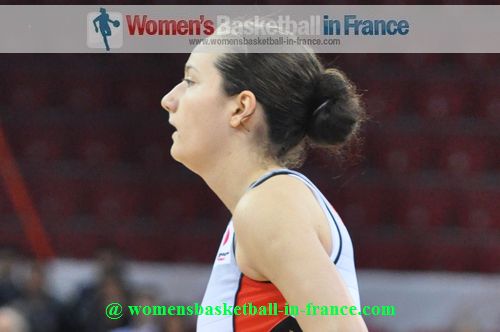 Sparta&K M. R. Vidnoje avenged their defeat to Wisla Can-Pack earlier in the season (89-63).  Nika Baric (in picture) had her best offensive match for Sparta&K to top score with 15 points.
Tina Charles was the only player from Wisla Can-Pack to trouble Spartak offensively with 22 points.
With the top five are already known from this group, all that is at stake in the remaining two weeks is the team's ranking position for the draw for the play-offs.
Standings: Sparta&K 9-2, Bourges 7-3, Wisla 5-5, Rivas 5-5, Györ 5-6, Brno 2-8, Tarsus 2-9
Arras are eliminated from EuroLeague Women 2013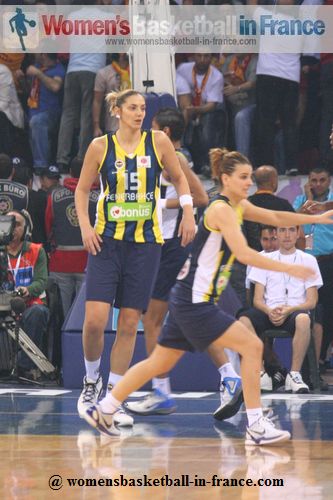 Arras failed to beat Fenerbahçe and are the first team from Group B to be officially eliminated from the competition
Ivana Matovic (in picture) and Angel McCoughtry scored 22 and 17 points respectively for Fenerbahçe as they edged out Arras (81-75). Turkish international Birsel Vardarli also had a productive day at the point guard position scoring 16 points and dishing out 5 assists.

Arras were led by Olesia Malashenko and Sandra Dijon-Gérardin with 20 and 16 points each.
UE Sopron improved their chance of sneaking into the play-offs with a road victory against Municipal Targoviste (65-57).
It was a tough, physical game with neither side giving up much space. At the end Sopron held their nerve at the free-throw line to gain the points necessary to gain the aggregate victory over the two games.
Jelena Milovanovic had 15 points for Sopron while Gabriela Marginean hit 17 for Targoviste.

This result means that Sopron will qualify for the play-offs if both teams remain tied at the end of the season.

However Targoviste still have two games to play while Sopron just have one to play.
Famila Schio were beaten at home by Good Angels Kosice in the final game of the week (67-78).

Standings: Kosice 8-2, Fenerbahçe 8-2, Schio 7-4, Nadezhda 6-4, Targoviste 3-7, Sopron 3-8, Arras 1-9
EuroLeague Group C - UMMC Ekaterinburg, too strong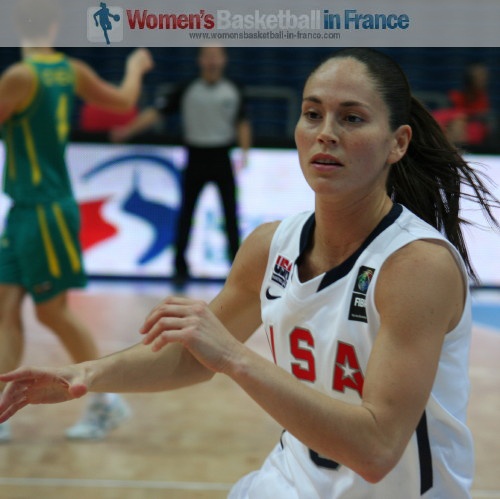 UMMC Ekaterinburg have the deepest roster in the 2013 EuroLeague Women. Candace Parker's participation is over in ECW. But her replacement is no other than USA captain Sue Bird (in picture). In addition injury problems of Anete Jekabsone-Zogota and Maria Stepanova are behind them and both players are back in the rotation.

UMMC Ekaterinburg led (11-4) after five minutes against USO Mondeville and the contest was already over. The Russians cruised for the rest of the first quarter (24-13). 
USO Mondeville huffed and puffed their way through the second quarter and reduced their deficit by a point at the interval break (30-40).
UMMC regained their composure after the break and ended up winning comfortably (79-58) with French international Sandrine Gruda top scoring with 20 points. Ewelina Kobryn and Stepanova added 19 and 10 points each. For Mondeville Noel Kuin (Quinn) and Amanda Lassiter finished with 14 and 12 points each.
In the two remaining games from EuroLeague Women Group C, CCC Polkowice ended Novi Zagred's slim chance of qualification (76-55).   Nneka Ogwumike fired in 21 points while collecting 9 rebounds. Belinda Snell was also on good form offensively with 19 points and 5 assists.
Galatasaray MP pulled away during the third quarter in their contest against Perfumerías Avenida for their ninth victory of the season (68-56).

Standings: UMMC 10-0, Galatasaray 9-2, Polkowice 5-6, Mondeville 4-6, USK Prague 4-6, Avenida 3-7, Novi Zagreb 1-9
Novi Zagreb 55-76 CCC Polkowice
Rivas Ecópolis 67-50 BK IMOS Brno
Famila Schio 67-78 Good Angels Kosice
Municipal Targoviste 57-65 UE Sopron
Sparta&K M. R. Vidnoje 89-63 Wisla Can-Pack
Fenerbahçe SK 81-75 Arras
UMMC Ekaterinburg 79-58 USO Mondeville
Galatasaray MP 68-56 Perfumerías Avenida
Tarsus 81-70 Uni Györ

---
Visit our 2012-2013 EuroLeague Women page

Visit our home page
Visit our "What's New" page
picture credits:
womensbasketball-in-france.com

Date created: 23  January 2013
Last Update: 24 January 2013

Like this page / Aimez cette page