EuroLeague Women round 10
hurts French teams

Arras, Bourges Basket and USO Mondeville each travelled to their 10th EuroLeague Women match and returned all defeated. On the other hand, Sparta&K M. R. Vidnoje and Good Angels Kosice join Galatasaray MP in the bag of teams already qualified for the play-offs.

If Bourges Basket had won their EuroLeague Women (ELW) game against Rivas Ecópolis they would have qualified for the play-offs with three games to spare.
However all is not lost for Bourges Basket. A victory next week or a defeat for BK IMOS Brno would make their qualification perfect.
Bourges Basket last won an ELW game in Spain on 6 December 2006 by just three points (65-62) against Halcon Avenida. So it does not come as a surprise that they fell to Rivas Ecópolis by three points (62-65).
Céline Dumerc confirmed after the game "it is never easy to play here".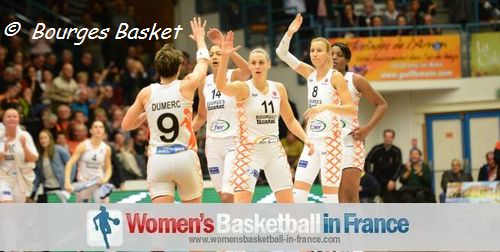 While Bourges Basket's 11-game losing streak in Spain continues, Rivas Ecópolis move one step closer in securing a place for the next phase of the competition.
In an exciting match with many twists and turns Oleksandra Kurasova from Rivas Ecópolis with 26 points was the match winner. Cathy Joens and Styliani Kaltsidou with 21 and 15 points respectively were the top scorers from Bourges.
In the other game from Group A, Sparta&K M. R. Vidnoje were too strong for Uni Györ (100-62). None of the starting five played more than 15 minutes. French international Isabelle Yacoubou-Dehoui made the most of the 15 minutes scoring 11 points and picking up 4 rebounds.
Tina Charles scored 11 of Wisla Can-Pack's first 22 points and was once again the dominating figure offensively. She finished the game with 17 points and 15 rebounds in the (69-47) victory against BK IMOS Brno.
Standings: Sparta&K 7-2, Bourges 6-3, Wisla 5-4, Rivas 5-3, Györ 4-5, Brno 2-6, Tarsus 1-7
The EuroLeague Women adventure is almost over for Arras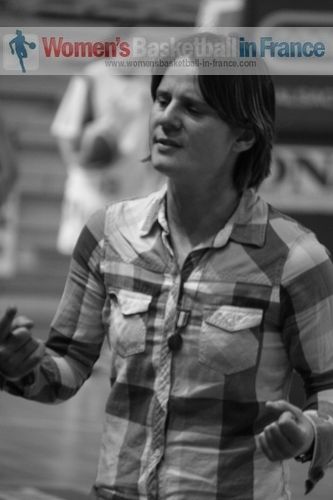 The after-match comments of Cécile Piccin, the coach of Arras, summed up the situation of the club at the moment saying: "This game wasn't so important for us because we have to focus on the French championship - we don't want to go down to the Second Division."
Good Angels scored the first 5 points of the match and maintained their advantage for the first five minutes (15-10) and then stepped on the accelerator to lead (32-16) by the end of the first quarter.
The contest was over despite the efforts of Johanne Gomis-Halilovic and Sandra Dijon-Gérardin with 16 and 13 points each. Dawn Evans who slipped and appeared to have rolled her ankle in the first quarter returned to the game after some treatment during the second quarter. But Good Angels were then leading by 20 points.
Good Angels Kosice's victory (78-52) has qualified them from their Group B for the next phase. Allie Quigley led the way offensively with 19 points while Miljana Bojovic  and Tijana Krivacevic added 12 and 11 points each. Natasha Lacy filled the stats sheet with 9 points, 10 rebounds, 4 assists and 4 steals.

In the other game from this group Fenerbahçe SK blew away Nadezhda-Orenburg (93-67). Famila Schio powered their way past UE Sopron (89-71).

Standings: Kosice 7-2, Schio 7-2, Fenerbahçe 6-2, Nadezhda 5-4, Targoviste 3-5, Sopron 2-7, Arras 0-8
EuroLeague Women Group C: all drama

Group C is really becoming the group of death with surprise results every week. Galatasaray MP lost at home in a dramatic last-quarter collapse to CCC Polkowice (51-58).
With Perfumerías Avenida also blowing away USO Mondeville (82-54), the battle for the three remaining places in this group for the next phase is kept wide open with four teams fighting for qualification: CCC Polkowice, USO Mondeville, ZVVZ USK Prague and Perfumerías Avenida.
USO Mondeville, still without K. B. Sharp, could not stop Perfumerías Avenida's new signing Monique Currie who scored 22 points.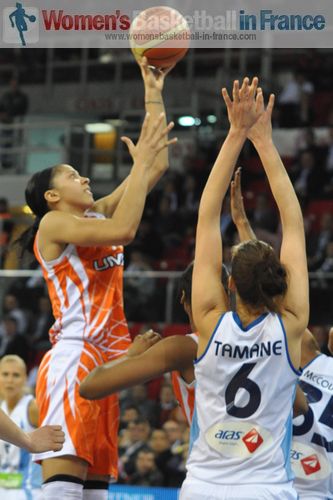 Amanda Lassiter who missed the LFB action last weekend due to compassionate leave made it back in time to play for Mondeville. But she had a poor shooting day with just 2-of-10 from the floor. Ingrid Tanqueray and Laëtitia Kamba had 15 and 12 points each.
UMMC Ekaterinburg had a little scare after losing a 16-point lead. They went into the interval tied (51-51) against ZVVZ USK Prague. However a 22-4 run in the third quarter put the Russian champions back on course as they strolled to victory (94-75). Candace Parker (in picture) was in excellent form with 26 points and 14 rebounds while Diana Taurasi helped herself to 24 points and 7 assists. 
French international Sandrine Gruda had a productive 21 minutes hitting 4-of-6 shots for 8 points for the hosts. Anaël Lardy on the other hand did not enter the court.

Standings: UMMC 8-0, Galatasaray 7-2, Polkowice 4-5, Mondeville 4-4, USK Prague 3-6, Avenida 3-6, Novi Zagreb 1-7
EuroLeague Women round 10 results

Sparta&K M. R. Vidnoje 100-62 Uni Györ
UMMC Ekaterinburg 94-75 ZVVZ USK Prague
Wisla Can-Pack 69- 47 BK IMOS Brno
Fenerbahce SK 93-67 Nadezhda-Orenburg
Galatasaray MP 51- 58 CCC Polkowice
Rivas Ecópolis 65-62 Bourges Basket
Good Angels Kosice 78-52 Arras
Perfumerías Avenida 82-54 USO Mondeville
Famila Schio 89-71 UE Sopron

---
Visit our 2012-2013 EuroLeague Women page

Visit our home page
Visit our "What's New" page
picture credits:
womensbasketball-in-france.com
Bourges Basket

Date created: 10 January 2013
Last updated: 12 January 2013

Like this page / Aimez cette page