Young guns shine in the LFB
during round 15

The 5 January 2013 should go down in the history books of LFB basketball as the date on which a number of young French players made headline news in leading their teams offensively.

Lyon BF suffered a home defeat (77-81) against Aix-en-Provence despite a solid performance by Audrey Sauret (16 points) and Mistie Mims (17 points).
In a sea-saw battle in which there were 20 lead changes and 11 ties it was 19 year-old Adja Konteh from Aix-en-Provence who stole the show with 28 points with 11-of-15 shooting and 5-of-7 from the free-throw line. She also had 5 steals and 3 assists.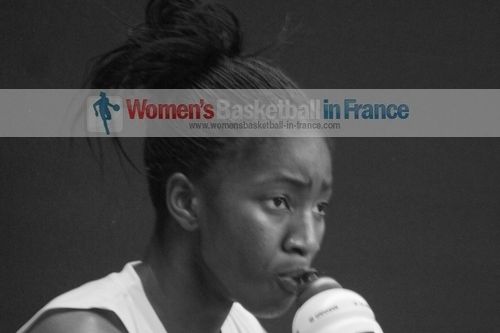 With the absence of Shona Thorburn, Konteh (in picture) was put in the starting line-up for the first time this season. By half time she was leading all scoring with 16 points. While Konteh takes the hero award for this match she was not the only player on fire. Her team-mate Marianna Tolo who put them in front for good with three minutes to play chipped in 20 points from 7-of-10 shooting.
Aix who beat Lyon twice in the LFB this season are now three games clear of the teams in the relegation zone.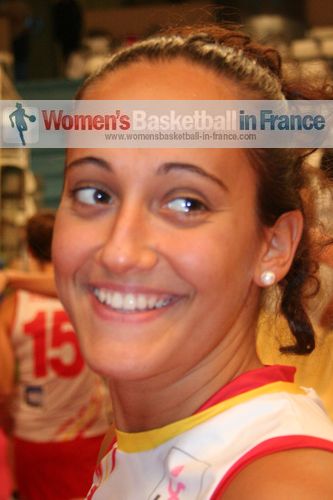 Clémentine Samson (in picture) has been waiting patiently since the start of the season to get a chance to show off her offensive skills in the LFB. In the victory of Perpignan Basket against Hainaut Basket (85-61) she contributed 15 points.
Perpignan were deadly from behind the three-point line with an impressive 14-from-26 attempts. Isabelle Strunc followed Samson with 14 points while Fatou Deng and Héléna Ciak added 12 and 11 points each.
For Hainaut Basket Amanda Jackson led the way with 19 points while Laura Garcia and newcomer Ify Ibekwe scored 14 and 11 points each.
Perpignan were never in trouble in this match and more or less ended the contest leading (56-36) with 27 minutes played.
Bourges Basket rolled over Charleville-Mézières (60-36). For the first 20 minutes they relied on three-point shooting (6-of-7) to lead (28-20) at the interval.
Without Anne-Sophie Pagnier and Aminata Nar Diop Charleville-Mézières' bench was rather thin and they could do nothing to stop Bourges Basket during the second half.
Céline Dumerc was 2 rebounds away from a tripe-double after scoring 10 points and dishing out 10 assists. Nwal-Endéné Miyem, Emméline Ndongue and Styliani Kaltsidou scored 14, 12 and 11 points each.
The rest of the LFB news from round 15
USO Mondeville's Naignouma Coulibaly - playing in a custom made face mask - scored 17 points and collected 14 rebounds as Mondeville beat Toulouse (72-59). This victory ended their five game losing streak.
Noelle Quinn made her début for Mondeville and scored 12 points while Ingrid Tanqueray helped herself to 18 points and 8 assists.
However the story of the match belongs to Marine Johannes, from the Mondeville basketball academy who played in the absence of Amanda Lassiter and K. B. Sharp.
She played 17 minutes and finished with 7 points after closing the game with a three-point buzzer beater.
For Toulouse their captain Darline Nsoki was back and Maud Medenou had her best game in the LFB with 23 points.
Villeneuve d'Ascq held off Nantes-Rezé (56-55) on the back of two free throws by wbbif LFB player of the month for December Bintou Diémé (13 points and 5 assists) with 90 seconds to play. Lenae Williams and Olayinka Sanni led the way with 14 points apiece.
Nantes-Rezé had enough chances to win the match in the last 90 seconds. But their attempts were blocked by Sanni and Emma Meesseman.
Basket Landes leading by 20 points at half time against Arras had then to fight all the way to the end (63-57).
Valériane Ayayi from Basket Landes was very effective in her 14 minutes on the court scoring 9 points and picking up 5 rebounds. But it was the power of Jennifer Humphrey with 17 points and 12 rebounds that gave Basket Landes the edge.
For Arras Tatsiana Likhtarovich made her début replacing Radoslava Bachvarova whose three-month contract had expired in December.
In the last match of the weekend which was broadcast by LFB-TV, Lattes Montpellier beat Tarbes (71-65). Edwige Lawson-Wade top scored with 27 points for the winners. She was a perfect 5-of-5 from behind the three-point line. She also went 8-of-8 from the charity stripe.
The watch the full game below:

LFB round 15 results:
Lattes Montpellier 71-65 Tarbes
USO Mondeville 72-59 Toulouse Métropole
Basket Landes 63-57 Arras
Lyon 77-81 Pays d'Aix Basket 13
Bourges Basket 60-36 Charleville-Mézières
Villeneuve d'Ascq 56-55 Nantes-Rezé
Perpignan Basket 85-61 Hainaut Basket
---
Visit our 2012-2013 Ligue Féminine de Basketball section

Visit our home page
Visit our "What's New" page
picture credits:
womensbasketball-in-france.com

Date created: 06 January 2013
Like this page / Aimez cette page