Yet again Bourges Basket suffer:
EuroLeague Women defeat in Moscow

It is not often that Bourges Basket's EuroLeague Women games are televised life. But FIBA TV picked their encounter with Sparta&K M. R. Vidnoje as the game of the week. The other French clubs, Arras and USO Mondeville were amongst the three teams not to play this weekend.

Valérie Garnier, the Bourges Basket coach, was left scratching her head after seeing her team being dominated in all sectors of the game as they fell to Sparta&K Moscow (62-84).
Candice Dupree caused Bourges most of the problems offensively with 16 first-half points for her team to go into the locker room with a double digit lead (46-30).
Bourges were good during the third quarter and reduced their deficit to 6 points at one stage. However once the trio of Dupree (22 points), Becky Hammon (15 points) and Isabelle Yacoubou-Dehoui (13 points) stepped up it was one-way traffic all the way to the end of the game.
For Bourges Basket, Nwal-Endéné Miyem and Zoi Dimitrakou scored 14 points each.
The rest of the EuroLeague Women news from round 2

In the other games from Group A, Uni Györ pulled off the victory of the evening with a road win in overtime against Wisla Can-Pack (67-62). Yet the story of the game is the three-point buzzer beater by Anke De Mondt to force overtime.
On the other hand Rivas Ecópolis who did not play in the first round opened their season with an easy victory against Tarsus (79-48).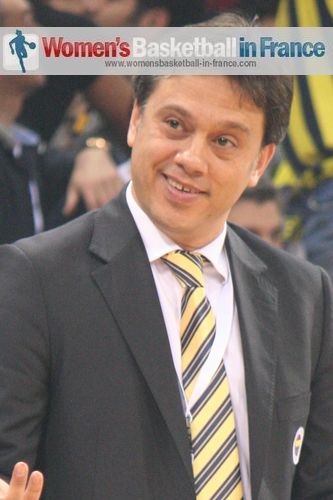 In Group B, George Dikeoulakos (in picture) returned to his former club Fenerbahçe SK and came away with nothing as his team Municipal Targoviste lost (48-73).
Ivana Matovic led the way to victory for the hosts with 22 points and 7 rebounds. But it was Angel McCoughtry who stole the show with 13 points, 6 assists and 9 rebounds.

In the other group game it took a 22-9 third-quarter run for Good Angels Kosice to break Uniqa EuroLeasing Sopron and win their first EuroLeague Women game of the season (89-78).
Good Angels' balanced scoring with five players in double digits was more than enough to stop the Sopron duo of Shenise Johnson (29 points and 11 rebounds) and Zsófia Fegyverneky (21 points).
Famila Schio beat Nadezhda-Orenburg (72-64) in the final game of round 2 and go top of the group.
French international Elodie Godin compiled a double-double of 14 points and 10 rebounds while her team-mate Laura Macchi led the scoring for the Italian champions with 16 points.
Dewanna Bonner had 19 points for Nadezhda but it was not enough to prevent defeat.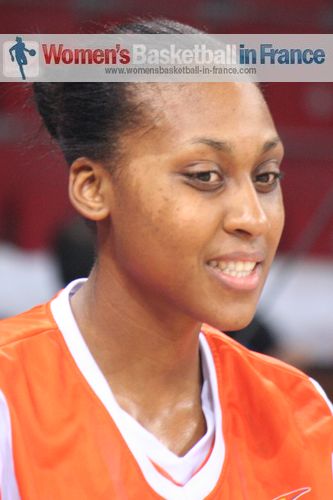 UMMC Ekaterinburg did not celebrate their hosting the EuroLeague Women Final Eight in style but still beat Novi Zagreb (83-77) with 25 points and 7 assists coming from Diana Taurasi. French international Sandrin Gruda (right) added 17 points while Anna Petrakova finsished with a double-double of 14 points and 10 rebounds.
Sandra Mandir led Novi Zagred with 20 points and was well supported by Matea Vrdoljak and Mirna Mazic with 15 points each.
Olaf Lange, the coach from UMMC, explained after the match: "One of our problems is few points in the opponent's zone. Now we face a period of team building and it's normal that we play one game really good and another one not so well."
Isil Alben saved Galatasaray MP from losing at home to ZVVZ USK Prague by scoring the last 3 points of the game. She finished with 9 points, 8 assists and 4 steals in the (58-56) victory.
However it is her team-mates Sancho Lyttle with 17 points and 12 rebounds that should be the headline news from this game.
This week Nnemkadi Ogwumike had the last say in this EuroLeague Women match as her team CCC Polkowice beat Perfumerías Avenida (69-59).
She finished as the game's top scorer with 22 points to help CCC to their first win in this competition.

ELW results from round 2

Perfumerías Avenida 59-68 CCC Polkowice
UMMC Ekaterinburg 83-77 Novi Zagreb
Wisla Can-Pack 62-67 Uni Györ
Sparta&K M. R. Vidnoje 84-62 Bourges Basket
Galatasaray MP 58-56 ZVVZ USK Prague
Good Angels Kosice 89-78 UE Sopron
Rivas Ecópolis 79-48 Tarsus
Fenerbahce SK 73-48 Targoviste
Famila Schio 72-64 Nadezhda-Orenburg
---
Visit our 2012-2013 EuroLeague Women section

Visit our home page
Visit our "What's New" page
picture credits:
womensbasketball-in-france.com

Date created: 31 October 2012
Like this page / Aimez cette page