2013 EuroLeague Women round 8

Tina Charles has been the most effective player in the EuroLeague Women this season. She gave Bourges Basket a little demonstration of her skills with 33 points and 15 rebounds in Wisla Can-Pack's victory.
This week Bourges Basket and Arras had no luck but USO Mondeville was victory and therefore should be in a good position for a play-off qualification spot.

Bourges Basket's four-game EuroLeague Women winning streak came to an end with a road defeat against Wisla Can-Pack (64-68).
Tina Charles was a one-lady wrecking machine. After 13 minutes she had already scored 21 points for Wisla Can-Pack while Bourges Basket totalled 17 points.
Despite the dominance of Charles and Alana Beard (20 points), Bourges Basket fought their way back into the game and drew level (59-59) off a three-pointer by Pauline Krawczyk with seven minutes to play.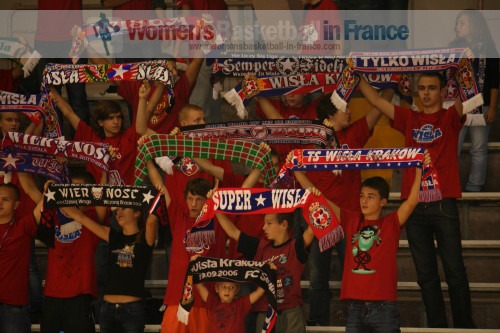 Both teams left a lot of points at the free-throw line as the game came to its end. Yet Bourges were unable to conclude their plays while Cristina Ouvina held her nerve to split a pair of free throws to secure the victory for the Polish club (68-64).
Cathy Joens, Emméline Ndongue and Céline Dumerc scored 14, 13 and 11 points each in defeat. The only good news for Bourges Basket is that despite the loss they have the head-to-head advantage against Wisla Can-Pack.
In the two remaining games from EuroLeague Women Group A, Sparta&K M. R. Vidnoje beat Tarsus Belediye (83-79) on the back of Candice Dupree with 27 points (10 rebounds) and a double-double performance by Isabelle-Yacoubou Dehoui (15 points and 10 rebounds).
Tarsus led (73-65) with six minutes to play but then suffered an 11-point reversal and ended up losing again despite the 26-point effort by Danielle Robinson (6 assists and 5 rebounds).
Swedish international Farhiya Abdi hit 22 points for BK Imos Brno in their victory against Uni Györ.
Standings: Sparta&K 6-1, Bourges 5-2, Wisla 4-3, Györ 3-4, Rivas 3-3, Brno 2-5, Tarsus 1-6
EuroWomen Group B - Arras, runing out of games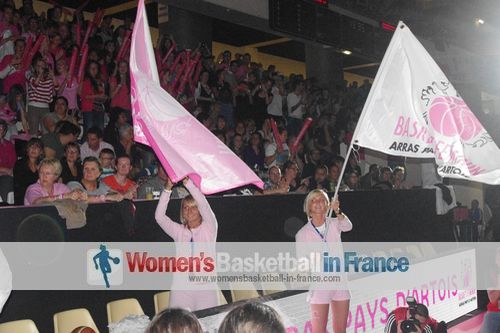 Arras were beaten at home (55-74) by Uniqa EuroLeasing Sopron. Although they started well and edged the first quarter (17-16), they failed to cope the rest of the way with the duo of Jelena Milovanovic (22 points) and Sara Krnjic (22 points and 7 rebounds). Olesia Malashenko was the leading player for Arras with 14 points.
Arras are not eliminated yet. But if they drop the next two games then they can say bye bye to this competition.
Good Angels have one foot in the second round after an impressive victory against Nadezhda-Orenburg (77-67). The match was streamed live by FIBA-TV. Good Angels made up the 5-point loss from game 1 with a 10-point victory this time.
Alexandria "Allie" Quigley was deadly behind the arc with 3-from-4 and scored a game high 21 points. Nadezhda-Orenburg had to play without Russian international Elena Danilochkina.
Famila Schio beat Municipal Targoviste (66-62) in the final game of the round. It was not a pretty game but the Italians took care of the ball much better with just 14 turnovers compared to Targoviste's 21.
Schio did not have for this game but with 26 points and 10 rebounds by Jantel Lavender they were always in control

Standings: Schio 6-1, Kosice 5-2, Nadezhda 4-3, Fenerbahçe 4-2, Targoviste 3-4, Sopron 2-5, Arras 0-7

EuroLeague Women Group C - Mondeville have CCC's number

USO Mondeville were taken to the wire by CCC Polkowice again and for the second time came out on top, this time (65-63). Amanda Lassiter (18 points, in picture) hit the game-winning shot with about 15 seconds to play.
However this victory may have come at a big cost because Naignouma Coulibaly was hurt early in the match and never returned.
Hervé Coudray, the coach from Mondeville, decided to turn his bench during the first 20 minutes. This appeared to pay off in the final quarter with his key players having a little extra fire in their legs. Laëtitia Kamba was next in the scoring charts with 12 points while K. B. Sharp and Ingrid Tanqueray had 10 apiece. Nneka Ogwumike led CCC's offense with 18 points.
Galatasaray MP scored the first 21 points in their game against Novi Zagreb and then strolled to victory (77-50) with 16 points and 13 rebounds by Sancho Lyttle.
In the final game from this group USK Prague added more misery for the 2010 EuroLeague Women Champions Perfumerías Avenida with a road victory (75-68). Rebekkah Brunson did most of the damage offensively with 21 points and 8 rebounds while Jelena Skerovic filled the stat sheet with 10 points, 11 assists and 9 rebounds.
Standings: Galatasaray 6-1, UMMC 6-0, Mondeville 4-3, USK Prague 3-4, Polkowice 2-5, Avenida 2-5, Novi Zagreb 1-6

ELW round 8 results:

Tarsus 79-83 Sparta&K M. R. Vidnoje
Arras 55-74 UE Sopron
Galatasaray MP 77-50 Novi Zagreb
Perfumerías Avenida 65-78 ZVV USK Prague
Good Angels Kosice 77-67 Nadezhda-Orenburg
USO Mondeville 65-63 CCC Polkowice
Wisla Can-Pack 68-64 Bourges Basket
BK IMOS Brno 86-61 Uni Györ
Famila Schio 66-62 Municipal Targoviste

---
Visit our 2012-2013 EuroLeague Women page

Visit our home page
Visit our "What's New" page
picture credits:
womensbasketball-in-france.com

Date created: 13 December 2012
Like this page / Aimez cette page