2013 EuroLeague Women news
from round 5

For Galatasaray MP and UMMC Ekaterinburg it was EuroLeague Women business as usual with comfortable victories on the road.
While Bourges Basket had a week off, Arras and USO Mondeville suffered home defeats in what turned into a miserable week for clubs from France taking part in European competitions.

Rivas Ecópolis won on the road against BK IMOS Brno (66-59) but at the same time lost Vega Gimeno for the season with a torn ACL.
The game was streamed live and unfortunately lacked the intensity expected in EuroLeague Women games.
Rivas hardly shot the ball from outside the paint and did most of the scoring close up with Anna Cruz (21 points - in picture) and Oleksandra Kurasova (17 points) being the major scorers. For the hosts Farhiya Abdi dropped in 22 points.
In the rest of EuroLeague Women Group A action Uni Györ beat Tarsus (81-72).
Györ made home advantage count as they led from start to finish and never looked like dropping the game with the following players all finishing with double-digit scores: Ieva Kublina (17 points and 7 assists), Chalysa Shegog (16), Nora Nagy-Budjoso (16), Natalie Hurst (15 points and 7 assists) and Rita Rasheed (13).
In the final game from this group, Wisla Can-Pack continue their role of a bogey team by comfortably winning against Sparta&K M.R. Vidnoje (76-64).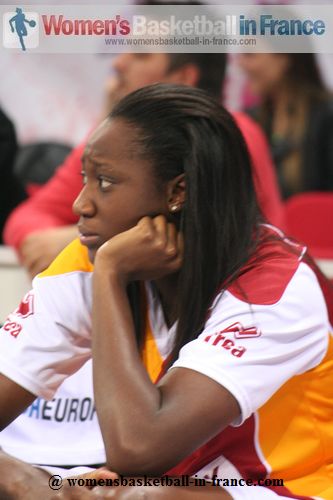 Tina Charles (in picture) was on fire during the first 20 minutes for Wisla with 20 points and 7 rebounds. She finished the game with 26 points and 13 rebounds.
Anke de Mondt chipped in 18 points while Cristina Ouvina - with 12 points and 5 assists and some great defensive stops - stepped in nicely for Pauline Pawlak who had to leave the game after three minutes.
Spartak were in trouble early with Isabelle Yacoubou-Dehoui on 2 fouls with five minutes played. The rest of the team was non existent in offense and to complete the nightmare Sonja Petrovic rolled her ankle.
Standings: Sparta&K 4-1, Rivas 3-1, Bourges 3-1, Györ 3-2, Krakow 1-3, Brno 1-3, Tarsus 0-4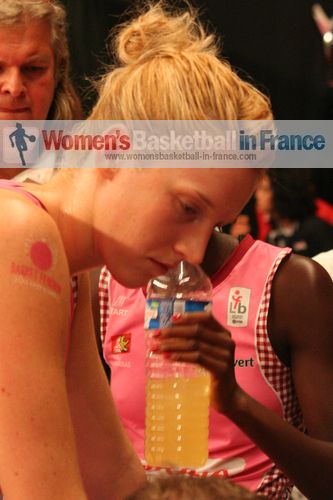 In EuroLeague Women Group B, Arras were beaten at home (59-88) by Fenerbahçe. Arras kept it close during the first quarter (19-26) and then conceded the game during a poor second-quarter performance (28-47).
Aurelie Carmona (in picture) and Olesia Malashenko scored 12 points each for Arras. For Fenerbahçe Ivana Matovic scored 17 points while Agnieszka Bibrzycka, Birsel Vardarli and Anastasiya Verameyenka scored 16, 15 and 14 points respectively.
Good Angels Kosice ended the unbeaten run of Famila Schio (79-69) on the back of 27 points from Plenette Pierson. Alexandra Quigley was the only other player from the Good Angels in double digits with 20 points. For the Italians Elodie Godin had a quiet game on all fronts with 3 points and 2 rebounds in 25 minutes.
However the game of the week in this group resulted in a road win for Municipal Targoviste against Uniqa EuroLeasing Sopron (87-82). In a match that was not rough, the match officials had a bad day at the office. Four players fouled out with 5 fouls. There were 3 technical fouls while also 2 unsportmanlike fouls were issued.
Despite the official nightmare the supporters were treated to an intense game. Gabriela Marginean had 26 points for the winners. She was a perfect 15-of-15 from the charity stripe while Jelena Milovanovic scored 30 points in vain.
You may watch the EuroLeague Women highlights from this game below:
Standings: Schio 4-1, Fenerbahçe 3-1, Kosice 3-1, Nadezhda 2-2, Targoviste 2-2, Sopron 1-4, Arras 0-4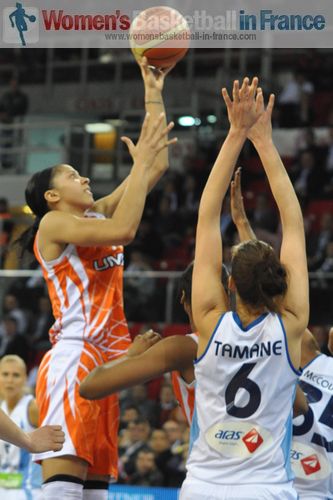 USO Mondeville failed to make home advantage count and lost to UMMC Ekaterinburg (55-88). Apart from the second quarter in which Mondeville managed to compete on equal teams, the match was a stroll in the park for UMMC.
Sandrine Gruda led the scoring for UMMC with 20 points, while Candace Parker (in picture) helped herself to a double-double of 19 points and 10 rebounds in the (88-55) victory.
Anete Jekabsone-Zogota who played for Mondeville at the start of her professional career from 2002 until 2004 played for 13 minutes.

For USO Mondeville Amanda Lassiter and Naignouma Coulibay top scored with 11 and 10 points each.
In the remaining games from EuroLeague Women Group C, Belinda Snell hit 4 three-pointers in the final quarter to help CCC Polkowice overcome Novi Zagreb (77-66). Nneka Ogwumike was also in the thick of action with 20 points and 15 rebounds.
Galatsaray MP also remain unbeaten after seeing off their hosts Perfumerías Avenida (72-58).
Standings: Galatasaray 5-0, UMMC Ekaterinburg 4-0, CCC Polkowice 2-3, USO Mondeville 2-2, Avenida 1-3, USK Prague 1-3, Novi Zagreb 0-4
ELW round 5 results:

CCC Polkowice 77-66 Novi Zagreb
BK IMOS Brno 59-66 Rivas Ecópolis
Good Angels Kosice 79-66 Famila Schio
UE Sopron 82-87 Municipal Targoviste
Wisla Can-Pack 76-64 Sparta&K M. R. Vidnoje
Arras 59-88 Fenerbahçe SK
USO Mondeville 55-82 UMMC Ekaterinburg
Perfumerías Avenida 58-72 Galatasaray MP
---
Visit our 2012-2013 EuroLeague Women page

Visit our home page
Visit our "What's New" page
picture credits:
womensbasketball-in-france.com

Date created: 23 November 2012
Like this page / Aimez cette page