EuroBasket Women 2013
Tournament page

The 34th edition of the European Championship for Women, called EuroBasket Women 2013, is hosted for the fourth time by France. In 2001 France won the competition as hosts. FIBA Europe are once again the governing body organising the event.
From 15 June 2013 until 30 June, 16 nations are competing for the title of European Champions. In addition 5 teams also qualify for the 2014 FIBA World Championship for Women (FIBA World Cup) to be held in Turkey.
Five venues have been selected for this championship: Lille, Orchies, Trélazé, Vannes and Vendespace. The Final is staged in the new arena in Orchies which has a capacity for about 5000 people.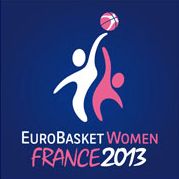 Five teams had already qualified for the 2013 edition of EuroBasket Women immediately after EuroBasket Women 2011: France as hosts, Croatia, Czech Republic, Russia and Turkey. Great Britain as Olympic Games hosts also automatically qualified.
The remaining 10 qualifiers had to pass through the EuroBasket Women 2013 qualification competition: Belarus, Italy, Latvia, Lithuania, Montenegro, Serbia, Slovak Republic, Spain, Sweden and Ukraine.
The draw was conducted in Paris at the UNESCO house on 21 September 2012 and the teams were split into the following groups:
Group A

1 Montenegro
2 Ukraine
3 Turkey
4 Slovak Republic


Group C

1 Serbia
2 Latvia
3 France
4 Great Britain


Group B

1 Sweden
2 Spain
3 Russia
4 Italy


Group D

1 Lithuania
2 Belarus
3 Czech Republic
4 Croatia

The competition format remains the same as the previous edition with three phases. The first round has 4 groups of 4 teams playing between 15-17 June 2013. The bottom team from each group is eliminated.
The second round consists of 2 groups (E and F) of 6 teams with matches to be played between 19 -23 June 2013. The bottom 2 teams from each group are then eliminated.
Group E - Lille


1.     Spain   
2.     Turkey   
3.     Montenegro   
4.     Italy   
5.     Sweden   
6.     Slovak Republic


Group F - Vendespace  


1.     France   
2.     Belarus   
3.     Czech Republic   
4.     Great Britain   
5.     Croatia   
6.     Serbia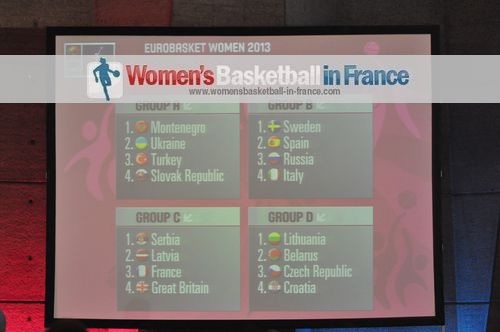 The remaining 8 teams then enter the knock-out phase and classification round. That implies that the losers from the quarter-final games play in the 5th - 8th place classification round.

This phase of the competition is run from 25 June and 30 June 2013.
This page serves as the womensbasketball-in-france home page for the 2013 EuroBasket competition and all the links for this edition appear on the right-hand side of this page.
---
Visit our home page
Visit our "What's New" page
EuroBasket Women picture credits:
womensbasketball-in-france.com

Date created: 21 September 2012
Last updated: 30 June 2013

Like this page / Aimez cette page