EuroBasket Women quarter-final
 France & Sweden battled it out

France were taken to the wire by Sweden (87-83) in the last EuroBasket Women quarter-final and saved by a little bit of magic by Céline Dumerc in her 200th international game.

Dumerc (16 points) on 4 fouls hit 3 consecutive three-pointers during the last 2:16 minutes of the game for France to edge in front (83-78).
Then Edwige Lawson-Wade (14 points) secured the victory with a perfect 4-of-4 from the free-throw line.
However the hero of France was Gaëlle Skrela (13 points and 4 assists) who - at the start of the third quarter - brought France back into this EuroBasket Women quarter-final with 3 three-pointers.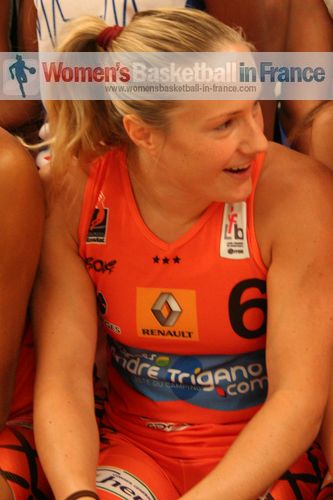 After two games without a single three-pointer France went an impressive 11-from-23 in this match.
On the other hand Sweden were an impressive 8-of-13 from behind the arc and dominated France in rebounding and hustling.
Frida Eldebrink (in picture) was on fire with 21 points. But it was her sister Elin who was electrifying with 17 points (8-of-10 shots) and 7 assists. Ashkey Keys contributed 15 points with a perfect 3-of-3 from behind the arc.
Anna Barthold's elimination with two minutes remaining in the game was a key moment because she had made sure that the inside player from France could not breath.
Sweden have one more chance of making this EuroBasket Women competition really successful by qualifying for the 2014 FIBA World Championship for Women. They need to beat Belarus in the first classification match.
You may watch the FIBA Europe EuroBasket Women highlights from this match at the bottom of the page.

France dug deep for this EuroBasket Women victory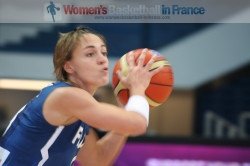 From the start both teams played at speed with a lot of energy. Yet it was Sweden that were more aggressive in the paint at both ends of the court.
However it was France leading (14-4) with less than five minutes played with Céline Dumerc (in picture) conducting the plays with 7 points to her counter.

Sweden picked up for the second part of the first quarter and started to hit shots from all over the court to edge in front (17-16) with two minutes left to play in the quarter.

France were on the back foot but thanks to a baseline three-pointer by Valériane Ayayi led briefly.
Then Ashley Key put Sweden back in the driving seat with a long distance bomb to close the quarter (22-21).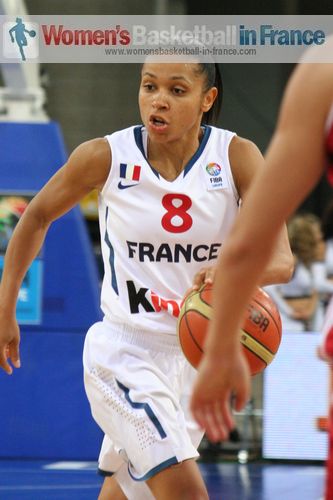 France opened the second quarter with a 24-second violation. They continued to struggle with the Swedish defense despite having Dumerc and Edwige Lawson-Wade on the court at the same time

Both teams traded a few baskets before the Frida Eldebrink show took off. She scored 7 points in a row for Sweden to lead (34-29) with 16:30 played.
A quick time-out by Pierre Vincent, the French head coach, did not change much. Dumerc picked up 2 fouls and had to sit down while F. Eldedebrink continued her festival.
With nothing working for France inside, France had to shoot from far and managed to get into the locker room trailing by just a single point (38-39) after a three-pointer by Anaël Lardy.
Elin Eledebrink took over from her sister in the scoring department at the start of the third quarter with 5 points. Luckily for France Gaëlle Skrela was also on fire. She knocked down 3 three-pointers for France to go ahead (47-46).
Dumerc picked up another 2 quick fouls and was back on the bench with six minutes to play in the quarter.
In a ding-dong affair the two teams traded blow for blow and basket for basket for the rest of the quarter with France holding the advantage (64-63).

Stefanie Yderström fired in a three-pointer to put Sweden back in front at the start of the last quarter (66-64). Sweden were a little too physical. Within two minutes they had picked up 4 team fouls which was to hurt them down the stretch.
France looked slow and sluggish while the Eldebrink twins continued their festival.
With three minutes to play Sweden were still in the driving seat in this EuroBasket Women quarter-final match (77-73).
Emméline Ndongue's missed free throw turned into a three-pointer for Dumerc. Thereafter the teams were tied (77-77) with 2:16 to play. On the very next play Dumerc hit another three-pointer for France to go back in front for good.
However to make sure France had space to breath with 41 seconds to play Dumerc struck again from behind the arc (83-78).
Lawson-Wade did the rest from the free-throw line and France qualified for the semi-final (87-83).
France: Isabelle Yacoubou-Dehoui 11, Nwal-Endéné Miyem 4, Diandra Tchatchouang 3, Sandrine Gruda 7, Edwige Lawson-Wade 14 (6 assists), Céline Dumerc 16, Valériane Ayayi 3, Emilie Gomis 4, Marielle Amant DNP, Gaëlle Skrela 13 (4 assists), Emméline Ndongue 7, Anaël Lardy 5
Head coach: Pierre Vincent; assistant coaches: Francois Brisson, Valérie Garnier and Thierry Moullec

Sweden: Frida Ail 4i, Malin Aasa DNP, Frida Eldebrink 21, Ashley Key 15, Kadidja Andersson 0, Elin Eldebrink 17 (7 assists), Elisabeth Egnell 6, Danielle Hamilton 0, Anna Barthold 8, Stefanie Yderström 3, Louice Halvarsson 7, Katarina Andersso 4
Head coach: Lars Johansson; assistant coaches: David Leman and
Jurgita Kausaite

---
picture credits:
womensbasketball-in-france.com


Date created: 27 June 2013
Like this page / Aimez cette page