2013 EuroBasket Women
France on top of Group F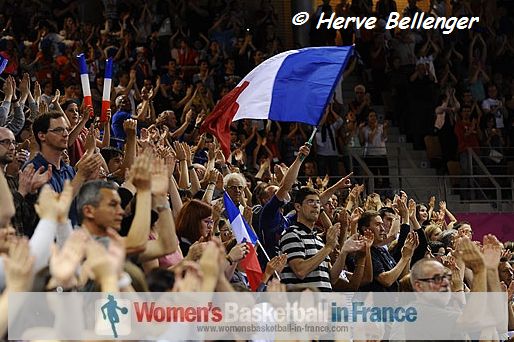 Serbia are back in the EuroBasket Women 2013 quarter-final qualification race in Group F after beating Belarus (54-48). In the opening game of day 4 the Czech Republic beat Great Britain (66-55). Meanwhile les Braqueuses of France remain on track for the quarter-final after defeating Croatia (78-70).

It was neither a good day for Great Britain nor FIBA Europe game commentator Mark Clark as his daughter, Ella Clark, rolled her ankle shortly after entering the court. She was last seen leaving the arena on crutches.
Interesting fact: In the match between Serbia and Belarus only three Serbian players scored in the first 25 minutes: Tamara Radocaj 9, Milica Dabovic 11, Ana Dabovic 9.
EuroBasket Women game highlights of the day 4 matches are to be found after each group report.
France have a foot in the door of the
EuroBasket Women quarter-final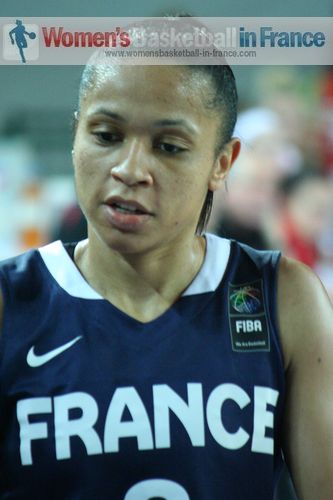 France were brilliant for the first 20 minutes and not only led the match (43-19) but also dominated the rebounds (31-12).
Croatia picked themselves up during the second half with an aggressive inside outside game and made France look ordinary for the first time in the 2013 edition of EuroBasket Women.
However France were never in danger of losing the match given their lead. With their win (78-70) they booked their place in the quarter-final.
Edwige Lawson-Wade (in picture) was the top scorer for France with 12 points while Emméline Ndongue was a perfect 5-of-5 from the floor to contribute 10 points. Ana Lelas had 18 points for Croatia.

France: Isabelle Yacoubou-Dehoui 9, Nwal-Endéné Miyem 6, Diandra Tchatchouang 8, Sandrine Gruda 6, Edwige Lawson-Wade 12, Céline Dumerc 8, Valériane Ayayi 2, Emilie Gomis 4, Marielle Amant 4, Gaëlle Skrela 6, Emméline Ndongue 10, Anaël Lardy 3

Head coach: Pierre Vincent and assistant coaches: Francois Brisson,
Valérie Garnier and Thierry Moullec

Croatia: Jelena Ivezic 7, Andja Jelavic 5, Antonija Misura 11, Kristina Benic 0, Emanuela Salopek 7, Marija Rezan 11, Iva Ciglar 2, Ana Lelas 18, Iva Sliskovic 2, Matea Vrdoljak DNP, Luca Ivankovic 7, Monika Bosilj 0

Head coach: Stipe Bralic
Serbia's EuroBasket Women challenge has finally started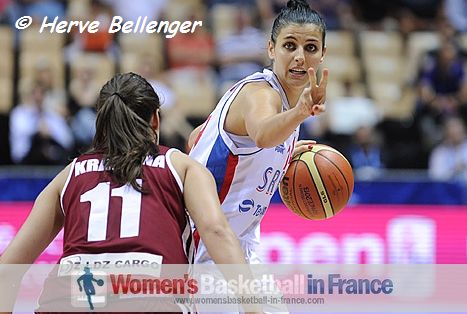 Serbia's game plan worked to perfection in their victory against Belarus (54-48): In addition to winning the battle of the offensive rebounds, they also controlled the tempo of the match.
Ana Dabovic (in picture) was the driving force for Serbia's win with 13 points, 6 rebounds, 5 assists and 3 steals.

Despite a good spell during the second quarter, Belarus were taking the lead briefly but were unable to take control of the game.
Yelena Leuchanka from Belarus missed a big part of the second quarter after receiving a knock to the back of her neck.
Although she returned at the start of the second half and dominated the rebounds, she could not inspire her team offensively.
Furthermore, the starting point guard Aliaksandra Tarasava fouled out by the end of the third quarter.
Serbia took hold of the game and never looked back after 4 straight three-pointers at the end of the third quarter (43-32).
Serbia: Tamara Radocaj 11 (3 steals), Bojana Vulic 0, Sasa Cado 3, Sara Krnjic 0, Nevena Jovanovic 6, Jelena Milovanovic 2, Dajana Butulija 0, Ivanka Matic 0, Ines Ajanovic 0, Milica Dabovic 13 (4 assists), Ana Dabovic 13 (5 assists), Jovana Rad 6
Head coach: Marina Maljkovic and assistant coaches: Igor Polenek and Bojan Jankovic
Belarus: Volha Istseliatsova DNP, Aliaksandra Tarasava 0, Katsiaryna Snytsina 6, Ala Murauskaya 0, Tatsiana Likhtarovich 8, Natallia Anufryienka 7, Anastasiya Verameyenka 12, Yelena Leuchanka 8 (16 rebounds), Zhanna Haradzetskaya 0, Maryia Papova 0, Nataliya Trafimava 3, Marina Kress 2
Head coach: Rimantas Grigas and assistant coaches: Andrei Vauleu,
Natallia Maslava

The Czech Republic rise under
EuroBasket Women qualification pressure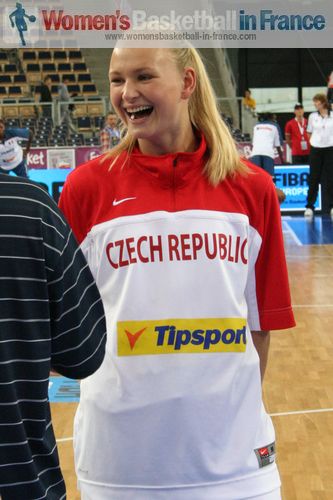 Michaela Zrustova (in picture) pulled out all the stops as she led the Czech Republic to victory against Great Britain (66-55). She scored 20 points which included 12 points from three-point land (4-of-6). She also dished out a couple of assists and picked up 2 steals.
In an entertaining first quarter, Tereza Pecková was the catalyst for the Czech Republic. In an 11-2 run her big three-pointer and a block helped her team reverse a (6-11) deficit and take the lead for good (17-13).

Great Britain's hustle plays kept them in touch (23-25) with three minutes to play in the second quarter. However this was the closest Great Britain was to get in upsetting their opponents.
Zrustova scored the last 7 points of the half for the Czech Republic to take command for good (32-25).
The rest of the match was a scrappy affair which came alive in the last couple of minutes when the Czech Republic coach, Lubor Blazek, picked up an unnecessary technical foul.
Nevertheless, the Czech Republic players managed to keep their focus and forced Great Britain into long offences.

Czech Republic: Jana Veselá DNP, Michaela Zrustova 20, Veronika Bortelová 2 (5 assists), Alena Hanusová 2, Ilona Burgrová 10, Katerina Bartonova 7, Romana Hejdova 0, Katerina Elhotova 5, Tereza Vyoralová DNP, Petra Kulichová 1, Tereza Pecková 11, Katerina Hindrakova 4
Head coach: Lubor Blazek and assistant coaches: Ivan Benes, Martin Petrovicky

Great Britain: Georgia Jones DNP, Rose Anderson 0, Stefanie Collins 0, Rachael Vanderwal 4, Chantelle Handy 11, Lauren Thomas-Johnson 2, Ella Clark 0, Kimberly Butler 12, Dominique Allen 4, Johannah Leedham 20 (6 assists and 8 rebounds), Azania Stewart 2 (8 rebounds), Stephanie Gandy 0

Head coach: Damian Jennings and assistant coaches: Vanessa Ellis and Peter Buckle

---
picture credits:
womensbasketball-in-france.com
Hervé Bellenger
FIBA Europe

Date created: 19 June 2013
Like this page / Aimez cette page