EuroBasket Women 2013
Serbia qualify first for semi-final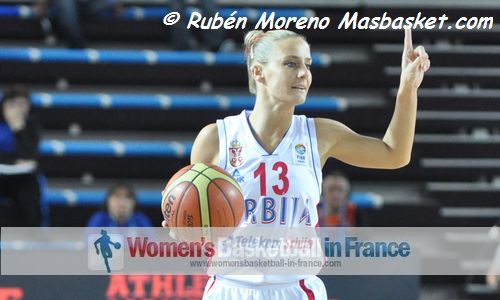 Serbia continue their EuroBasket Women winning streak to book their place in the semi-final with a late 11-0 surge to overturn Italy (85-79).
It was a heart breaking defeat for Italy who were in front for more than 32 minutes.
The match itself was more tense then exciting with both teams having a field day from beyond the arc. Italy connected 10-from-17 from the three-point line while Serbia finished with 9-of-20.
During the first quarter alone both sides shared 7 three-pointers. The quarter even ended with a three-ball by Benedetta Bagnara for the Italians to take the lead (26-23).
The second quarter was a tight affair with the teams locked (38-38) with two minutes to play before the break.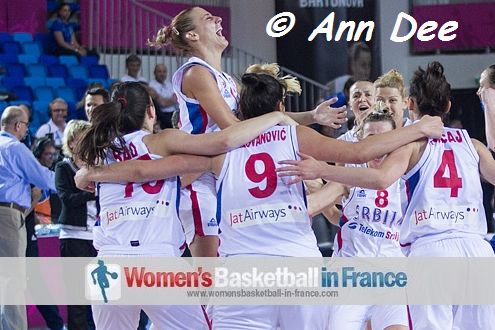 Italy once again managed to gain the momentum with scores from Raffaella Masciadri and Sabrina Cincili for a half-time lead (42-38).
During the third quarter Giorgia Sottana (22 points) remained on fire for Italy. But Serbia refused to back down with Jelena Milovanovic, Milica Dabovic and Jovana Rad hitting back with all what they had.
Serbia kept putting away their free throws and trailed by just a single point going into the final quarter (64-65).
Italy remained in front and with two minutes to play they led (79-74) and looked to be on their way into the EuroBasket Women semi-final.
However M. Davovic had other ideas. With 90 seconds to play she started the revolt with a three-pointer for Serbia. She then followed this up with a pair of free throws to tie the match (79-79).
Italy started to panic and finally cracked allowing Milovanovic 2 free throws and Tamara Radocaj 2 easy points before M. Dabovic finished the scoring with a couple of more free throws.
You can watch the highlights of the game below:

Serbia: Tamara Radocaj 14, Bojana Vulic 0, Sasa Cado 0, Sara Krnjic DNP, Nevena Jovanovic 8, Jelena Milovanovic 21, Dajana Butulija 2, Ivanka Matic 2, Ines Ajanovic 0, Milica Dabovic 16, Ana Dabovic 6,  Jovana Rad  15
Head coach: Marina Maljkovic; assistant coaches: Igor Polenek and
Bojan Jankovic

Italy: Francesca Dotto 7, Martina Fassina 2, Sabrina Cinili 9, Giorgia Sottana 22, Giulia Gatti 7, Ilaria Zanoni 8, Gaia Gorini DNP, Raffaella Masciadri 11, Nnena Wabara 0, Benedetta Bagnara, 3 Kathrin Ress 10, Alessandra Formica DNP

Head coach: Roberto Ricchini; assistant coaches: Giovanni Lucchesi, and Raffaele Imbrogno
---
picture credits:
masbasket.com
Ann-Dee Lamour

Date created: 26 June 2013
Like this page / Aimez cette page