2013 EuroBasket Women
The Alba Torrens and Sancho Lyttle show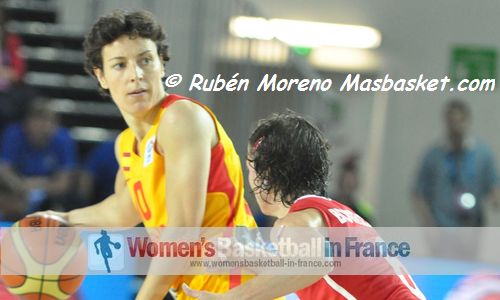 Spain's unbeaten record at the 2013 edition of the EuroBasket Women competition remains intact after seeing off the Czech Republic in the second quarter-final (75-58).

Alba Torrens was on fire during the opening phase of the game. She scored 13 points alone during the first quarter which was just over 50% of her team's total (25-15).
Sancho Lyttle was also in dominating from with 8 first-quarter points. Lyttle finished the game with 23 points, 12 rebounds, 5 steals and 4 assists while Torrens had 29 points and 3 steals.
However despite the Spanish domination the Czech Republic did not fold and drew level (41-41) with just over 24 minutes played.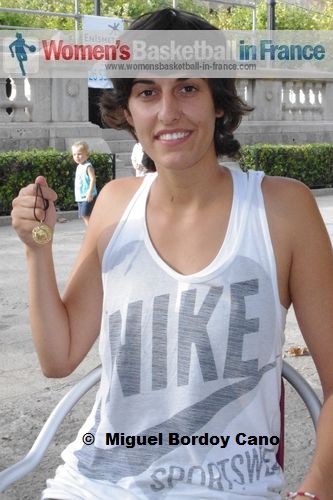 With Torrens and Lyttle having a little barren spell, it was Amaya Valdemoro that put Spain back in charge for good with two big shots which resulted in 5 points.
Valdemoro was in her element and hit another big shot. Yet the Czech Republic duo of Veronika Bortelová and Katerina Elhotova were also scoring as their side fought tooth and nail to stay in the game.

However the third quarter ended with a three-pointer by Sancho Lyttle to swing the pendulum back in favour of Spain for good (54-46).
Torrens and Lyttle scored all the points for Spain at the start of the final quarter while opening up an 11-point advantage (62-51) with just over six minutes remaining to play.
Spain's lead grew to 20 points (72-52) before Lyttle and Torrens were withdrawn for good.
The Czech Republic had a little run to bring some respectability to the final scoreline as the game fizzled out.
Spain will now meet Serbia in the first EuroBasket Women semi-final.

You can watch the highlights of the game below:
Spain: Laura Nicholls 0, Cindy Lima 0, Silvia Dominguez 0, Alba Torrens 29, Laia Palau 4, Cristina Ouvina DNP, Elisa Aguilar 0, Marta Xargay 7, Laura Gil 1, Amaya Valdemoro 11, Sancho Lyttle 23, Queralt Casas 0
Head Coach: Lucas Mondelo; assistant coaches: Victor Lapena and Isabel Sanchez
Czech Republic: Michaela Zrustova 0, Veronika Bortelová 4, Alena Hanusová 5, Ilona Burgrová 5, Katerina Bartonova 6, Romana Hejdova DNP, Katerina Elhotova 13, Tereza Vyoralová 3, Petra Kulichová 10 (1O rebounds), Tereza Pecková 19, Katerina Hindrakova 2

Head coach: Lubor Blazek; assistant coaches: Ivan Benes and Martin Petrovicky

---
picture credits:
Masbasket.com
Miguel Bordoy Cano


Date created: 26 June 2013
Like this page / Aimez cette page