EuroBasket Women 2013 - Day 2
Lithuania, first team to be eliminated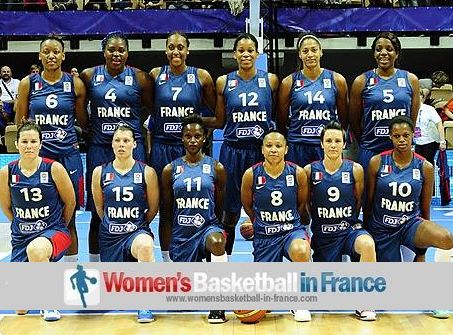 France continued with their EuroBasket Women opening day demolition of Latvia with a comfortable victory against Serbia (76-32). Elsewhere Belarus, Croatia, Czech Republic, Great Britain, Spain and Turkey punched their tickets for the qualification round.
Top scorers from each game and video highlights from all the matches are to be found after each wbbif's group report:
Lithuania became the first team to be eliminated from this edition of EuroBasket after losing to the Czech Republic (51-70) in their Group D encounter.
Due to Belarus beating Croatia earlier in the day (57-43), Lithuania had no choice but to beat the Czech Republic to stay in the competition. Yet a second-quarter meltdown (8-25) sealed their fate.
With their elimination, Belarus are guaranteed the group win and will take maximum points into the next round while the Czcech Republic and Croatia will battle for the second place and the important points for the next phase.
Croatia 43-57 Belarus
Croatia: Vrdoljak 8, Misura 8, Ivezic 8, Sliskovic 6, Lelas 5
Belarus: Leuchanka 13 (12 rebounds), Likhtarovich 12, Snytsina 11, Kress 6
Czech Republic 70-51 Lithuania
Czech Republic: Kulichova 15, Bortelova 13, Burgrova 13, Zrustova 12, Hindrakova 9
Lithuania: Petronyte 13, Nacickaite 12, Paugaite 8, Kvederaviciute 7

EuroBasket Women Group C - France and Great Britain qualify

France continue to thrill their supporters with a comfortable victory against Serbia (76-32).
Isabelle Yacoubou-Dehoui who went a perfect 7-of-7 from the floor in game one missed her first shot of the tournament (5-of-6) while scoring 10 points. Gaëlle Skrela had the pleasure of leading the French attack with 14 points.
Great Britain also booked their ticket for the next phase after seeing off Latvia (69-56). The third-quarter buzzer beater of Kim Butler, who played a lot of her club career in Latvia, was the shot of the match. She finished with 14 points before fouling out for the second consecutive game.
Great Britain 69-56 Latvia
Great Britain: Butler 14, Leedham 14, Stewart 9, Handy 8, Collins 7, Thomas-Johnson 7, Vanderwal 5
Latvia: Krastina 12, Jansone 11, Steinberga 11, Babkina 7, Karklina 6

France 76-32 Serbia
France: Skrela 14, Yacoubou 10, Dumerc 10, Gruda 8, Lawson 8, Ayayi 7, Miyem 6, Amant 5
Serbia: A. Dabovic 15, Radocaj 8, Milovanovic 4

 Group B - Spain qualify while Sweden down Russia

Sweden have one foot in the qualification round of the 2013 EuroLeague Women after their historical victory against Russia (68-57).
Even with the complex three-way tie rules of FIBA Europe in case of Russia beating Italy in the final game, it should mathematically be impossible for Sweden to be eliminated even if they lose to Spain.
Sweden were too physical for Russia. They took the Russians out of their stride early on. Russia's poor finishing did not help them down the stretch as they went on to suffer defeat number 2.
Russia's fate is now in their hands provided they beat Italy. If Sweden beat Spain in the final group game, then Russia just need to beat Italy. But if Spain beat Sweden, then Russia must beat Italy by at least 7 points.
In the other game Spain booked their place into the next phase with a scrappy victory against Italy (71-59).
Sancho Lyttle's double-double of 19 points and 13 rebounds and Elisa Aguilar's three-point shooting early on was all Spain needed to control the game.
Italy 59-71 Spain
Italy: Sottana 13, Dotto 12, Masciadri 9, Ress 7, Gatti 7
Spain: Lyttle 19 (13 rebounds), Torrens 15, Valdemoro 12, Aguilar 9, Palau 6, Xargay 6

Russia 57-68 Sweden
Russia: Prince 16, Grishaeva 11, Zhedik 9, Petrakova 7
Sweden: Key 14, F. Eldebrink 12, Egnell 10, Halvarsson 10 (10 rebounds), E. Eldebrink 9, Hamilton Carter 7
 EuroBasket Women Group A - Turkey looking good

Turkey had the worse start possible in their second game at the EuroBasket Women 2013 allowing Montenegro to score the first 12 points of the match.
Tugce Canitez with 5 of Turkey's first 7 points was the team's catalyst as they battled their way back into the game. Trailing (12-21) by the end of the first quarter they powered their way into the lead by the interval (29-28) with some excellent defensive plays.
During the third quarter Turkey were able to break away with more consistent shooting and a three-point buzzer beater by Esmeral Tuncluer (47-38).
Turkey remained calm for the rest of the game and booked their ticket for the EuroBasket Women Qualification Round with their second victory (66-57).
Klaudia Lukacovicova and Lucia Kupcikova powered Slovak Republic to victory over Ukraine (75-68).
Lukacovicova finished with 23 points, 9 rebounds, 3 steals and 2 blocks in her best game in the national jersey. Kupcikova was also active with 18 points, 8 rebounds and 6 steals.
Ukraine led for the first 13 minutes of the game with Alina Iagupova leading the way with 13 points. However once the Slovak Republic edged in front, the Ukrainian players retreated and never really challenged.
Ukraine can still qualify for the next round by beating Montenegro which would mean that the Slovak Republic would be eliminated if they lose to Turkey.
Slovak Republic 75-68 Ukraine
Slovak Republic: Lukacovicova 23, Kupcikova 18, Sujova 11, Vynucholova 9, Tetemondova 5, Jurcenkova 5
Ukraine: Iagupova 17, Kurasova 12, Mircheva 9, Ogorodnikova 7, Zarytska 6, Kochubei 5,

Turkey 66-57 Montenegro
Turkey: Palazoglu 12, Tuncluer 12, Yilmaz 10, Caglar 10, Canitez 7, Hollingsworth 6
Montenegro: Perovanovic 17, Skerovic 16, Dubljevic 12

---
Like this page / Aimez cette page