Spain and Turkey qualify for
2013 EuroBasket Women quarter-final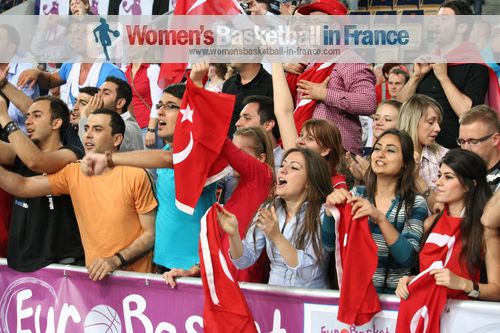 On the first day of EuroBasket Women Group E action Spain and Turkey secured their berth for the quarter-final with comfortable victories. 
Sweden improved their chances of qualifying for the next phase with an important victory against Montenegro (69-58) in the closest game of the day.

Spain opened the day with a stylish performance in their victory against the Slovak Republic (80-44). The match was as good as over by the end of the first quarter with Spain leading (80-44).
Sancho Lyttle played less than 20 minutes for Spain but still finished as top scorer with 18 points. Marta Xargay was the only other player from Spain to reach double digits with 11 points.
For the Slovak Republic Klaudia Lukacovicová led the scoring with 11 points.
The Slovak Republic have no choice but to win both of their remaining games to have any chance of advancing to the quarter-finals. One more defeat will mean the end of the road for them.
Slovak Republic 44-80 Spain
Slovak Republic: Lukacovicova 11, Tetemondova 8, Jurcenkova 7, Sujova 6, Vynuchalova 6
Spain: Lyttle 18, Xargay 11, Valdemoro 9, Gil 8, Nicholls 7, Dominguez 7, Lima 5, Torrens 5

Three-point shooting, the Turkish way
With juster over a minute to play in the first quarter, Turkey went on a three-ball blitz with 4 in-a-row to regain the advantage (18-13).
In a lively second quarter in which both sides knocked down more shots from long distance Turkey maintained the advantage (34-29).
The Italians opened the scoring 15 seconds after the break and then did not score again until 30 seconds into the final quarter. By then Turkey's lead was 20 points (53-33) and the contest was over.
The two teams played the match out with everybody getting to play.
Turkey won (66-46) and like Spain can use their remaining EuroBasket Women Group E games as preparation for the quarter-finals.
Italy 46-66 Turkey
Italy: Sottana 11, Ress 9, Dotto 6, Cinili 5, Bagnara 5
Turkey: Dalgalar 10, Alben 9, Tuncluer 9, Hollingsworth 8, Ivegin 6, Caglar 6, Yilmaz 6, Vardarli 5

Sweden ready for EuroBasket Women battle

Sweden really mean business and demonstrated their ambitions with a well organised aggressive victory against Montenegro (69-58).
Frida Eldebrink led Sweden with 21 points. She was supported offensively by Ashley Key who finished with 17 points.
Eldebrink also came up with a big defensive play of the game which resulted in Jelena Dubljevic from Montenegro fouling out with three minutes to play.
Dubljevic's departure also resulted in the end of Montenegro's chance of saving the game. Without her on the floor her team managed just 4 points the rest of the way.
Sweden were very aggressive and made life difficult for Dubljevic who picked up 2 fouls during the first quarter. In addition Sweden used their full roster effectively, especially Anna Barthold who worked her socks off on all the little things that do not show on the statistic sheet.
Sweden 69-58 Montenegro
Sweden: F. Eldebrink 21, Key 17, E. Eldebrink 6, Egnell 5, Barthold 5
Montenegro: Dubljevic 17, Perovanovic 14 (14 rebounds), DeForge 10, Jovanovic 9, Skerovic 6

---
picture credits:
womensbasketball-in-france.com


Date created: 20 June 2013
Like this page / Aimez cette page