EuroBasket Women 2013 - Day 3
Latvia, Russia and Ukraine go home

2011 EuroBasket Women champions Russia are already on their way home despite beating Italy (72-66) in their final Group B match. Latvia and Ukraine were also eliminated on day 3 to join Lithuania, already out, on the bus for the airport.
Game highlights of all the day 3 matches are to be found after each group report.

Russia were just two seconds away of punching their ticket for the EuroBasket Women qualification round leading by 8 points. Then disaster struck as they allowed Kathrin Ress from Italy to lay up for 2 crucial points.

The Russians did not show much urgency and failed to get a shot off in the remaining time.
Russia needed to win by 7 points or more to be sure of qualifying. Instead with a 6-point margin, their fate rested in the hands of Sweden beating Spain.

Sweden matched Spain for the first 20 minutes (30-30) but ran out of gas during the second half and were crushed (49-72). This result meant that Russia lost out to Sweden and Italy in a three-way tie to finish last in EuroBasket Women Group B.
Russia 72-66 Italy
Russia: Kuzina 15, Prince 13, Osipova 12, Belyakova 10, Grishaeva 6, Petrakova 5
Italy: Sottana 21, Ress 11, Gatti 7, Fassina 6, Masciadri 6, Formica 6

Sweden 49-73 Spain
Sweden: F. Eldebrink 10, E. Eldebrink 8, Halvarsson 7, Aili 6, Egnell 6
Spain: Lyttle 17 (17 rebounds), Torrens 14, Valdemoro 10, Xargay 8, Nicholls 6, Aguilar 6, Casas 5

France are the best in EuroBasket Women Group C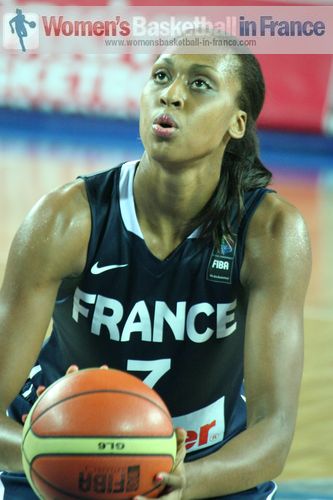 France did not require any late second heroics in defeating Great Britain (79-47) to claim first place in their group. It was an interesting clash of cultures with "basketball made in France" against the "NCAA culture" of Great Britain.
In the most important game from the group Serbia held off Latvia (62-56) to stay in the competition. In a match that never took off, Serbia almost eliminated themselves with poor free throwing (19-of-32). Latvia's elimination also signals the end of the international career of Liene Jansone.
Serbia 62-56 Latvia
Serbia: Milovanovic 15, Rad 10, Butulija 9, Jovanovic 7, Matic 7, A. Dabovic 5
Latvia: Karklina 17, Steinberga 11, Babkina 10, Jansone 5, Jakobsone 5

France 79-47 Great Britain
France: Yacoubou 11, Ayayi 11, Gruda (in picture) 10, Lawson 10, Gomis 10, Miyem 7, Tchatchouang 6, Ndongue 5
Great Britain: Leedham 13, Thomas-Johnson 9, Butler 6, Collins 5, Vanderwal 5
EuroBasket Women Group D - Czech Republic get the big win

With Lithuania already eliminated from the competition the match against Belarus had no value. Belarus took it as a training match and restricted the play-time to their key players to less than 10 minutes.
Lithuania were able to win the match (72-67).
The Czech Republic edged out Croatia (74-68) in the all important game for second place and the extra point to be carried over into the qualification round.
Katerina Hindrakova was the match winner for the Czech Republic with a 7-from-8 shooting day for a total of 17 points.
Lithuania 72-67 Belarus
Lithuania: Gutkauskaite 15, Kvederaviciute 14, Nacickaite 11, Paugaite 10, Petronyte 8, Visgaudaite 5, Grigalauskyte 5
Belarus: Tarasava 16, Papova 13, Trafimava 10, Kress 9, Istseliatsova 5

Czech Republic 74-68 Croatia
Czech Republic: Hindrakova 17, Zrustova 12, Bortelova 12, Peckova 9, Burgrova 8, Elhotova 6
Croatia: Lelas 13, Sliskovic 13, Misura 11, Ivezic 10, Rezan 8
EuroBasket Women Group A - Jelena Dubljevic: free-throw queen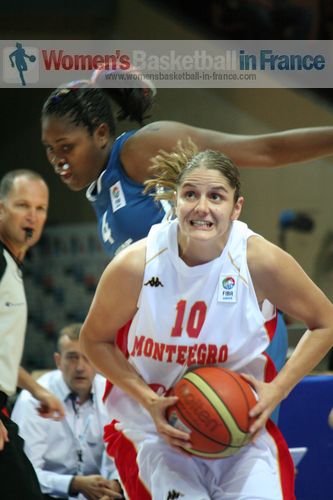 It is simple: do not send Jelena Dubljevic (in picture) to the free-throw line. She has not missed one since the start of EuroBasket and added 15 more points to her tally in the victory of her team Montenegro against Ukraine (72-60). She finished with a game-high 29 points.
Ukraine were led by Alina Iagupova who scored 21 points.
Due to the fact that Ukraine's elimination was confirmed before the Slovak Republic faced Turkey, the Slovakians were under no pressure for a result.
The match was close for just ten minutes (12-12). Turkey pulled away during the second quarter. They went into the locker room with a comfortable advantage (32-20) which they defended till the end of the match (66-48).

Montenegro 72–60 Ukraine
Montenegro: Dubljevic 29, Perovanovic 10, Aleksic 8, Jovanovic 7
Ukraine: Iagupova 21, Kurasova 14, Zarytska 6, Mircheva 5

Turkey 66-48 Slovak Republic
Turkey: Palazoglu 12, Yilmaz 11, Hollingsworth 10, Caglar 10, Tuncluer 6, Vardarli 5
Slovak Republic: Jurcenkova 10, Kupcikova 7, Vynuchalova 7, Kmetova 7, Tetemondova 5

---
picture credits:
womensbasketball-in-france.com

Date created: 18 June 2013
Like this page / Aimez cette page