Another EuroLeague Women bronze medal for
UMMC Ekaterinburg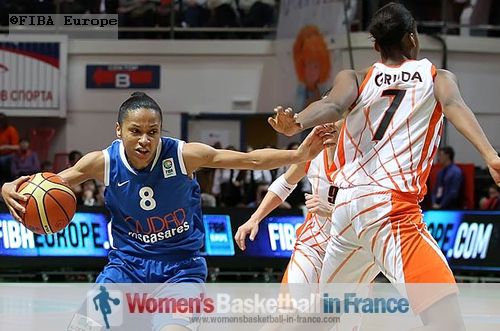 UMMC Ekaterinburg's perfect record on the second day of the EuroLeague Women final four action remains intact after beating Ros Casares (64-52) for their fourth consecutive third place finish.
Ros Casares settled more quickly into the game and led (7-2) with five minutes played. However the hosts woke up and were on level terms by the end of the first quarter (12-12).
Ros Casares led all through the second quarter and went into interval (27-24).
The home supporters were not making much noise as their team fell further behind (24-33) with three minutes played in the third quarter.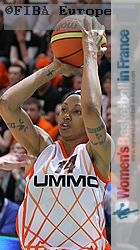 Neither team was having much success getting the ball to drop and Ros Casares rode their luck to stay in front (39-22) with 26 minutes played.
UMMC finally work up and were sparked into a 12-4 offensive run by Cappie Pondexter and Deanna Nolan (left) concluded by a trey for her side to regain the lead (42-41) going into the final quarter.
UMMC continued to push with Nolan and Maria Stepanova scoring. However it was an excellent pass by Cappie Pondexter to Olga Arteshina, who then hit a baseline trey that got the crowd on their feet (49-41) with just over seven minutes left to play.
Natalia Hejkova from Ros Casares called an immediate time-out. But it was too late the pendulum had swung in favour of UMMC.
Céline Dumerc was back to her best retrieving lost causes. Sandrine Gruda and Candace Parker kept the scoreboard ticking while the home fans continued to make noise.
Ros Casares were unable to compete physically and conceded defeat.
French international Gruda finished the game with 14 points and 9 rebounds for UMMC, while Céline Dumerc scored 6 points.
For Ros Casares former French international Edwige Lawson-Wade finished with 11 points, 6 rebounds and 3 assists.
UMMC Ekaterinburg: Olga Arteshina 3, Anna Ostroukhova DNP, Sandrine Gruda 14 (9 rebounds), Céline Dumerc 6, Tatiana Vidmer DNP, Maria Stepanova 10, Zuzana Zirková 3, Candace Parker 10 (9 rebounds), Deanna Nolan 11, Cappie Pondexter 7 (6 assists), Svetlana Abrosimova DNP
Ros Casares: Jana Veselá 11, Marta Fernandez 1, Cindy Lima 4, Edwige Lawson-Wade 11 (3 assists), Laia Palau 0, Nuria Martinez DNP, Rebekkah Brunson 12, Sonia Cruz DNP, Agne Abromaite 3, Katie Douglas 10

You can watch some game highlights on FIBATV
---
Return to the EuroLeague Women index
Return to the index at the top of page
---
EuroLeague Women picture credits:


FIBA Europe

Date created: 10 April 2011

---