2014 EuroLeague Women
14 teams for play-offs confirmed

For Lattes-Montpellier and Kibirkstis-Vici Vilnius their EuroLeague Women hopes of qualification ended with them losing on their own respective courts. They join BK IMOS Brno, Uni Györ and WBC Novi Zagreb on the sidelines at the end of the regular season

Veuillez trouver des informations en français en bas de la page sur la treizième journée à l'Euroligue féminine.
A victory of more than 8 points for Lattes-Montpellier against UE Sopron would have assured them qualification for the play-offs. For the Hungarian champions a win by any margin would have taken them into the play-offs.
Once again difficulties in scoring during the final quarter and a total of 22 turnovers hurt Montpellier as they fell at home (61-65).
Zsofia Fegyverneky who finished the game with 13 points and 5 assists provided the final burst with 4 points and a 6-0 run to take the guests through. Iva Ciglar who had played in France for Perpignan last season also dished out 5 assists while scoring 14 points.
Montpellier's Géraldine Robert scored 16 points but was also credited with 7 turnovers.
Tango Bourges Basket huffed and puffed their way against
Uni Györ (64-48) with 16 points apiece by Endéné Miyem and Marianna Tolo. Bourges move up to second place in Group A but are tied with four other teams with five victories and four defeats.

EuroLeague Women round 13 recap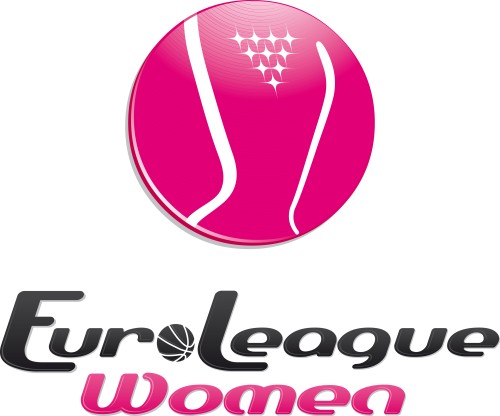 In EuroLeague Women Group A, UMMC Ekaterinburg were beaten on the road (77-78) by Kayseri Kaski Spor in a dramatic finish. 2 free throws by Latoya Sanders (24 points) in the final seconds were enough for the Turkish side to hold on.
Good Angels required overtime to end their jinx at the Steel Arena in holding off Elodie Godin's Beretta Famila (71-67).
EuroLeague results and basic statistics:

Uni Györ 48-64 Tango Bourges Basket
Györ: J. Tinkle 22 (7 reb), D. Diamant 9 (6 reb), A. Laklóth 8, D. Koch 5
Bourges: E. Miyem 16 (6 reb), M. Tolo 16, E. Ndongue 7, C. Dumerc 6 (9 reb, 5 as), P. Salagnac 5, C. Van Grinsven 5, S. Kaltsidou 5 (5 as)

Kayseri Kaski Spor 78-77 UMMC Ekaterinburg
Kayseri: L. Sanders 24 (5 reb), T. Wright 16 (8 as), M. Mazic 10 (5 reb), S. Cinili 8, C. Little 8 (5 reb), E. Salopek 6
Ekaterinburg: D. Taurasi 25 (6 reb, 6 as), S. Gruda 13 (6 reb), C. Parker 11 (7 reb), A. Jekabsone 10, E. Kobryn 10, D. Nolan 6

Good Angels Kosice 71-67 (overtime) Beretta Famila Schio
Kosice: F. Abdi 21 (5 reb), L. Kizer 20 (14 reb), J. Perkins 10, M. Bojovic 8 (8 as, 8 to), M. Zietara 5
Schio: L. Macchi 17, E. Godin 12 (6 reb), E. Larkins 12 (17 reb), C. Vandersloot 11 (7 as), K. Honti 6, G. Sottana 5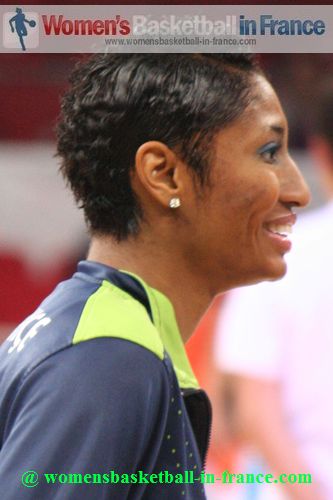 In EuroLeague Women Group B Rivas Ecópolis trailed by 16 points at half time against Fenerbahçe (27-41) but picked themselves up to make it a one-possession game (60-63) with under five minutes to play.
The Turkish side did not panic and maintained their unbeaten record by finishing the game with an 8-2 run for a final score victory (71-62). Agnieszka Bibrzycka and Angela McCoughtry (in picture) shared the scoring with 14 points each for the winners while Laura Nicholls picked up 21 points and 11 rebounds in defeat. Fenerbahçe also have secured the number one seed spot for the play-offs.

Nadezhda Orenburg dominated the second half of their encounter to roll past Wisla Can-Pack (74-53).
EuroLeague results and basic statistics:
Lattes-Montpellier 61-65 UE Sopron
Montpellier: G. Robert 16 (5 reb), I. Tanqueray 12, F. Sacko 10, H. Ciak 9 (9 reb), G. Basko-Melnbarde 8 (10 reb)
Sopron: I. Ciglar 14 (5 as), Z. Fegyverneky 13 (5 as), T. Hawkins 13 (6 reb), S. Krnjic 11 (6 reb), K. Faris 7, Z. Simon 5

Rivas Ecópolis 62-71 Fenerbahçe
Rivas: L. Nicholls 21 (11 reb), F. Eldebrink 16 (5 reb, 5 as), J. Hassell 9, G. Ocete 5 (5 as), Q. Casas 5
Fenerbahçe: A. Bibrzycka 14, A. McCoughtry 14 (8 reb), I. Yacoubou 11, E. Tuncluer 7, A. Verameyenka 7 (7 reb), I. Matovic 6, C. Pondexter 6 (5 reb, 6 as)

Nadezhda Orenburg 74-53 Wisla Can-Pack
Orenburg: D. Bonner 21 (13 reb), A. Cruz 16 (6 as), N. Anoikina 13 (11 reb), M. Kuzina 8, N. Zhedik 7 (5 reb), Z. Dimitrakou 6
Wisla: A. Quigley 16, J. Lavender 13 (11 reb), D. McCray 10 (5 reb), C. Ouvina 6, Z. Tamane 6
EuroLeague Women Group C has been the most entertaining group of the regular season with no team really dominating. ZVVZ Prague secured the group win by beating Kibirkstis-Vici Vilnius (86-71). For the Lithuanian champions, this defeat ended their chance of qualifying for the next round.
With Shay Murphy misfiring Perfumerías Avenida failed at home for the first time in the ELW season with a defeat against Sparta&K MR Vidnoje (59-66).

CCC Polkowice completed the grand slam of home defeats in this group but still qualified for the next phase of the competition. Galatasaray Odeabank were never in trouble and won easily (70-45).
EuroLeague results and basic statistics:
Perfumerías Avenida 59-66 Sparta&K Vidnoje
Avenida: A. Robinson 20 (15 reb), E. Murphy 12 (8 reb), M. Rezan 8 (9 reb), M. Xargay 8 (5 reb), L. Rodriguez 5
Vidnoje: S. Petrovic 19 (10 reb), N. Vieru 12 (9 reb), T. Ajdukovic 12, E. Belyakova 10 (7 reb, 6 as, 5 to), N. Baric 10

Kibirkstis-Vici Vilnius 71-86 ZVVZ USK Prague
Kibirkstis: H. Mershon 14, V. Kuktiene 13 (6 reb), M. Solopova 11, G. Sniokaite 10, M. Kvederaviciute 6, S. Aleksandravicius 6, L. Pikciute 6 (7 reb), R. Valentiene 5
USK: J. Dubljevic 25 (6 reb), K. Vaughn 16 (10 reb, 5 to), L. Palau 12 (11 as, 6 st), K. Elhotova 11 (5 as), D. Robinson 11, E. Vitecková 11

CCC Polkowice 45-70 Galatasaray Odeabank
CCC: V. Musina 16 (6 reb), M. Leciejewska 7 (6 reb), T. Oblak 6, A. Majewska 6 (5 reb), J. Mc Carville 5, J. Skerovic 5
Galatasaray: K. Bone 15 (6 reb), S. Zellous 14, S. Lyttle 12 (8 reb, 8 as), I. Alben 10, A. Torrens 7 (5 reb), S. Kimyacioglu 7

---
Lattes-Montpellier déçoit à nouveau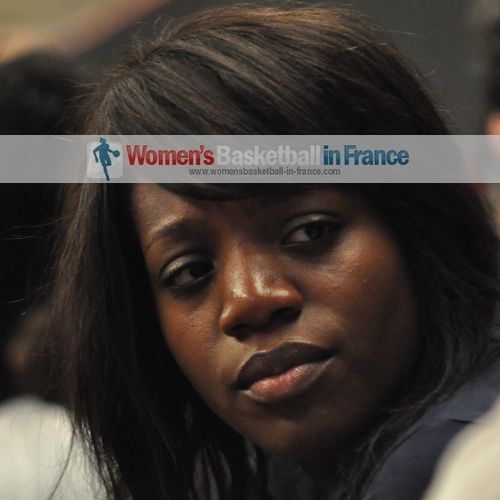 Tango Bourges Basket, déjà garantie la participation aux 1/8 de finale, gagne sa rencontre de la 13 journée pendant que l'autre équipe française, Lattes-Montpellier, échoue et ainsi ne peut plus se qualifier pour les play-offs.
Le club de Litouanie, Kibirkstis-Vici Vilnius, est la cinquième et dernière équipe qui ne continuera pas dans les play-offs après sa défaite contre ZVVZ Prague.
Donc la semaine suivante, les 15 clubs qui vont participer aux 1/8 de finale, se disputeront afin d'améliorer leur classement dans le tableau pendant que Montpellier, Kibirkstis, BK IMOS Brno, Uni Györ et WBC Novi Zagreb participeront pour la dernière fois dans cette phase avant de quitter leurs aventures en EuroLigues féminines 2014.
Les résultats de la 13e journée en ELW sont:
Uni Györ 48-64 Tango Bourges Basket
Kayseri Kaski 78-77 UMMC Ekaterinburg
Good Angels Kosice (71-67 ap) Beretta Famila Schio
Lattes Montpellier 61-65 UE Sopron
Rivas Ecópolis 62-71 Fenerbahçe
Nadezhda Orenburg 74-53 Wisla Can-Pack
Perfumerías Avenida 59-66 Sparta&K Vidnoje
Kibirkstis-VICI 71-86 ZVVZ USK Prague
CCC Polkowice 45-70 Galatasaray Odeabank

---
Visit EuroLeague Women 2014 page

Picture credits:
womensbasketball-in-france.com

Date created: 22 February 2014
Like this page / Aimez cette page