Emma Meesseman lights up
Open LFB 2013

A  little of WNBA magic lit up the Open LFB in Paris with Villeneuve d'Ascq beating Basket Landes (62-58).

Emma Meesseman missed the Open last year due to injury. This time she left her mark in Paris with some ice cold shooting and excellent off-the ball play. She finished with 14 points (7-of-10 shots), 11 rebounds, 5 assists and 4 blocks to help Villeneuve beat Basket Landes (62-58).
Her captain who picked up 2 fouls in the first half finished with 17 points and 16 rebounds.
Just watch the game below once archived.
Vous pouvez trouvez des informations en français sur le match Villeneuve contre Basket Landes en bas de cette page.

Open LFB suspense by Villeneuve d'Ascq

Baket Landes and Villeneuve were involved in a ding dong affair from the tip-off with neither team having control of any length of time.
Olayinka Sanni continued from where she left off from last season with 2 fouls in the first six minutes of the game. She had to go off  for the rest of the quarter although leading her team in points with 9.

Basket Landes took advantage to edge the first quarter (16-11).
Villeneuve were able to reduce their deficit during the second quarter with Emma Meesseman knocking down some tough shots (27-31).
The second half was an explosive affair that reached its climax during the last three minutes with the match tied (52-52).

Meesseman broke the deadlock with a shot from the top of the arc. With that Villeneuve were in front for good while Meesseman knocked down another tough shot. She also dished out 1 assist as her side moved further ahead (60-55).
A three-pointer by Anaïs Le Cano-Gluher from Basket Landes with 38 seconds to play prolonged the suspense but did not change the outcome.
Villeneuve d'Ascq: Elin Eldebrink 11 (6 assists), Lorraine Lokoka 7,  Mélissa Diawkana 0, Johanne Gomis-Halilovic 0, Lenae Williams 3, Emma Meesseman 14 points (11 rebounds), Laëtitia Kamba 10, Chloé  Westelynck DNP, Olayinka Sanni 17 (16 rebounds),  Djéné Diawara 0
Coaching staff: Frédéric Dusart and Ljubica Diawara

Basket Landes: Olivia Epoupa 2 (5 assists), Carmen Guzman 0, Kamila Stepanova 2, Anaïs Le Cano Gluher 13, Julie Barennes 4, Valériane Ayayi 9, Marion Laborde 2, Naura El Gargati 10, Danielle Page 16 (12 rebounds, 4 blocks)

Coaching staff: Olivier Lafarque Assitant and Jean-Michel More

---
M pour Meesseman,
baptisée à la WNBA
et retournée à Villeneuve d'Ascq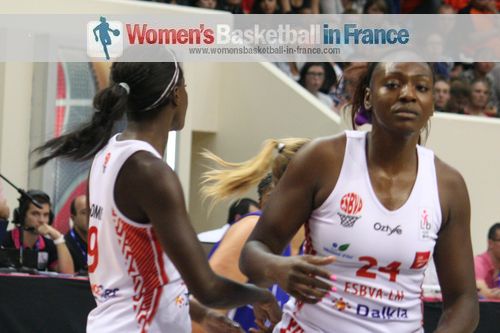 Le fait d'avoir loupé l'Open la saison dernière et d'avoir fait ses premiers pas pendant l'été dans la WNBA, a donné des ailes à Emma Meesseman.
La capitaine de Villeneuve Olayinka Sanni était obligée de retourner sur le banc après sa 2ème faute et ses 9 points. Basket Landes menait mais la Belge Meesseman réussisait de réduire le déficit au mi-temps.

Pourtant le show de Meesseman n'était loin d'être terminé car c'était elle qui - avec un tir à trois-point, 1 passe décisive et 1 autre tir, et avec le support de Eldebrink et Kamba, donnait l'avantage à son équipe pour gouter une savoureuse victoire (62-58).
---
Like this page / Aimez cette page