USO Mondeville are the
Open LFB 2013 first winners

USO Mondeviile won the first game of the 2013 Open LFB (73-60) with a clever display of basketball against Toulouse Métropole.
Veuillez trouver en bas de page des informations en français concernant le premier match de ce weekend.

Amanda Lassiter from USO Mondeville was awarded the MVP award for the match with her 11 points coming from just 7 shots. However Courtney Hurt led the scoring with 18 points while Julie Vanloo followed with 15. Vanloo was deadly behind the arc hitting 4-of-5.
For Toulouse Antonija Misura was excellent in the first 20 minutes with 10 points. However in the second half she failed to score. Misura fouled out of the game with just under two minutes to play.
The full game can be viewed (from Monday, 7 October) by scrolling down to the bottom page.

Another Open LFB victory for USO Mondeville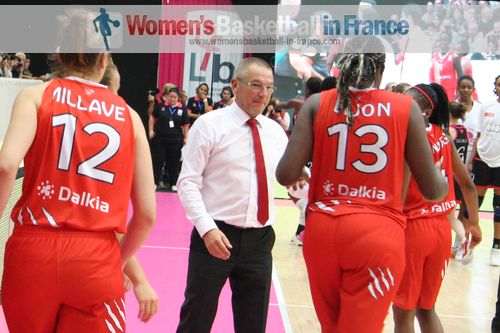 The first ten minutes of the game lacked the intensity of previous opening games in this event.

The only passionate moment came midway through the first quarter when Chalysa Shegog ran into the back of Sandra Dijon-Girardin and knocked her flying to the ground. Dijon-Girardin refused Shegog's offer to pick her up.
Despite four lead changes, both teams missed too many easy shots and turned the ball over too often. All the same Mondeville had the advantage (17-13).

The second quarter was much better technically for both teams. USO Mondeville started to hit their long shots, while Toulouse hit on fast break and back door plays.
Mondeville held on their lead at the break (35-33) with Amanda Lassiter on 11 points while Croatian international Antonija Misura had 10 points for Toulouse.

The pace of the match picked up during the third quarter. Dijon-Girardin was enjoying herself. She ran hard while her team-mate Courtney Hurt found her scoring touch and some interesting one-on-one duels.
Mondeville's long distance shooters did the rest for their side to pull away going into the fourth quarter (51-43).
Toulouse were unable to crack their opponents during the final ten minutes. The contest fizzled out with Mondeville winning (73-60).
Toulouse: Agathe Degorces 2, Antonija Misura 10 (4 assists), Lola De Angelis DNP, Kristen Mann 4, Maud Medenou 8, Assitan Koné 0, Marie Mané 5, Adnijana Mané 9, Chalysa Shegog 13, Leslie Ardon 3, Aby Gaye 6
Coaching staff: Jérôme Fournier and Xavier Noguerra

Mondeville: Touty Gandega 5, Julie Vanloo 15, Oumou Touré 6, Marine Johannes 3, Pauline Bétis 2, Hhadydia Minte 7, Lysa Millavet 0, Sandra Dijon 6, Amanda Lassiter 11, Courtney Hurt 18
Coaching staff: Romain L'Hermitte and Loic Asseline

---
Une victoire épicée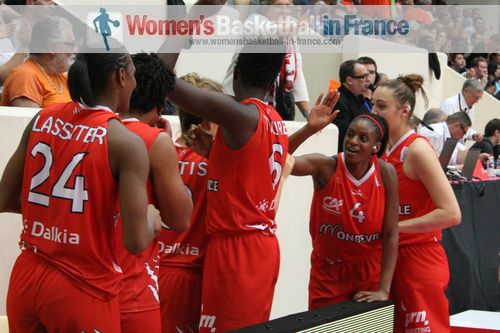 Le pot-pourri de l'âge avec de la jeunesse, et une adresse aux shoots des joueuses de Mondeville leur a permis de gagner le premier match à l'Open contre les Toulousaines.
Les deux équipes restaient coude à coude jusqu'au mi-temps. Mais Mondeville, menée par Courney Hurt, Julie Vanloo et le MVP du match Amanda Lassiter, avait décidé d'accélerer le rythme du jeu pour enfin avoir la commande du match.
A la fin du troisième quart Toulouse trainait par 8 points (43-51) et n'arrivait plus à revenir dans le match.
Mondeville en profitait pour gagner (73-60).
---
Like this page / Aimez cette page