Tango Bourges Basket maintain unbeaten record at the Open LFB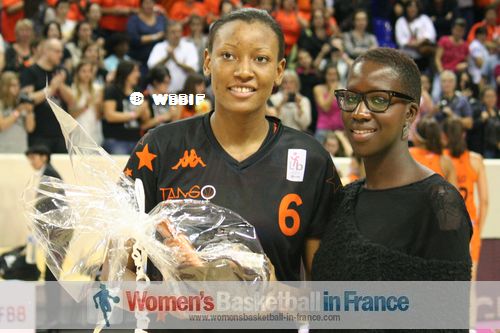 Bourges Basket gave a master class in their 9th appearance at the Open LFB in Paris. They blew away newly promoted Angers (83-43).
Veuillez trouver en bas de la page des informations en français sur l'exploit de Bourges contre Angers.

The contest was over after just four minutes with Tango Bourges Basket leading (13-2). A quick time-out by the coaching staff of Angers did not stop Bourges from completing a 17-0 run.
Bourges led by as many as 21 points before settling for a (27-8) first-quarter advantage.
By the interval the contest over (45-14). The only player from Bourges not on the score sheet was Marianna Tolo.
Bourges Basket used the second half as a training exercise. Yet they remained focused and did not give Angers any free points.
With just five full time professionals Angers did not have the strength or experience to trouble the defending champions.
The organising committee had to give one of the players from Bourges the MVP award and Diandra Tchatchouang was chosen. At the Open in 2012 Tchatchouang had had then a strong performance against Bourges.

Tango Bourges Basket: Romane Bernies 10 (4 assists), Paoline Salagnac 14, Diandra Tchatchouang 11, Endéné Miyem 8, Céline Dumerc 16 (4 assists), Chatilla Van Grinsven 5, Cathy Joens 3, Marianna Tolo 2, Jo Leedham 6, Emméline Ndongue 8
Coaching staff: Valérie Garnier and Jérome Authier

Angers: Johanna Cortinovis 4, Camille Aubert 2, Romana Hejdova 12, Mélodie De Sousa 0, Aurélie Favre 7, Lizanne Murphy 10, Elise Prod'homme 0, Carine Brossias 3, Sonia Lucet 2,  Sophia Le Marrec 2,  Iva Sliskovic 6

Coaching staff: David Girandière and John Delay

---
Trop fort: Tango Bourges Basket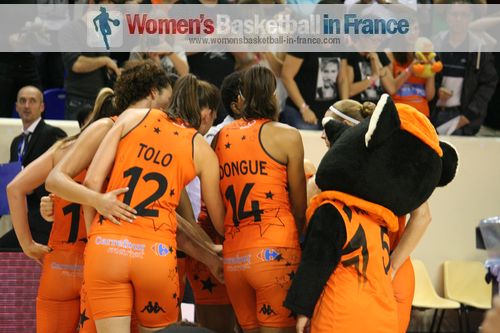 Les promues d'Angers n'ont pas réussi à mettre la machine de Bourges hors service et ont perdu logiquement par un grand écart.
Néanmoins leur aventure en LFB a que commencé et promet d'être intéressante.
Les jeunes Bressuyères ont pu démonstrer leur savoir faire avec la MVP du match Diandra Tchatchouang (11 points), Romane Bernies et Chatilla Van Grinsven.
---
Like this page / Aimez cette page