The 2013 Open LFB ends with
a physical Lyon victory

Lyon BF were involved in the most physical encounter of the 2013 Open LFB in Paris. Arras matched them for the first ten minutes before falling away.

Veuillez trouver en bas de la page des informations en français sur la dernière rencontre de ce weekend.

Lyon had four players in double digits and four players dishing out at least 3 assists. They appear to be a well oiled machine while Arras still have work in progress.
For the last match of the 2013 Open LFB, the spectators were treated to a good physical game. Emilija Podrug, the game MVP had too much experience to be hassled by Naignouma Coulibaly even when it got a little heated.

Dawn Evans was by far the best player for Arrras. But her energy and good will was not enough for Arras to go home with a win.

Lyon like to be fast and furious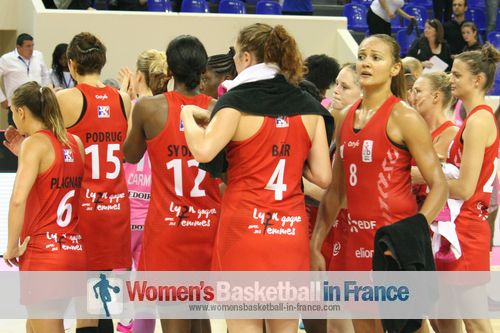 The first ten minutes of the match resembled the coaching style of both coaches, fast and furious.
Lyon, led by 9 points by Sara Chevaugeon, always had the edge in the first quarter until a three-point long range buzzer beater by Dawn Evans to end the first quarter (18-18). Evans had 11 points for Arras during the first quarter.

Lyon managed to keep Evans scoreless during the second quarter while restricting Arras to just 6 points.
The third quarter was a little rough at times with the post players hitting on each other as they battled for every rebound.
Lyon shared the offensive work while Arras relied on Evans.
The physical nature of the game led to some heated exchanges at the start of the last quarter with Lyon pulling away (57-41). Therefore the coach from Arras called a time-out to calm his players down.

The contest fizzled out with Lyon controlling all the key sectors to win (69-51).
Arras: Anaël Lardy 1, Elodie Mendy 0, Mamignan Toure 0, Clarince Djaldi-Tabdi 0, Aurélie Carmona 1, Irina Michailova 2, Pauline Krawczyk 7, Juliana Mialoundama 0, Floriane Herrscher 7, Naignouma Coulibaly 9,  Dawn Evans 19, Brenda Agblemagnon 0

Coaching staff: Marc Silvert and Cécile Piccin

Lyon BF: Romy Bär 11, Alexia Plagnard 0, Bintou Diemé 9, Mistie Bass 14, Mélanie Plust 3, Sara Chevaugeon 14, Mame-Marie Sy-Diop 4, Emilija Podrug 14, Clarisse Legrand 0, Jessy Gneneka 0

Coaching staff: Marina Maljkovic and Frédéric Berger
---
L'effort collectif de Lyon se paie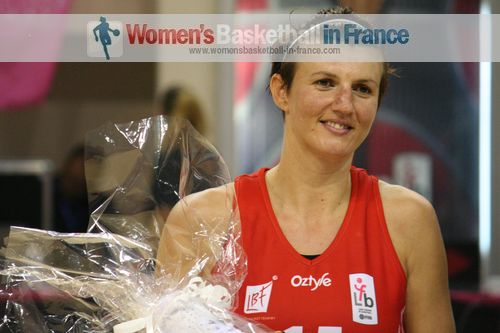 Les co-équipières de la MVP du match Emilija Podrug ont bien mérité leur victoire (69-51) contre une équipe d'Arras qui dépendait trop de l'exploit de Evans.
Pourtant c'était la jeune Chevaugeon qui fait gagner son équipe dans le premier quart avec une contribution de 9 points.
Après ses efforts, le collectif lyonnais défend et attaque pour suffoquer la faible révolte des Nordistes qui ne semblaient pas encore tout-à-fait préparées pour cette nouvelle saison lancée ce weekend.

---
Like this page / Aimez cette page