Charleville-Mézières

feel at home
at the 2013 Open LFB in Paris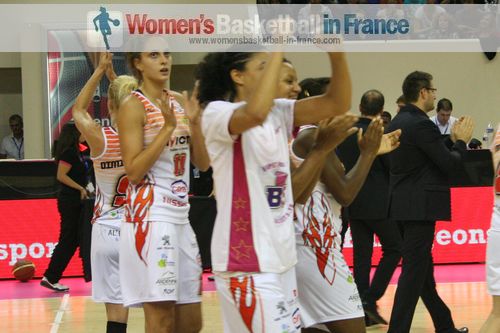 Charleville-Mézières had an easy day at the Open LFB with a convincing victory over Tarbes (75-48).
They hit 79% of their shots in the first quarter (26-9) and never looked back.
Veuillez trouver en bas de page des informations en français sur le troisième match de la première journée de ce weekend.

Tarbes missed the boat in Paris

Ambrosia Anderson from Charleville-Mézières took the MVP award for the match with 18 points and 3 steals while Amel Bouderra had a solid game with 16 points, 4 steals and 5 assists.
Tarbes had all that can be called a bad day at the office with only Jovana Rad reaching double digits with 13 points.

Charleville went on a 16-0 run against Tarbes during the first quarter to lead (26-9). Charleville did not miss, hitting 11-of-14 from the floor which included a perfect 3-of-3  from the land of many.
Tarbes were more productive during the second quarter. But they were still no match for their opponents and went into the locker room trailing (25-46).
Tarbes improved during the second half of the match. Yet it was a case of too little too late as they were unable to repair the damage from the first quarter.
Charleville ran out winners (75-48) with four players in double digits.

Charleville: Amel Bouderra 15 (5 assists, 4 steals),  Giedre Paugaite 15, Claire Michel 0, Ekaterina Dimitrova 4, Jacinta Monroe 12, Ana Cata-Chitiga 2, Yacine Séné 5, Ambrosia Anderson 18, Clémentine Samson 3, Victoria Majekodunmi 0
Coaching staff: Romauld Yernaux and Mike Gonsalves

Tarbes: Joyce Cousseins-Smith 9, Elise Marie 0, Clémentine Morateur 2, Alexandria Montgomery 6, Katelan Redmon 2, Slyvie Gruszczynski 4, Sabrina Reghaïssia 6, Jovana Rad 13, Mirna Mazic 6
Coaching staff: Cyril Sicsic, Marie-Pierre Uriarte and Béatrice Castets


---
Les Flammes Carolo en feu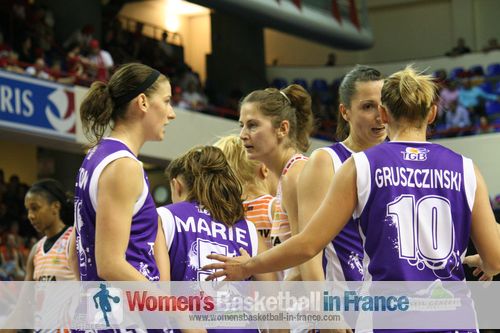 Tarbes ont souffert contre Charleville dans un match plutôt unilatéral. Comme la MVP du match Ambrosia Anderson, ses co-équipières de Charleville-Mézières, Amel Bouderra, Giedre Paugaite et Jacinta Monroe ont eu la main chaude dans leurs tirs.
Par contre leurs adversaires, hantées par un premier quart désastreux, n'ont pas vraiment pu mettre de la respectabilité dans leur jeu et ont logiquement succombé (48-75).

---
Like this page / Aimez cette page