Lattes Montpellier are winners again
at the Open LFB in Paris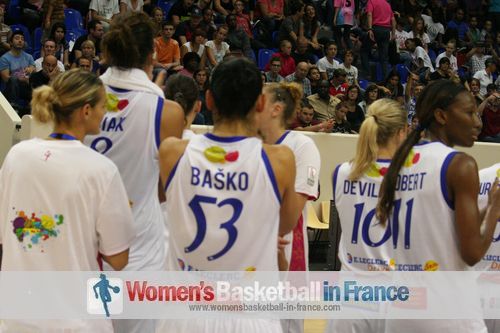 For the first 26 minutes Lattes Montpellier cruised at the Open LFB in Paris. The final 14 minutes were difficult but they prevailed (66-57) against Cavigal Nice.

Veuillez trouver en bas de la page des informations en français sur le match Lattes Montpellier contre Cavigal Nice.

For the first 26 minutes of the game, it was Lattes Montpellier leading the way. In the first quarter they put together a 11-0 run to edge the first quarter (18-7).
During the second quarter they went on a 13-0 run and entered the locker room with a comfortable advantage (34-20).  Géraldine
Robert was unstoppable scoring 12 of her team's total points.

Everything appeared to be going well for Montpellier leading (45-22) with three minutes to play. But a drop in intensity almost cost them the match.

The Niss Angels came storming back with some power play by Christelle Diallo, Jeanne Senghor-Sy to finish the quarter with a 12-2 run.

Trailing (34-47) going into the last quarter, Cavigal Nice put everything into attack. K. B. Sharp started to hit her three-pointers while Marie-Eve Paget chased all over the court.
With the duo Diallo-Senghor-Sy performing wonders, Nice brought down the deficit to 10 points.
However with 11 final-quarter points by Gaëlle Skrela, Lattes Montpellier survived the scare and secured the Open LFB victory.

Lattes Montpellier: Lidija Turcinovic 2 (4 assists), Ingrid Tanqueray 8, Héléna Ciak 9, Fleur Devillers 0, Géraldine Robert 14 (11 rebounds), Gaëlle Skrela 18, Fatimatou Sacko 10, Gunta Basko-Melnbarde 5, Anaïs Foisse DNP

Coaching staff: Valéry Demory and Guy Prat

Cavigal Nice: Laetitia Guapo DNP, Marie-Eve Paget 5, Kristen Brooke 13, Margaux Galliou-Loko 0, Anna Montañana 7, Alice Nayo, Christelle Diallo 11, Jeanne Senghor-Sy 17

Coaching staff: Rachid Meziane and Grégory Muntzer
---
Les promues s'accrochent
mais en vain

Les Niss' Angels se sont presque envolées mais la MVP du match Robert et ses co-équipières Sacko et Skrela ont assuré la victoire pour Montpellier (66-57).
Avec Diallo et Senghor-Sy, Nice a pu réduire l'écart à 13 points avant entamer le dernier quart.
Pendant les dix dernières minutes, les Niçoises étaient dangereuses avec Sharp au tir prime, Paget et encore avec une Diallo et une Senghor-Sy explosives. Mais l'adresse de Skrela (11 points dans le dernier quart) a évité une défaite pour son équipe.
---
Like this page / Aimez cette page