Nantes Rezé's Open LFB
match: a success

Nantes-Rezé scored 50 points during the second half of their Open LFB encounter against Hainaut Basket to claim a (80-65) victory.

Veuillez trouver en bas de la page des informations en français sur la victoire de Nantes Rezé contre Hainaut Basket.

Although Nantes-Rezé missed their first 11 shots from behind the arc, during the third quarter they hit five in a row to blow the game wide open.
Caroline Aubert (game MVP) was the catalyst with hitting three of them while Cayla Francis and Isis Arrondo completed the avalanche that put them in front for good.
For Hainaut Basket, Astou Traore knocked down 25 points in 29 minutes for an expressive début.

Clutch three-point shooting helped
Nantes-Rezé win at the Open LFB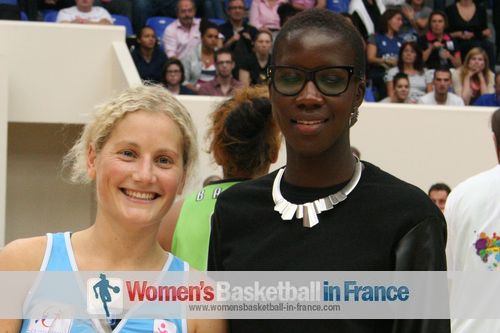 The first five minutes of the match resembled a 100m race with both teams running up and down the court. At the same time both sides were scoring at practically every attempt with the lead changing hands on 7 occasions.

Hainaut Basket led (13-12) but had to rest Astou Traore who was doing most of the scoring but had 2 fouls.
The pace of the game finally slowed down. Both teams started to miss shots as the players became more physical. Hainaut Basket edged the first quarter (21-19).
The second quarter was a hard battle with neither side able to score for long periods.

Traore's problems with the officials continued with her picking up her third foul. Yet Hainaut held onto the advantage going into the locker room (31-30).

Caroline Aubert fired up her team with back to back three-pointers and an assist as her team opened up the first significant lead of the game (46-39) with 4:46 minutes remaining in the third quarter.
Hainaut Basket was saved from complete destruction by Adja Konteh backed up by Pauline Akonga-N'simbo. But Nantes-Rezé continued to hit three-pointers (5 in the quarter) to stay in front (57-47) going into the fourth quarter.
Nantes-Rezé won all the loose ball contests and second chance opportunities during the final ten minutes to blow away Hainaut Basket (80-65).

Hainaut Basket: Florine Basque 3, Tanya Sinacouty 2, Carine Paul 2 (9 rebounds), Astou Traore 25, Ophellie Bonneau 0, Laura Garcia 2, Adja Konteh 16 (5 assists), Martine Barba 2, Pauline Akonga-N'Simbo 13, Charlotte Preiss DNP

Coaching staff: Jimmy Ploegaerts and Fabrice Fernades

Nantes Rezé: Caroline Aubert 11 (7 assists), Claire Stievenard 0, Cayla Francis 15, Sarah Michel 13, Isis Arrondo 5, Clémence Lefebvre 0, Yuliya Andreyeva 5, Marielle Amant 12, Chantelle Handy 7, Shamela Hampton 12

Coaching staff: Emmanuel Coeuret and Romain Leroy
---
Une deuxième mi-temps trop fort!

Hainaut Basket et Nantes Rezé ont pratiquement que échangé des paniers pendant le premier quart avec Nantes trainant par 2 points (19-21).
Jusqu'à la mi-temps, les joueuses de Hainaut ont réussi de garder l'avantage (31-30) avec une Traore en forme.
La deuxième mi-temps appartenait pourtant à Nantes avec des adresses aux tirs primes par la MVP du match Caroline Aubert et ses co-équipières. Leurs adversaires pouvaient que maintenir leur tête au-dessus de l'eau avec une Konteh prête à tout.
Les dernières dix minutes étaient en faveur des Nantaises chassant chaque ballon pour enfin gagner (80-65).

---
Like this page / Aimez cette page